You didn't miss much as the affiliates were winless in five attempts on Monday.
Pawtucket 5 Buffalo 4
Buffalo, NY
— The Bisons and
Chien-Ming Wang
were in line for the win against the Red Sox but
John Stilson
(3-2) served up a two-run homer in the eighth. That was among the two hits he allowed in relief in 1 1/3 innings. Stilson also struck out two.
Chien-Ming Wang
went the first 7 2/3 innings and was charged with four runs on five hits and two walks while striking out five.
The Herd scored their runs in innings three through five on an
Anthony Gose
RBI double, a
Clint Robinson
RBI single and a
Ricardo Nanita
home run.
Mike McCoy
gave Buffalo a brief 4-3 lead with a home run in the seventh. Nanita and Robinson had three hits apiece.
Sean Ochinko
and
Andy LaRoche
had two.
Kevin Pillar
had a walk and a stolen base. Gose and
Jim Negyrch
, who had a free pass,
also swiped a bag.

Palm Beach 6 Dunedin 5
Dunedin, FL
— Another late-inning meltdown.
Ajay Meyer
(3-2) was victimized by back-to-back jacks by the Cardinals in the ninth among the three hits he allowed. He struck out one.
Jesse Hernandez
lasted 5 2/3 innings, giving up three runs on seven hits, two walks and a hit by pitch. He struck out three and racked up 10 ground ball outs.
Dayton Marze
allowed a Hernandez runner to score and one of his own in 2 1/3 innings. He allowed two hits but also struck out two.
Like Buffalo, Dunedin scored its first three runs in successive innings but they did it in innings four through six.
Derrick Chung
's RBI single put the Jays on the board. A pickoff attempt at third allowed Jon Berti to score after he singled and stole his 47th base of the year.
Gustavo Pierre
then poked a ball over the fence to tie things up again. Dunedin enjoyed their only lead when
Matt Newman
lost a ball over the wall for a two-run shot in the eighth. He had two doubles as well to join Chung in the three-hit club.
Mike Crouse
had two singles, a walk and a stolen base.

Fort Wayne 2 Lansing 0

Fort Wayne, IN
— No late-inning heartbreak here. Lefty
Matt Boyd
(0-1) was nicked for a first inning run but finished up strong, setting down the last seven hitters and 10 of the last 11. He surrendered just three hits and struck out two.
Colton Turner
gave up the other run on one hit and two walks (one intentional) over 2 2/3 innings.
Wil Browning
did some damage control by stranding both Turner runners and retiring all four hitters he faced.
The offensive recap is short but not sweet.
Dwight Smith Jr.
had a hit and a walk and
Jordan Leyland
had the other base knock.
GCL Yankees2 9 GCL Blue Jays 3
Tampa, FL
— Lefthander
Daniel Lietz
(1-2) allowed a run an inning over four frames but just two of them were earned. Two were the result of a home run. Lietz gave up five hits, a walk and an HBP while whiffing three.
Conner Greene
went three innings and also allowed a run an inning on six hits while also striking out three. Lefty
Matt Smoral
saw two runs cross the plate on two hits and two walks in the eighth.
The Jays did not score until the seventh when
Franklin Barreto
went yard for his first homer of the season.
Thomas Collins III
plated the other two runs with a double in the ninth. Barreto had a double and two walks to get on base four times.
Koby Kraemer
had the other multi-hit game and stole his first base of the year. Collins was on base twice by drawing a walk.
Rowdy Tellez
and
Gabriel Cenas
were 0-for-4 but managed a base on balls each. The defensive highlights were provided by
Josh Almonte
, who earned earned two assists from right field.
DSL Tigers 3 DSL Blue Jays 1
(7 Innings - Completed early due to rain)

San Pedro de Macoris, DR
— The Tigers used the long ball twice against
Francis Eduardo
(2-3). He coughed up all three runs on five hits but struck out four in six innings.
Jose Brito
pitched a one-hit seventh.

Juan Fuente
singled home the Jays only run in the second inning and stole his 24th base of the year.
Richard Urena
had two of the Jays six hits.
Boxscores
*** 3 Stars ***

3. Ricardo Nanita, Buffalo
— Has four hits and two RBI in his first two games back in Buffalo.

2. Matt Newman, Dunedin
— Five hits in his last two games and is batting .313 over his last 10 contests.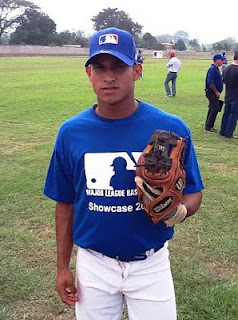 1. Franklin Barreto, GCL Blue Jays
— Has a hit in eight of his last nine games and has 18 extra-base hits on the season.

Tuesday's Probable Starters...
DSL Blue Jays
— TBA @ DSL Tigers, 10:30 am ET.
GCL Blue Jays
— TBA vs. GCL Yankees2, 12:00 pm ET.
Bluefield
—
Chase DeJong
(2-0, 3.13) &
Zak Wasilewski
(3-1, 3.45) @ Princeton, 6:05 pm ET (DH).
Buffalo
—
Ricky Romero
(3-5, 5.67) vs. Pawtucket, 7:05 pm ET.
New Hampshire
—
Marcus Stroman
(6-2, 2.96) vs. New Hampshire (54-58), 7:05 pm ET.
Lansing
—
Kendall Graveman
(0-0, 5.56) @ Fort Wayne, 7:05 pm ET.
Northwest League All-Star Game @ Everett, 7:05 pm ET.