Last week the Batters Box top 30 prospects for 2013 were revealed. Even though the Jays no longer have a top rated system there are a lot of players who could develop into prospects. For example last season Andy Burns was not on the top 30 list, he missed more than half of 2012 with an injury in the year after he was drafted. So here are some names to remember.
Derrick Chung
Derrick Chung will be an interesting player to watch in 2014. Chung was a 31st round pick out of college in 2012. At that time Baseball America listed him as a shortstop and he played mainly at 2B in Vancouver in 2012. But over the winter the Jays moved him to catcher and jumped him all the way to Dunedin for 2013. Chung is 25 years old so he could handle the level. Chung played in 69 games, he missed some time with an injury, and his OPs was .677. Normally you would say a 25 year old hitter with a 677 OPS at age 25 is nothing to get excited about. There are a few mitigating circumstances;
* 2013 was Chung's first year as a catcher. Catching puts a lot of wear and tear on the body. Can he hit better in 2014 in his second year as a catcher?
* The catching load is exacerbated by the Florida heat. New Hampshire would be a better environment.
* Chung was on the DL mid-season. Is it a coincidence that June and July were Chung's worst months as a hitter.
* Chung is hitting well in the AFL
The negative, other than age, is that Chung is a free swinger who could be challenged by AA pitching. By all reports Chung's defense is good.
Can Chung become the next Yan Gomes, a back-up who can hit when he gets a chance? 2014 could answer that question.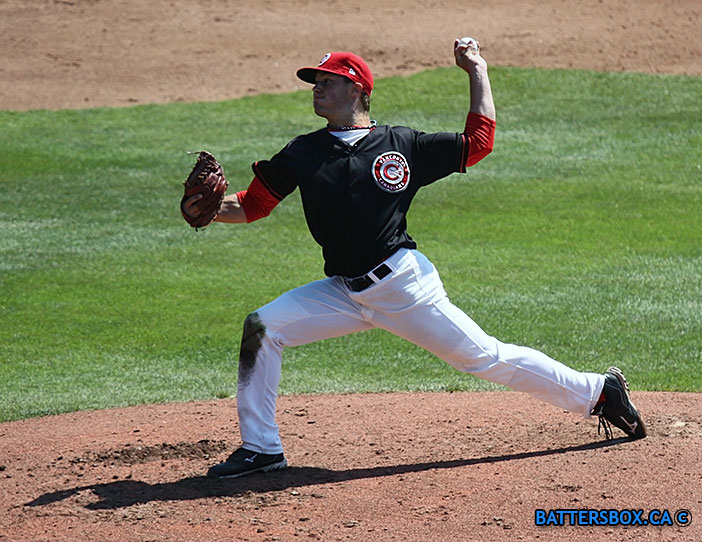 Shane Dawson
Shane Dawson was drafted in the 17th round of the 2012 draft out of Frank Maddock High School in Drayton Valley, Alberta. He was scouted by Jamie Lehman, a Western Canada scout for the Jays who also drafted Dalton Pompey, among others. Dawson had been playing as an outfielder and pitcher for the Prairie Baseball Academy Prairie Dogs and AAA Midget Grove Spruce Sox, but the Jays drafted him thinking that his path to the majors lay on the mound.
Despite his modest draft pedigree, Dawson has had nothing but success as a professional pitcher. He threw 30.2 innings in 2012 and upped that to 46.0 in 2013, as he finished the season by making four starts for the Vancouver Canadians. In 2013, Dawson made a total of seven starts and four relief appearances between Bluefield and Vancouver. Combined, he posted a strikeout rate of 11.9/9 and a K:BB ratio of 6.1:1.
The southpaw throws from a three-quarter arm slot with a consistent delivery. He has a high leg kick, which adds deception to his pitches. He throws a breaking curve ball that is good for his age. Dawson throws a fastball in the high 80s, a changeup in the high 70s and a curve in the low 70s. While Dawson will hopefully gain an increase in velocity of a couple miles an hour as he matures, the Jays will likely continue to challenge him until he struggles.
Emilio Guerrero
As I wrote last season after my trip to lansing, Guerrero is an interesting prospect. He was a surprise choice to be the SS in Lansing this season and after a slow start he delivered a 924 OPS in August. Guerrero is still young, hasn't had a lot of regular playing time before this season and is still somewhat raw. Some of that rawness comes from his 6'4" frame, very tall for a shortstop. Guerrero could move over to third base if he can't handle short. 2014 will be an interesting year for Guerrero, can he continue to devlop in Dunedin and put himself on the prospect radar.
Deck McGuire
Deck in August...39.2 IP; 2.95 ERA; 7.9 K/9; .467 opponent OPS. So how do we explain August, was it a fluke, a small sample size or did something change? Deck will be one to watch in 2014 to see which of those it was.
Patrick Murphy
Out of sight, out of mind. There was a lot of ink spilled on the Jays 2013 draftees, the unsigned Phil Bickford, the youngsters Clinton Hollon, Jacob Brentz and Rowdy Tellez, and the three college pitchers who made it to full season ball, Matt Boyd, Kendall Graveman and Chad Girodo. But the Jays third round pick didn't take the field. Patrick Murphy had Tommy John surgery before the draft and we will not see him pitch until 2014. Murphy was taken at number 83 overall in the draft so it's reasonable to expect he should have a lot of talent. Murphy played for the same high school team as Mitch Nay.
Kevin Nolan
Nolan is a 25 year old shortstop who played all of 2013 at New hampshire. With a 717 OPS what is there to watch? Nolan has generally hit wherever he has played, for example he had an OPS of 855 in Dunedin in 2012. Shortstops who can hit a bit often turn into major league second basemen. For much of last season Nolan was hitting third, fourth or fifth in the lineup. That is unusual for a shortstop. Playing in AA at age 25 is not the path to stardom but Nolan could turn into a useful role player.
Shane Opitz
Opitz was not a "priority player" at the start of 2013. He began the year in extended spring training and through the year he only had 242 at-bats. Even in June he had just 34 at-bats, over 100 would be normal for a priority player. But Opitz just hit and earned more at-bats. In 2012 Opitz OPS in Lansing was just 599. Returning to Lansing in 2013 Opitz put up a 924 OPS in 15 games. He was promptly promoted to Dunedin where he hit .309 with a 761 OPS. Opitz has been in the organization for four seasons so we forget that he played 2013 as a 21 year old. Opitz will be 22 in 2014 and it will be interesting to see if the Jays give him regular at-bats either in Dunedin or New Hampshire. Opitz could end up as a decent left hand hitting platoon middle infielder.
Marcus Walden/Ryan Tepera
Major league relievers have value and both these guys have that potential. Coming off an injury Tepera pitched out of the bullpen at the end of the season and had a 3.24 ERA as a reliever with 19 K's in 16/2 innings. It will be interesting to see if the Jays convert him to the bullpen in AAA next season. Walden throws hard and low and generates a lot of ground balls. His K rate in 2013 was just 4.8 but his ERA did not reflect that low K rate. we have seen Chad Jenkins have some success as a reliever in the majors, can Walden do the same? Again it will be interesting to see what the Jays do with Walden to start 2014. As of now there are no starter spots in AAA.
Tyler Ybarra
Ybarra's K rate over the last 3 seasons, 10.6; 11.7; 10.6. Ybarra walks a few too many but he is a hard throwing lefty reliever. Ybarra will move up to New Hampshire next season and if he continues this level of performance he could be close to major league ready by the end of the season.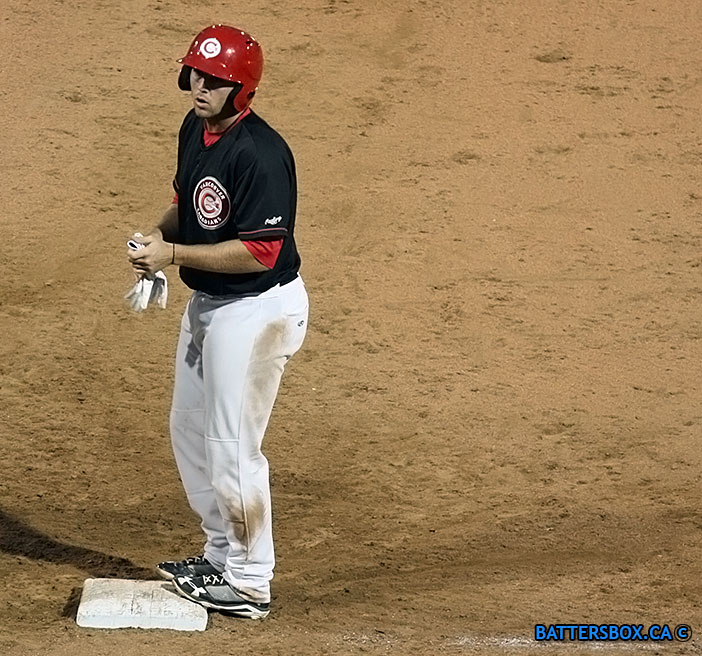 L.B. Dantzler
The Jays' 14th round pick of the 2013 amateur draft out of South Carolina made his professional debut with Bluefield for a one game stint. In that contest, the 5-foot-11 left-handed hitter recorded a single and a walk in four plate appearances before making his way to Vancouver. All he did was win the Northwest League Most Valuable Player Award with a batting line of .302/.385/.504 with a league-leading nine home runs and 35 runs batted in. The Winter Haven, Florida native earned a berth in the Northwest League All-Star Game and went 2-for-4 with a three-run home run. Though he whiffed in over 20 percent of his at-bats, he was able to offset that with 30 walks. He spent the majority of his time as a first baseman/designated hitter in Vancouver but had a one-game cameo at third base, a position he also played in college. Dantzler's two-run double against Boise in Game 3 were the winning runs as the Canadians won their third straight NWL title. Dantzler should begin the 2014 campaign in Lansing. He turns 23 May 22.
Those are the players that we came up with. Is there anyone else you think we should have covered?