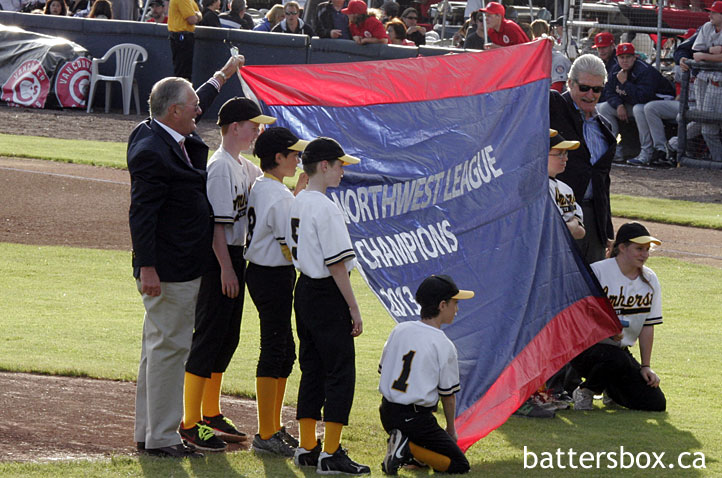 Canadians owners
Jake Kerr
(left) and
Jeff Mooney
unveil the 2013 Northwest League championship banner with help from the
Amherst Little League
baseball club prior to the home opener against Spokane.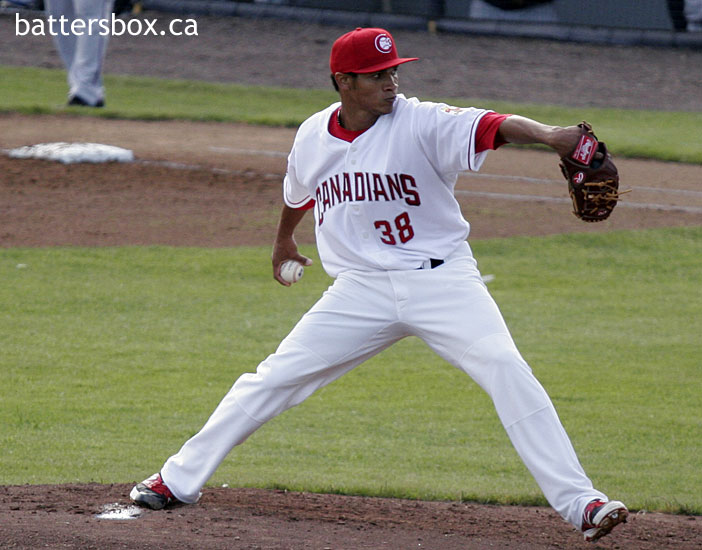 Alberto Tirado
throws an 83 mile per hour breaking ball to strike out Spokane's
Marcus Greene
swinging in the first inning. Tirado gave up three hits and walked five batters in 3.2 innings but only surrendered one run.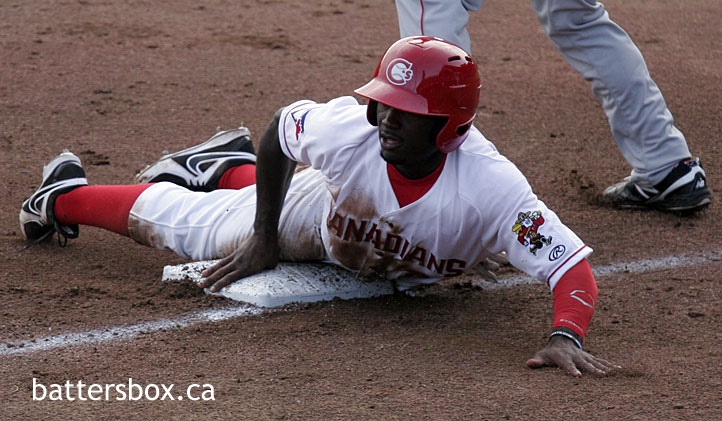 Roemon Fields
got the crowd going early with a broken-bat single off Spokane starter
Nick Gardewine
on the first pitch and then proceeded to steal second and third base in the first inning.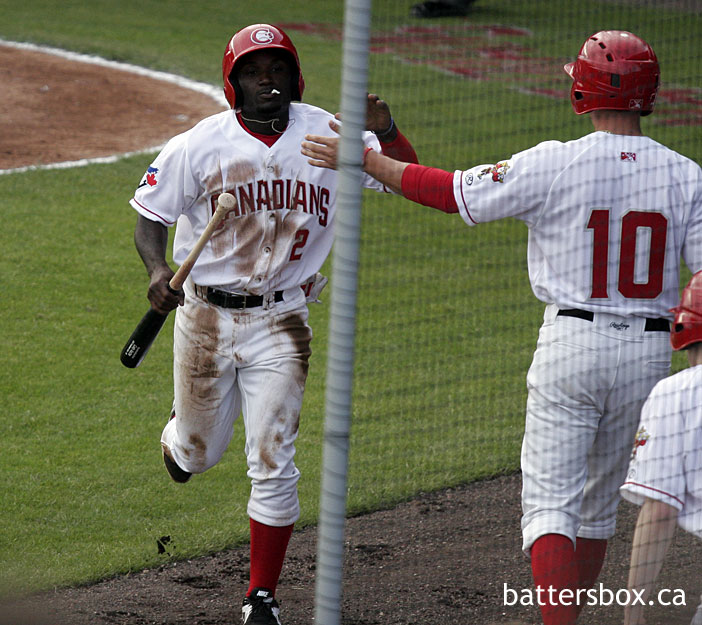 Fields is greeted by
Tim Locastro
after crossing the plate with the tying run. Fields was able to score after a throwing error by Indians second baseman
Fernando Vivili
.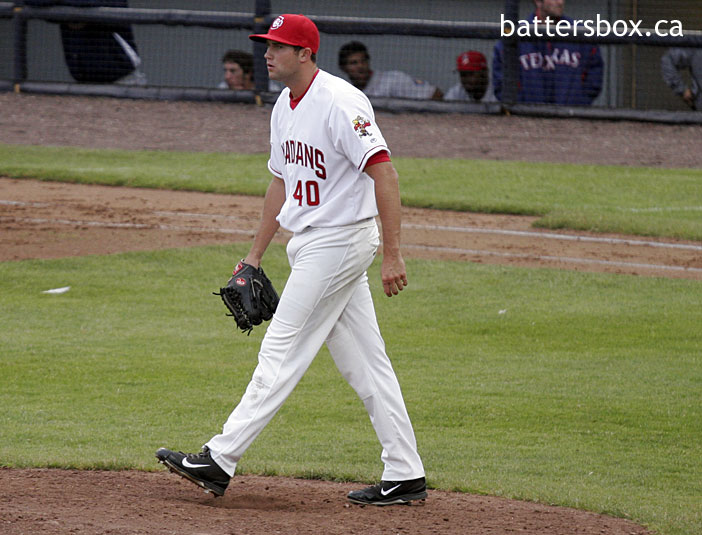 Tim Mayza
stranded a runner for Tirado but was chased in the sixth after surrendering a two-run double to
Eduardo Pinto
in the sixth. That was among three hits and two walks for the lefty, who also plunked a hitter.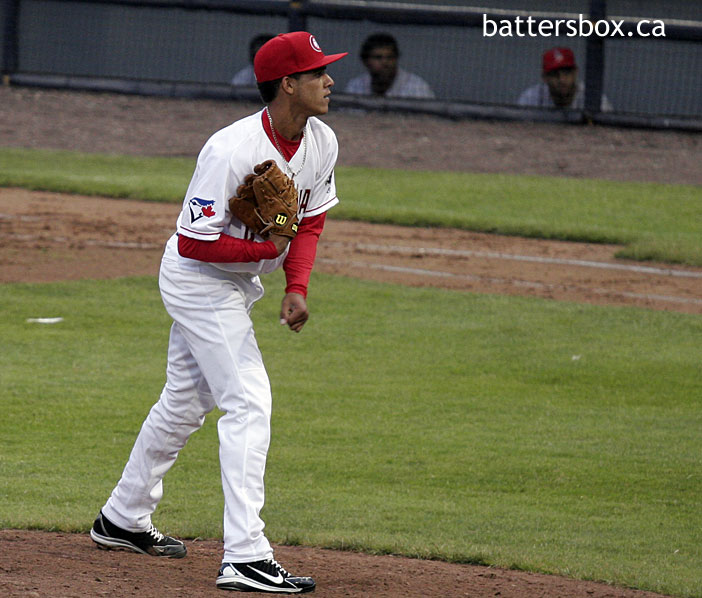 Jose Fernandez
walked a pair but pitched 1.2 scoreless innings and stranded a runner.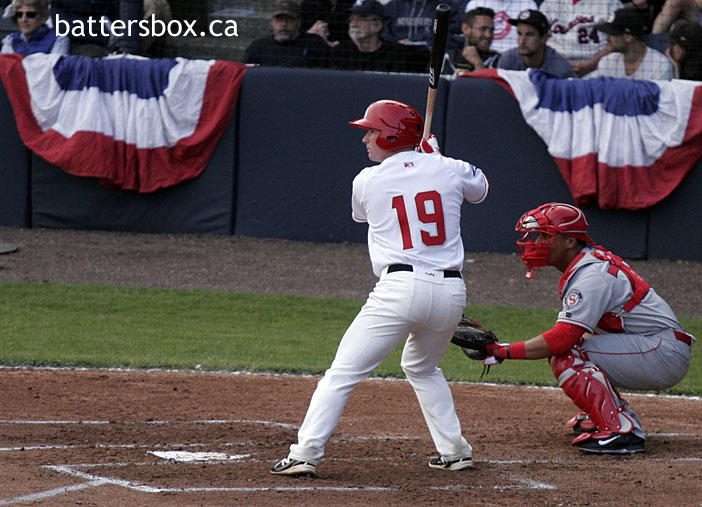 Clean-up hitter
Boomer Collins
singled home a run in the sixth to make it a 3-2 ball game.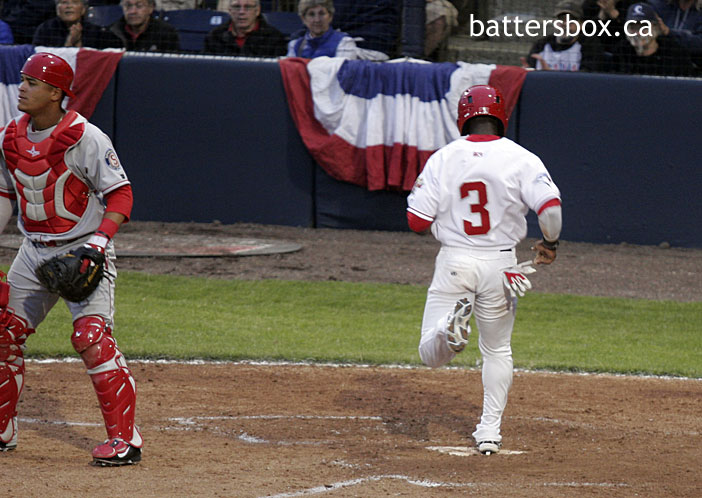 That hit scored
Jonathan Davis
, who walked and stole second base before stepping on home plate.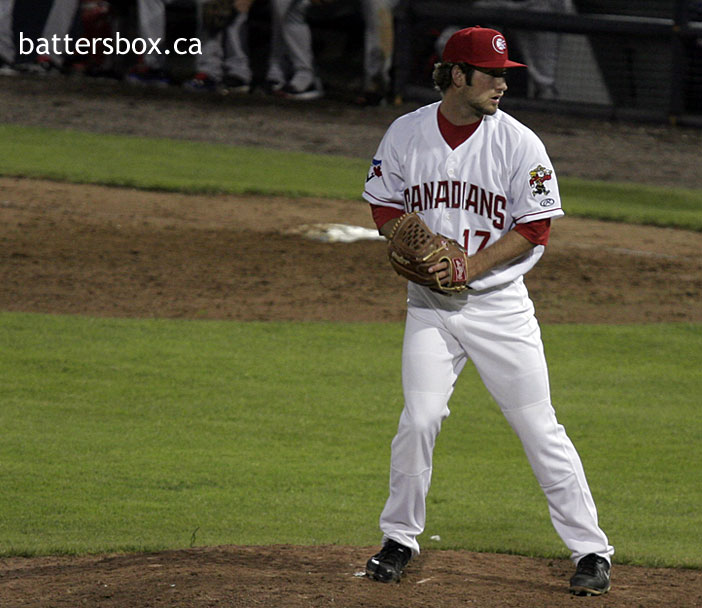 Brett Barber
coughed up two runs (one earned) in the eighth but worked a scoreless ninth. He allowed two hits and hit a batter.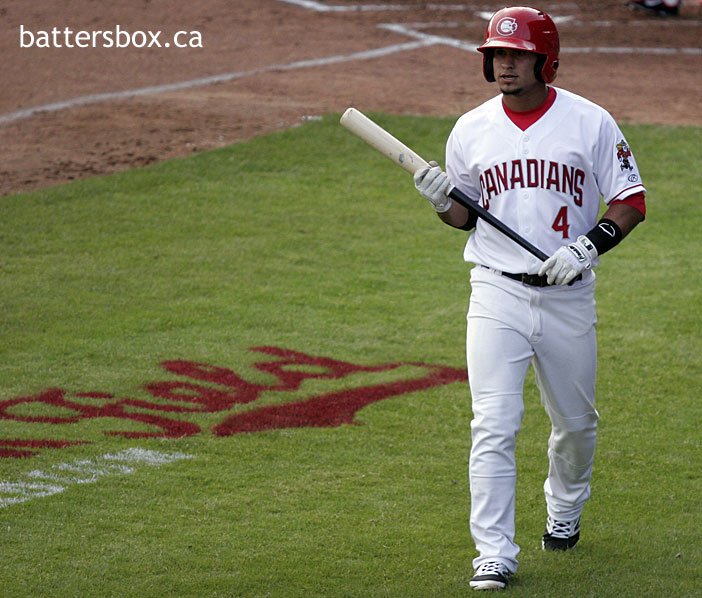 Franklin Barreto
heads back to the dugout after one of three strikeouts on the evening. He went 0-for-4 as the C's fell to Spokane 5-2.
---
Random Oberservations...

Alberto Tirado was clocked around 90-95 miles per hour with his fastball, usually topping out at 92. He pitches from the stretch and throws quickly. He had trouble locating his pitches. His breaking ball was around 83-84.
Roemon Fields had a triple in the seventh with two outs but was stranded. He can scoot! He has seven stolen bases already in six games.
Franklin Barreto had trouble making a couple of throws, high and low, from short but Seth Conner bailed him out both times.
Jonathan Davis air-mailed one from left field that found the seats and resulted in the first of two Spokane runs in the eighth.