The affiliates lost four of our seven Monday night. Lansing, Vancouver and the boys in the Dominican got the job done. Buffalo had the night off.
Portland 6 New Hampshire 2

Portland, ME
-
Casey Lawrence
(6-5) surrendered four runs over five innings to the Red Sox affiliate. The damage was done on seven hits and a pair of walks. Lawrence struck out six and four of his six outs were ground balls.
Scott Gracey
gave up a solo homer over two frames and
Gregory Infante
also coughed up a run in his one-inning appearance..

Andy Fermin
got the Fisher Cats on the board with a solo home run in the third. It could have been a two-run shot to tie the game but
Jorge Flores
was caught stealing with Fermin at the dish.
Andy Burns
drove in the other run with a sacrifice fly in the sixth.
Matt Newman
had the only two-hit game, including a double. Burns also had a single.


Fort Myers 8 Dunedin 2
Fort Myers, FL
-
Ben White
(4-6) had five good innings, including four consecutive shutout frames. However, the inning he'll remember was a six-run first by the Twins affiliate. White was whacked for ten hits and two walks while whiffing four.
Justin Jackson
was nicked for a run in the seventh.
Griffin Murphy
worked a one-hit eighth.
The Jays broke out on top with a
Dwight Smith Jr.
RBI single in the first inning.
Jorge Saez
doubled home an
L.B. Dantzler
double for the other run in the seventh. Smith Jr., Saez and
Nick Baligod
had two hits apiece with Baligod getting hit by a pitch.
Christian Lopes
walked twice.
Lansing 11 Bowling Green 6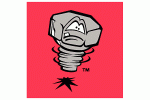 Bowling Green, KY
- This win for Lansing was as easy as 1-2-3, or to be more exact, 1-2-2-3-3. That was their scoring output for five of the first six innings against the Rays affiliate.
David Harris
started the ball game with a leadoff home run.
Derrick Loveless
went deep for a two-run shot in the third before
Justin Atkinson
and
Daniel Klein
added RBI singles in the fourth.
Dawel Lugo
drilled a three-run jack in the fifth before tacking on a two-run single to highlight a three-run sixth. Harris got aboard four different ways as he singled, walked and was hit by pitch to go along with his homer. Atkinson collected three hits and Loveless walked twice to get aboard three times.
Mitch Nay
doubled and walked,
Matt Dean
singled and walked and
Dickie Joe Thon
had a base hit and a plunk.
D.J. Davis
was 0-for-5.
Jeremy Gabryszwski
wasn't fooling anybody as he was cuffed around for five runs on nine hits over four frames, striking out two and walking no one.
Matt Dermody
(4-4) was able to fool more hitters, giving up just two hits and whiffing five over three shutout innings.
Jimmy Cordero
did not continue the strong relief as he coughed up a solo home run among his three hits and two walks.
Scott Silverstein
had one K in a clean ninth.

Vancouver 9 Eugene 2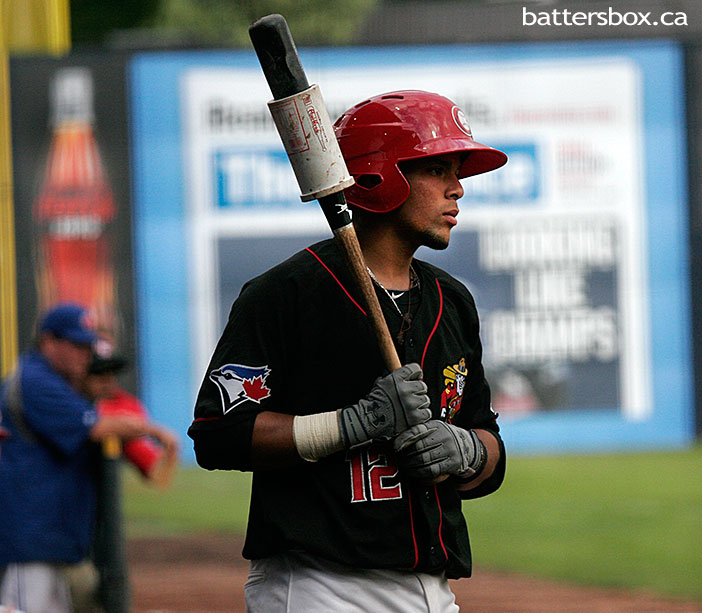 Michael De La Cruz
hit his first home run of the season as part of a seven-run third inning at Nat Bailey Stadium Monday night.
---

Vancouver, BC
- The C's managed to bat around once with every hitter managing to get on base. That happened in the third inning and resulted in seven runs. The C's broke out on top in the first inning when
Franklin Barreto
worked a two-out walk, stole second base, went to third on a throwing error and trotted home on another errant throw. Barreto sparked the big rally in the third with a two-run triple.
Ryan McBroom
had a run-scoring single before
Michael De La Cruz
launched a three-run homer to right field.
Roemon Fields
capped the rally with a sac fly.
Tim Locastro
singled home the final run in the eighth.
Christian Vazquez
had a base hit, a BB and a HBP. McBroom also took one for the team. Fields stole two bases while Locastro and
Chris Carlson
had one. Fields has 26 steals on the year and that gives him the club record for steals.
Jairo Labourt
finished one agonizing out away from qualifying for the victory. He struck out five over the first two innings and wound up with six over 4.2 innings. The lefty gave up a pair of two-out hits among his six total, walking two and plunking one.
Francisco Gracesqui
(2-0) delivered 1.1 perfect innings, striking out a couple of batters.
Alberto Tirado
put up a series of ones in his pitching line, lasting one inning and surrendering a run on a hit, a walk and a plunk while whiffing one.
Kamakani Usui
finished up with two innings of one-run ball. The run should have been unearned as Carlson lost sight of a fly ball in left as it fell a good 15-20 feet to his left, resulting in a triple.
Princeton 4 Bluefield 2

Princeton, WV
- Every Bluefield hitter had at least one hit but that was not enough to beat the Rays. The Jays got their runs in the fourth and fifth innings on a Gabriel Cenas RBI single and a Rolando Segovia home run respectively. Segovia also walked and stole a base. The only two-hit game belonged to
Josh Almonte
.
Richard Urena
and
Rowdy Tellez
also joined the hit parade.
Matt Smoral
(1-2) only made it through three innings and gave up three runs, one unearned on a Urena error at short. The tall lefty was smacked around for six hits and two walks but struck out five.
Chase Wellbrock
pitched a shutout inning and
Alberto Guzman
followed up with two goose eggs.
Carlos Ramirez
allowed the insurance run over two frames.


GCL Braves 8 GCL Blue Jays 7

Dunedin, FL
- The biggest positive to come out of this game was the performance of
Sean Nolin
. He got the start in this one and pitched 2.1 innings of one-hit ball with five strikeouts and two ground outs. Nolin's performance did not rub off on
Sean Ratcliffe
(0-1). He issued four walks and two hits which led to three runs (two earned) in two-thirds of an inning.
Patrick Murphy
was charged with two runs (one earned) over 1.2 innings but struck out three.
Brandon Hinkle
gave up a run over one frame before
Nick Wells
finished up with three frames. He was victimized for an unearned run out of two with a 2-2 K/BB total and a 4-1 GO/FO ratio. The unearned runs were the result of four Dunedin errors.
Yeltsin Gudino
made two throwing errors from short.
Trey Pacsazi
and
Juan Tejada
were also error prone at third base and right field respectively.
Matt Morgan
singled home a run to highlight a two-run third inning after a wild pitch led to a first-inning run.
Lane Thomas
and
Dave Pepe
managed to earn bases-loaded walks in the sixth and
Edwin Fuentes
came off the bench to single home a run in the ninth. The other runs were the result of Braves errors as they made four miscues of their own. Morgan was on base three times with two hits and a walk. Tejada had a two-hit game while Thomas doubled and walked.
Deiferson Barreto
had a double.

DSL Blue Jays 5 DSL Pirates 4

San Pedro de Macoris, DR
- The Jays bunched all their runs in the first half of the game.
Javier Hernandez
lifted two sac flies to plate the first and last runs in innings one and five. A two-run error aided the Blue Jay cause in the second while
Ronniel Demorizi
singled home another in the third.
Enmanuel Moreta
singled twice, walked and stole a base.
Miguel Almonte
doubled and singled.
Edward Olivares
had a base hit and a base stolen.

Juliandry Higuera
(1-3) pitched one out into the sixth inning, yielding two runs on six hits and two walks. He struck out six and five of his seven outs did not leave terra firma.
Guillermo De La Cruz
stranded both Higuera runners in getting the final two outs of the sixth. He struck out a batter but allowed two hits and a walk.
Jairo Rosario
stranded the bases loaded for De La Cruz but did give up a couple of runs in 1.2 innings.
Luis Gomez
allowed two of Rosario's runners to score but he got the final four outs for the save.
Monday's Linescores
*** 3 Stars!!! ***


3. Roemon Fields, Vancouver
- A six-game hitting streak and 26-for-29 in the stolen base department.


2. Franklin Barreto, Vancouver
- A nine-game hitting streak and an .832 OPS on the season.


1. David Harris, Lansing
- A seven-game hitting streak and a .578 slugging percentage.

Tuesday's Schedule & Probable StartersGCL Blue Jays
@ GCL Braves, 10:00 a.m. ET - TBA.
DSL Braves @
DSL Blue Jays
, 10:30 a.m. ET - TBA.
Eugene @
Vancouver
, 10:05 p.m. ET - TBA.