The boys on the farm came away with a split of their six games Tuesday but two of the losses were of the come-from-ahead variety. The Florida folks were rained out.
Buffalo 7 Indianapolis 1

Buffalo, NY
-
Kevin Pillar
got the Herd up and running with his second two-run homer in as many days, scoring a
Darin Mastroianni
double in the first inning.
Jonathan Diaz
singled home a run in the fourth, and
Jared Goedert
did likewise in the sixth.
Brad Glenn
got a walk with the bases loaded and
A.J Jimenez
lifted a fly of the sacrificial variety in the eighth.
Andy LaRoche
put the exclamation mark on this one with a leadoff homer in the eighth. Mastroianni and Diaz got on base four times. Mastroianni singled and walked three times while Diaz had two hits, a walk and a hit by pitch. Glenn and Goedert had two hits and a walk. Pillar also got a base on balls.
Sean Nolin
(3-4) held the Pirates affiliates at bay with six shutout innings, allowing just two hits and a walk. He struck out three and 10 of his 12 outs in play were on the ground.
Chad Jenkins
walked a batter but pitched a scoreless seventh and
Ryan Tepera
rolled a perfect frame in the eighth.
Steve Delabar
was dinged for a run in the ninth on two hits but he did strike out a batter.
Binghamton 4 New Hampshire 3
Binghamton, NY
- The Fisher Cats snatched defeat from the jaws of victory after blowing a 3-1 lead in the late going. They scored first on an
Andy Burns
sacrifice fly in the first inning and upped their lead to 2-0 on a
Cory Aldridge
home run in the fourth. A Burns RBI ground out in the sixth restored New Hampshire's two-run bulge.
Jon Berti
and
Matt Newman
had two hits apiece with Newman adding a walk and Berti getting hit by a pitch. He was 1-for-2 in stealing bases.
Michael Crouse
had a triple but did not score. He did throw out Mets 2011 first-round pick
Brandon Nimmo
out at the plate from center field.
Daniel Norris
gave up just one run but he only lasted four innings in which he surrendered four hits and issued four walks. He did strike out five.
Austin BIbens-Dirkx
worked two innings of one-hit shutout relief but
Tyler Ybarra
was tagged for a solo home run over his two frames.
Gregory Infante
(0-1) walked off the mound in defeat after giving up the tying and winning runs in two-thirds of an inning.

Dayton 7 Lansing 6
Lansing, MI
- The Lugnuts thought they had this one in the bag after jumping out to a 6-1 lead but hey, they are the Dragons! The comeback by the Reds affiliate ruined a good start by
Chase De Jong
who was clipped for a solo home run among five hits and a walk. He also hit a batter but struck out a pair and collected seven outs on the ground.
Brady Dragmire
was also a victim of the long ball as he was banged up for four runs in three innings.
Scott Silverstein
(10-4) was slapped around for the tying and winning runs in two-thirds of an inning before
Jimmy Cordero
got the final out.
Jason Leblebijian
started a four-run rally in the first inning with an RBI single before
David Harris
and
Dickie Joe Thon
drew walks with the bases loaded.
Justin Atkinson
grounded out to bring home another run. A
Matt Dean
run-scoring single and an error gave Lansing two more runs in the fifth and sixth respectively. Dean, Leblebijian and
Chaz Frank
shared the team lead with two hits on the night with Frank also tallying a walk and a stolen base. Harris and Loveless had a base hit and a walk with Harris also stealing a bag.
Justin Atkinson
walked twice and
Daniel Klein
was hit by the ball once.
Vancouver 11 Spokane 6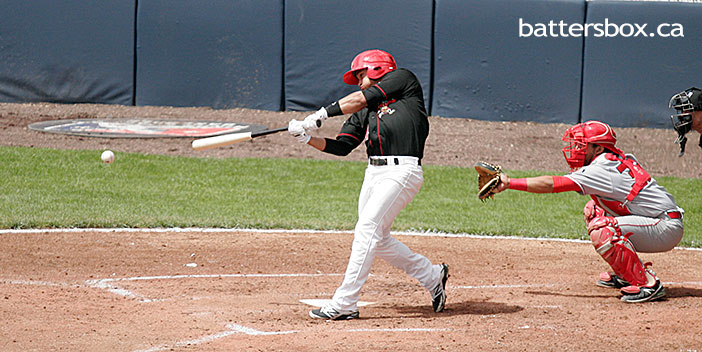 Franklin Barreto
- shown here doubling against Spokane June 20 - got the Canadians offence started with a two-run homer Tuesday night, his second of the season.
---

Spokane, WA
- The Canadians got by the Rangers affiliate by battling back from 4-0 and 6-5 deficits.
Franklin Barreto
got the C's on the board with a two-run homer in the third inning. Barreto helped bring in the next two runs with a sac fly and a throwing error on the same play in the fifth.
Chris Carlson
would give Vancouver its first lead with an RBI single.
Roemon Fields
slugged his first homer of the season, a two-run shot in the sixth, to put the C's ahead for good. Barreto singled in another run and would later score on a wild pitch.
Michael De La Cruz
provided more breathing room with a pinch-hit two-run double in the ninth.
Tim Locastro
had a four-hit game, including two doubles, and was hit by pitch. He also stole a base. Carlson had a three-hit night while Fields and Barreto had two hits and a stolen base apiece. Boomer Collins had a single and two walks.
Ryan McBroom
doubled while
Alexis Maldonado
and
Christian Vazquez
had base hits.

Daniel Lietz
was lit up for all six runs in 4.2 innings but two of them were unearned. The Indians got to him for seven runs and two hits. He had one K but 10 groundball outs.
Michael Kraft
(1-0) lasted two innings and had an inherited runner cross the plate but none of his own. He was able to navigate his way around a hit and two walks with a couple of whiffs.
Yeyfry Del Rosario
yielded three baserunners on a hit, a walk and a hit by pitch but stranded a runner and struck out one in two-thirds of an inning.
Joe Lovecchio
got out of the bases loaded situation unscathed and overcame two hits with a strikeout over 1.2 scoreless innings for his second save.
Bluefield 2 Johnson City 1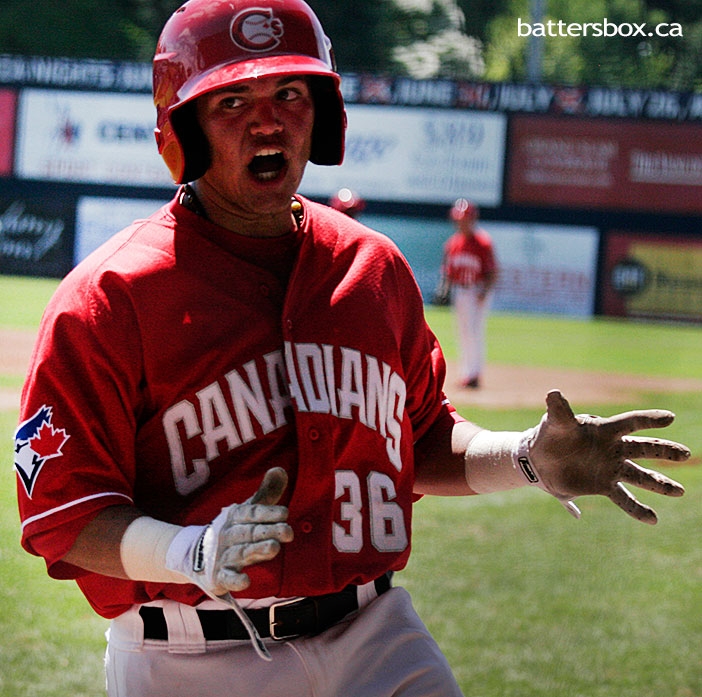 Kevin Garcia
- shown here scoring a run with Vancouver July 13 - had just one of three Bluefield hits but his single plated what turned out to be the winning run.
---

Johnson City, TN
- Bluefield took advantage of a wild pitch in the second inning to score the game's first run.
Kevin Garcia
drove in the eventual winning run with a single in the fifth. The Jays only mustered two more hits, both off the bat of
Rowdy Tellez
.
Gabriel Cenas
and
Angel Rojas
got on base once with a walk.
Joey Aquino
(1-2) shuffled the Cardinals around enough to allow just an unearned run over five innings by working around five hits and two walks. He struck out two and five of his seven outs in play stayed on the ground.
Jordan Romano
struck out four and worked around a hit and two walks over three scoreless frames.
Dusty Isaacs
walked one but struck out one in the ninth for his fifth save.

DSL Braves 6 DSL Blue Jays 2

San Pedro de Macoris, DR
- In a see-saw affair, the Jays bolted out to a 2-0 lead only to find themselves trailing by four runs at one point. A
Ronniel Demorizi
two-run double in the first inning got the Jays rolling.
Enmanuel Moreta
had a two-run double in the fifth to help the Jays claw their way back.
Luis Dominguez
had a run-scoring base hit before an error led to the tying run.
Rodrigo Orozco
and
Miguel Almonte
had two hits apiece at the top of the order. Demorizi had a walk to reach base twice and
Manuel Herazo
had two bases on balls. Almonte, Demorizi, Herazo and
Edward Olivares
all had stolen bases.
The Braves scored twice off
Kelyn Jose
on three hits, a walk and two hit by pitches. Jose did strike out one over two frames.
Luis Sanchez
was lambasted for four runs (three earned) on five hits in just one inning.
Jose Diaz
settled things down with 3.1 scoreless frames by scattering two hits and a walk with two whiffs.
Jairo Rosario
(1-2) stranded a runner but was charged with the winning run in 1.2 innings. Sanchez, Diaz and Rosario each struck out a pair.
Tuesday's Linescores

*** 3 Stars!!! ***


3. Kevin Pillar, Buffalo
- With 6 homers, 30 doubles and 3 triples, his next extra-base hit will give 40 on the season.

2. Sean Nolin, Buffalo
- A 3.29 earned run average and a .221 opponents batting average with the Herd.


1. Tim Locastro, Vancouver
- Six multi-hit games over his last 10 pushes his batting average to .331.
3 Stars images from
MiLB.com
.

Wednesday's Schedule & Probable StartersDunedin
@ St. Lucie, 10:30 am ET (DH) -
Matt Boyd
(5-1, 0.99) &
Ben White
(4-6, 5.35).

DSL Blue Jays
@ DSL Brewers, 10:30 am ET - TBA.
GCL Braves @
GCL Blue Jays
, 12:00 pm ET - TBA.
Dayton @
Lansing,
12:05 pm - 
Brad Allen
(3-3, 3.65).
New Hampshire
@ Binghamton, 6:35 pm ET -
Casey Lawrence
(7-5, 2.82).
Bluefield
@ Johnson City, 7:00 pm ET - TBA.
Indianapolis @
Buffalo
, 7:05 pm ET -
P.J. Walters
(3-2, 4.82).
Vancouver
@ Boise, 9:15 pm ET -
Jairo Labourt
(2-3, 2.79).