It was a winning night on the farm at least as the affiliates won four out of seven Tuesday. The Vancouver Canadians had seven representatives at the Northwest League All-Star Game. Let's just say the pitchers really had their say in this one.
Buffalo 6 Norfolk 2 (11 Innings)

Norfolk, VA
- The Herd made it three straight over the Tide thanks to a
Sean Ochinko
bases-clearing double in the 11th inning. Ochinko would score on a
Kevin Nolan
single to complete the four-run frame. The game went into extras after a Brett Wallace home run to dead center field tied the game at 2-2 in the sixth. The Bisons got their first run on doubles by
Jared Goedert
and
Jonathan Diaz
in the fifth. Wallace had a three-hit game and was a triple short of the cycle. Nolan and Diaz had two hits apiece with Diaz drawing a walk. Goedert and
Ryan Schimpf
had a hit and a walk.
Melky Mesa
made his return from a two-month stay in sick bay with a 1-for-5 effort as his single in the 11th started the big rally. He was activated after
A.J. Jimenez
was placed on the disabled list.
Kevin Pillar
was 1-for-6 but stole his 25th base of the year.
Raul Valdes
managed to stem the Tides to two runs despite 10 baserunners over six frames. One of his six hits was a home run. He walked three but struck out four and four of his six outs in play did not make it past the infield.
Sergio Santos
had a clean inning with a ground out and two infield pop-ups
and
Ryan Tepera
followed up with a shutout frame with one hit and one K.
Steve Delabar
(2-2)
came on for the next two innings and got away with a couple of walks. He equaled his walk total with two K's to keep Norfolk off the board.
Kyle Drabek
completed the game with a strikeout in the 11th.
New Hampshire 7 Erie 4

Erie, PA
- The Fisher Cats scored the first five runs of the game to beat the Tigers affiliate.
Cory Aldridge
drove in the first two runs with RBI singles in the first and third innings. The big inning was in the fourth when
Jon Berti
doubled in a run and
Matt Newman
drove in two more with a single. An error in the sixth and a
Mike McDade
sacrifice fly in the ninth to score an
Andy Burns
triple accounted for the other two runs. Aldridge, Berti and Burns all had two hits.
Dalton Pompey
singled, walked, stole a base and scored three runs. Newman and
Jorge Flores
had a base hit and a walk.
Casey Lawrence
(9-5) didn't exactly fool Erie as evidenced by their 11 hits and a walk but he lasted seven frames and kept the damage to four runs, including a solo dinger. Lawrence struck out three while collecting nine outs on the ground.
Dustin Antolin
struck out one in a scoreless eighth and
Gregory Infante
walked one in a shutout ninth for his 16th save.
Dunedin 7 Lakeland 3

Lakeland, FL
- A 14-hit attack was more than enough to overwhelm the Flying Tigers. Dunedin pounced on home plate first when
Jorge Saez
worked the count to ball four with the bases loaded in the second inning. That was followed by a
Christian Lopes
RBI fielder's choice. Lopes would triple in another run in the fourth to give Dunedin the lead for good.
Marcus Knecht
went deep in the fifth to double the Jays lead at 4-2.
Peter Mooney
singled in another run in the seventh. The Jays tacked on two more in the eighth including a Saez RBI double. Saez, Mooney,
Gustavo Pierre
,
Shane Opitz
and
Emilio Guerrero
all had two hits. Guerrero was hit by pitches twice while Mooney and Saez drew walks. Lopes and
Kevin Patterson
had a hit and a base on balls.
Despite a game WHIP of two,
Jeremy Gabryszwski
(1-0) limited Lakeland to two runs over five innings in his Florida State League debut. He gave up seven hits and three walks with four strikeouts.
Tony Davis
surrendered a solo home run over two innings.
Chad Girodo
and
Arik Siklula
pitched shutout ball the rest of the way with one-hit innings. Girodo struck out two and Sikula whiffed one.
Fort Wayne 7 Lansing 1Fort Wayne, IN
-
Miguel Castro
(0-1) had trouble keeping the ball in the yard in his first start as a Lansing Lugnut. He allowed just three hits but two of them were homers and that resulted in four of the five runs he coughed up in four innings. Castro walked a batter and hit another one but he struck out five and six of his seven outs in play were on the ground.
Matt Dermody
worked around four hits with three K's in two shutout innings.
Jimmy Cordero
survived two hits for a scoreless frame but
Roberto Espinosa
was rocked for a couple of runs in the ninth.
The Lugnuts laid eight straight eggs on offence against the Padres affiliate before
Jason Leblebijian
singled home their lone run in the ninth. Leblebijian added a double for a two-hit night. He was joined by
Mitch Nay
and
Dawel Lugo
in the two-hit club. Matt Dean had a single, a hit by pitch and a run scored. D.J. Davis also got a base hit.
Bluefield 7 Burlington 4

Burlington, NC
-
Lydell Moseby
got Bluefield rolling with a leadoff home run in the third inning and added a two-run blast in the fifth. A
Trent Miller
double and an
Aaron Attaway
triple produced two more runs in the sixth. The last two runs came on a
Rowdy Tellez
bases-loaded walk in the seventh and a
Richard Urena
single in the eighth. Moseby had three hits while Miller and
Josh Almonte
had two each. Attaway added two walks to get aboard three times.
Angel Rojas
doubled and took one for the team.

Connor Greene
(1-1) got through six innings and gave up three runs against the Royals on seven hits and two walks. He had four strikeouts and seven groundouts.
Carlos Ramirez
managed to get through two innings with only an unearned run despite two hits and three walks. He struck out a batter as did
Oscar Cabrera
, who finished up the ninth for his first save.
GCL Yankees2 2 GCL Blue Jays 0
Tampa, FL
- The Jays second and third round picks were able to live up to their draft billing on this day.
Sean Reid-Foley
stumped the Yanks with four blank frames of two-hit ball. He walked nobody, struck out six and four of his six outs in play were ground balls. Lefty
Nick Wells
added three more shutout frames with just three hits on his pitching line along with one punchout. The good times ended in the eighth when
Turner Lee
(1-2) was lit up for a two-run homer among the three hits he gave up in the eighth.
The Jays were held to just four hits - all singles - by
Deiferson Barreto
,
Juan Kelly
,
Freddy Rodriguez
and
Angel Gomez
. Gomez and
Juan Tejada
were successful on their stolen base attempts.
Lane Thomas
was 0-for-4 and
Matt Morgan
was 0-for-3 - both of them struck out twice.
DSL Tigers 13 DSL Blue Jays 12
San Pedro de Macoris, DR
- This was a heavyweight tilt as both teams landed lots of punches but it also resembled a soccer match with the ball being kicked around quite a bit. The Jays went up 2-0 in the first on an
Enmanuel Moreta
triple and he kept chugging on home after an error.
Miguel Almonte
and
Manuel Herazo
singled home runs in the third to erase a 3-2 deficit.
Edward Olivares
lifted a sac fly and Herazo doubled home another run in the fifth to cut the Tigers lead down to 7-6. Two Tigers clanks resulted in two Jays runs to make it a 9-8 Tiger lead in the eighth. Down 11-8 in the ninth, the Jays tied it on a Herazo RBI double and a
Rodrigo Orozco
two-run homer. They went ahead by a run in the 10th thanks to another Tigers error. Herazo had three hits and Orozco had two hits and two walks along with a stolen base. Moreta, Almonte,
Jesus Severino
and
Bryan Lizardo
also posted a two in the hit column while Almonte and Severino added one under the BB. Francisco Rodriguez had a hit and took one for the team.
The Tigers put the hurt on
Yonardo Hernandez
for two home runs and five runs overall in three frames thanks to eight hits and a walk along with two strikeouts.
William Zambrano
did not get an out but was charged with two runs, one of them earned.
Jose Diaz
was also dinged for two runs in 2.1 innings.
Jairo Rosario
didn't give up any runs in 1.2 innings and matched Diaz with two K's.
Juan Nunez
was knocked around for three runs on four hits and a walk but only one run was earned and he struck out five.
Luis Dominguez
(0-1) gave up the winning run on a hit and a walk over one inning. There were 11 errors in this one, six by the Tigers.
Tuesday's Linescores


Northwest League All-Star Game

North Division 0 South Division 0 (Final - 10 Innings)
-
Boxscore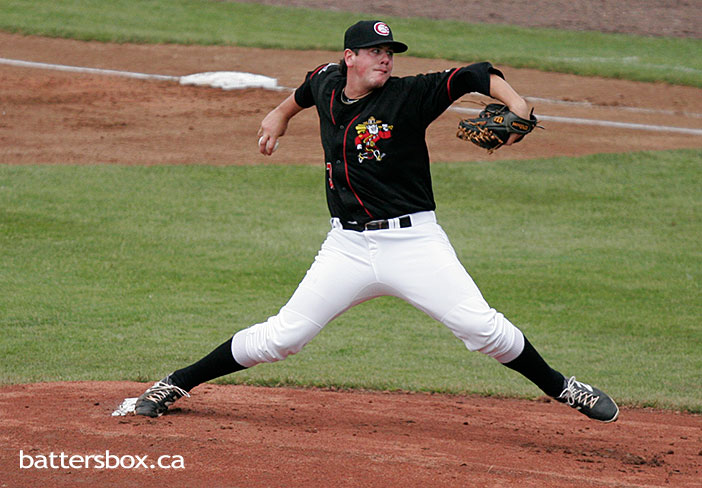 Andrew Case
struck out three of the five hitters he faced in the Northwest League All-Star Game in Eugene, Oregon Tuesday.

Eugene, OR
- Canadians pitcher
Jairo Labourt
got the honour of starting for the North Division squad. He overcame his own throwing error to pitch a scoreless first inning of one-hit ball which included one strikeout, one groundout and one flyout.
Joe Lovecchio
struck out two of the three batters he faced in a perfect frame and
Andrew Case
pitched 1.2 perfect innings with 3 K's.
Roemon Fields
,
Franklin Barreto
,
Ryan McBroom
and
Tim Locastro
all went 0-for-2.

*** 3 Stars!!! ***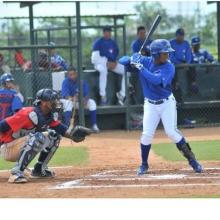 3. Rodrigo Orozco, DSL Blue Jays
- Hitting .315 with runners on base and .339 with runners in scoring position.
(Image from tubeisbol.com)

2. Brett Wallace, Buffalo
- Hitting .308/.400/.442 in 15 games with the Herd.
(Image from MiLB.com)

1. Lydell Moseby, Bluefield
- Five of his seven RBI this season have come in his last two games.
(Image from MiLB.com)


Wednesday's Schedule & Probable Starters

DSL Blue Jays
@ DSL Rangers2, 10:30 am ET - TBA.
GCL Blue Jays @ GCL Astros, 12:00 pm ET - TBA.
Lansing
@ Fort Wayne, 12:05 pm ET -
Starlyn Suriel
(0-1, 3.27).
Dunedin
@ Lakeland, 6:30 pm ET -
Roberto Osuna
(0-0, 8.10)
New Hampshire
@ Erie, 7:05 pm ET - TBA.