The affiliates came out on top in five of the seven contests that were played Tuesday night. Starting pitching carried the day along with a big swing from the man with the parrot. Dunedin had the night off.
Norfolk 7 Buffalo 5

Buffalo, NY
- The Bisons scored the first seven runs and held on for the win over the Orioles affiliate.
Cole Gillespie l
ed off the second inning with a home run and
Edwin Encarnacion
would belt a grand slam to make it 5-0 Herd.
Andy LaRoche
and
Kevin Pillar
chipped in with RBI singles in the third and seventh. Pillar had three hits, including a double, while Gillespie had two hits and a walk.
Darin Mastroianni
had two hits, including a two-bagger. LaRoche walked to get on board twice.
Brett Wallace
was 1-for-4 while
George Kottaras
and
Jonathan Diaz
hear ball four once.
Ryan Goins
was 0-for-4.
Kendall Graveman
(1-2) earned his first Triple-A win with seven shutout innings of three-hit ball. He walked one batter, struck out two and induced 11 groundball outs.
Kyle Drabek
gave up a run in the eighth on four hits.
Bobby Korecky
did not have it in the dreaded non-save situation as he was cuffed around for four runs in one-third of an inning. As a result, his earned run average swelled to 1.26.
Sergio Santos
was called in and sandwiched a walk with two strikeouts to get save number two.


New Hampshire 8 Richmond 2

Manchester, NH
- The Fisher Cats win was as simple as A-B-D.
Austin Bibens-Dirkx
(5-2) allowed just two runs (one earned) over seven innings. He served up a home run but that was only one of three hits on the night by the Braves affiliate. Bibens-Dirkx struck out six, walked nobody and had seven groundball outs.
Dustin Antolin
worked around a hit and a walk with two K's to pitch a scoreless eighth.
Richard Bleier
finished up with a one-hit ninth.

Melky Mesa
walked with the bases loaded to start a four-run rally in the third.
Andy Burns
hit a deep enough fly ball to score the second run before an error led to runs three and four.
Jorge Flores
doubled home a double by
Michael Crouse
in the fourth. Mesa mashed a solo home run in the seventh before Flores and
Kevin Nolan
singled home two more runs in the eighth. Flores had three hits while Crouse and
Jon Berti
also got on base three times. Crouse did it with two doubles and a walk while Berti had two singles to go with a base on balls. Berti also stole his 37th base of the year.

Fort Wayne 4 Lansing 2
Lansing, MI
- The Lugnuts battled back from two one-run deficits but they could not do it again against the Padres affiliate.
Mitch Nay
singled home Lansing's first run in the third inning but he was thrown out at second trying for a double.
D.J. Davis
drove in the other run by singling home a
Dawel Lugo
double in the fourth.
Ian Parmley
had three of the Lugnuts 10 hits. Nay had two while
David Harris,
Matt Dean
and
Justin Atkinson
also entered the hit column. Nay and Dean both had doubles. Davis was caught stealing for the 18th time this season to make him 14-for-32.

Starlyn Suriel
(1-1) surrendered three runs on nine hits and a hit by pitch over five innings.
Alonzo Gonzalez
went the next three frames and allowed a run on two hits and a walk but also racked up 3 K's.
Francisco Gracesqui
allowed a hit, a walk and a strikeout in a shutout ninth.


Tri-City 4 Vancouver 3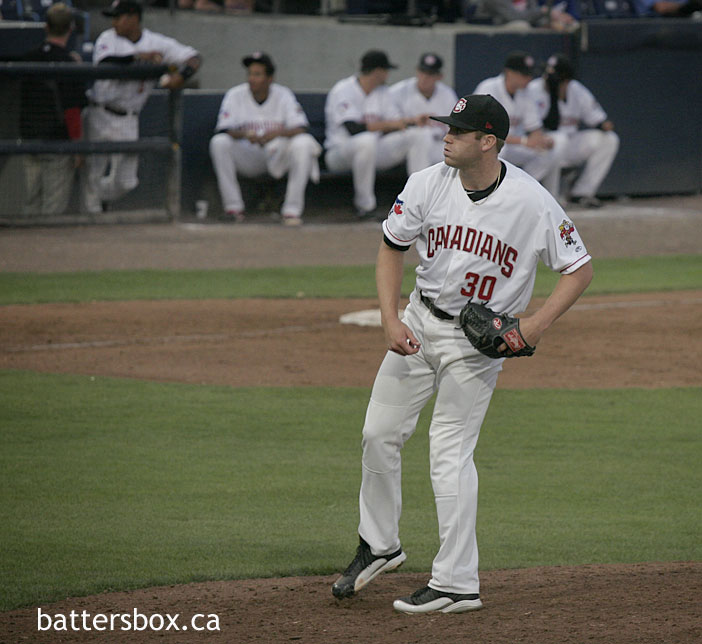 Mark Biggs
provided three shutout innings without allowing a hit Tuesday night.
Vancouver, BC
-
Zak Wasilewski
met his Waterloo-ski against the Rockies affiliate. The lefty was whacked for four runs on seven hits and two walks in just 1.2 innings. He did strike out a pair. The bullpen shut things down after that with
Jairo Labourt
stranding three runners and pitching 2.1 frames, working around a pair of hits and a pair of walks.
Mark Biggs
was practically flawless, facing just one batter over the minimum in his three-inning stint. The only baserunner reached on a
Franklin Barreto
error at short. Biggs also struck out a batter.
Andrew Case
also faced one over the minimum by walking just one hitter over two innings.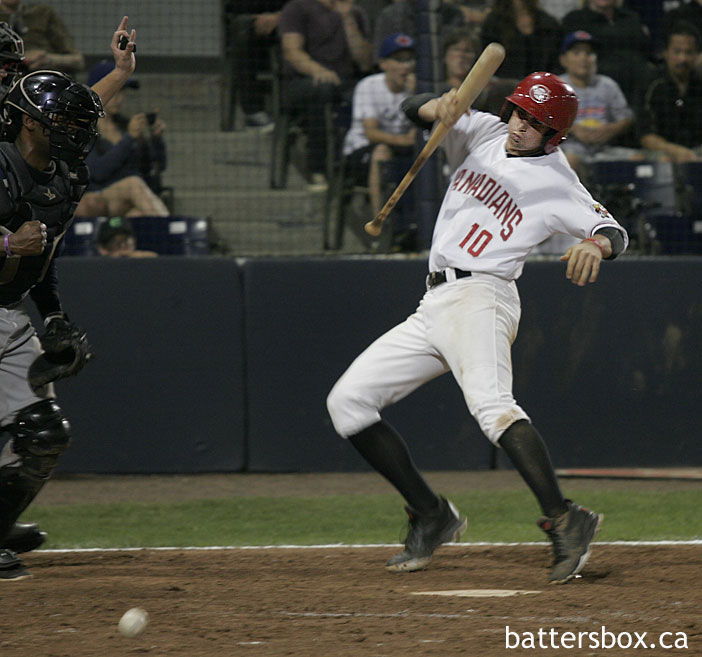 Tim Locastro
got hit twice but got his revenge twice with two stolen bases Tuesday night.
All three Vancouver runs came in the third inning.
Franklin Barreto
doubled home
Tim Locastro
, who stole second after getting hit by a pitch.
Chris Carlson
singled home Barreto and he came in to score on a
Gunnar Heidt
double.
Christian Vazquez
flied out to centre with runners at second and third to end the rally. That was as close as Vancouver would get to tying the game. Carlson and Heidt had two hits each.
Ryan McBroom
and Peterborough, Ontario native
Mike Reeves
- in his first game back with the C's since last season - both went 1-for-4. Locastro reached twice by taking one for the team twice and stole two bases to run his totals to 26 and 23 respectively.
Bluefield 3 Danville 1

Bluefield, WV
- The Jays won this one thanks to the E-Z-Boys.
Rowdy Tellez
tied the game with a run-scoring single in the seventh inning before scoring the winning run on an errant pickoff throw at second base.
Jesus Gonzalez
knocked in an insurance run with an RBI single. Tellez and Gonzalez had two hits apiece.
Lane Thomas
and
James Lynch
had the other base hits.
Gabriel Cenas
was 0-for-2 with a walk.
Richard Urena
struck out twice in four hitless at-bats.
Just one hit and one walk was all
Conner Greene
would give up against the Braves in his five-inning stint. He struck out eight while four of his six outs were of the groundball variety. Greene finished with a flourish by setting down the last 12 hitters he faced.
Conor Fisk
(2-1) fired three shutout frames of two-hit ball, whiffing three.
Chase Wellbrock
had a 1-2-3 ninth inning for his first save.
GCL Pirates 1 GCL Blue Jays 0

Bradenton, FL
- A passed ball with two outs in the ninth gave the Jays the victory.
Juan Tejada
took one for the team to keep the inning going. He proceeded to steal second and went to third on the ensuing error by the catcher before crossing home plate.
Deiferson Barreto
had two of the Jays' five hits while stealing a base.
Nathan De Souza
doubled while
Angel Gomez
and
Edward Fuentes
both singled with Fuentes pilfering a base.
Andrew Florides
was hit by a pitch.
Matthew Morgan
was 0-for-4.

Grayson Huffman
held the Bucs to just one hit over five shutout innings. He struck out four and six of his nine outs were on the grass.
Brandon Hinkle
walked a batter in a scoreless sixth.
Francisco Diaz
(1-0) walked two and plunked two but kept the Bucs off the board with three no-hit innings.

DSL Blue Jays 12 DSL Brewers 3

San Pedro de Macoris, DR
- The Jays drank the Brewers dry with the first nine runs of the game.
Francisco Rodriguez
singled home the first run in the second inning. That was the appetizer for an eight-run third. A wild pitch opened the scoring before a two-run single and a two-run double by
Javier Hernandez
and
Bryan Lizardo
respectively put this one into laugher territory.
Edward Olivares
was hit by a pitch to bring home another run before they were cleared by
Rodrigo Orozco
on a three-run triple. Olivares drove home the next two runs with a single in the fifth and a double in the seventh.
Enmanuel Moreta
brought in the final run with a base hit. Orozco and Olivares had the two-hit efforts and Olivares heard ball four once.
Ronniel Demorizi
singled and walked twice. Rodriguez and Lizardo reached twice with a hit and a base on balls.
Miguel Almonte
walked twice.
Juliandry Higuera
(3-3) worked five innings and prohibited the Brewers to two runs (one earned) on four hits and two walks. He struck out four and split his eight outs evenly on the ground and in the air.
Wilfri Aleton
had the four-inning save by cutting off the Brew Crew to a run on four hits while compiling a 1-1 K/BB ratio.
Tuesday's Linescores

*** 3 Stars!!! ***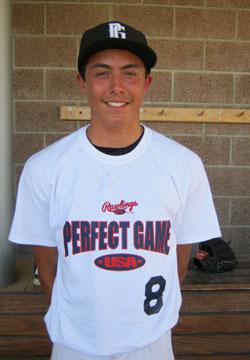 3. Conner Greene, Bluefield
- A 1.14 WHIP in 43 K's in 45.2 innings between the Gulf Coast and Bluefield this season.
(Image from
PerfectGame.org
)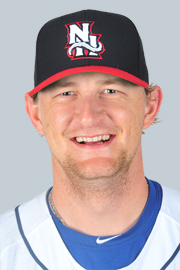 2. Austin Bibens-Dirkx, New Hampshire
- A 1.05 WHIP and 82 whiffs in 99.1 IP between New Hampshire and Buffalo.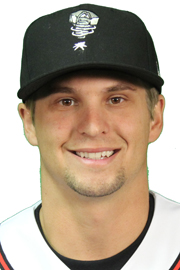 1. Kendall Graveman, Buffalo
- A 1.02 WHIP and 103 K's in 148 innings in four stops between Lansing, Dunedin, New Hampshire and Buffalo.
3 Stars Images courtesy of
MiLB.com
except where noted.



Wednesday's Schedule & Probable StartersGCL Blue Jays
@ GCL Yankees1, 10:00 am ET (DH) - TBA.
DSL Tigers @
DSL Blue Jays
, 10:30 am ET - TBA.
Dunedin
@ Clearwater, 7:00 pm ET -
Jesse Hernandez
(6-9, 5.09).
Norfolk @
Buffalo
, 7:05 pm ET -
Sean Nolin
(4-4, 3.15).
Richmond @
New Hampshire
, 7:05 pm ET - TBA.
Fort Wayne @
Lansing
, 7:05 pm ET -
Brent Powers
(4-4, 4.89).
Bluefield
@ Princeton, 7:05 pm ET -
Jesus Tinoco
(1-6, 5.88).
Everett @
Vancouver
, 10:05 pm ET -
Jairo Labourt
(3-3, 2.19).