The Vancouver Canadians lost their third straight to Boise at Nat Bailey Stadium Thursday night.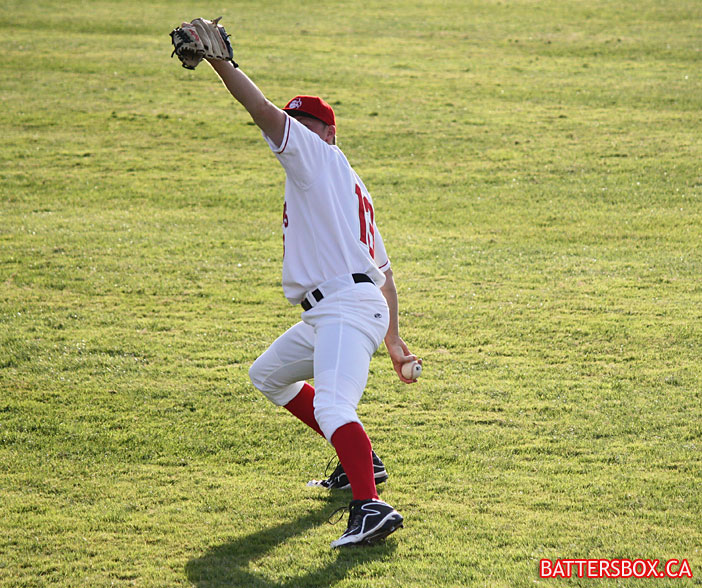 C's starter
Josh DeGraaf
looks like he is shooting with an invisible bow and arrow as he limbers up in the outfield before the game.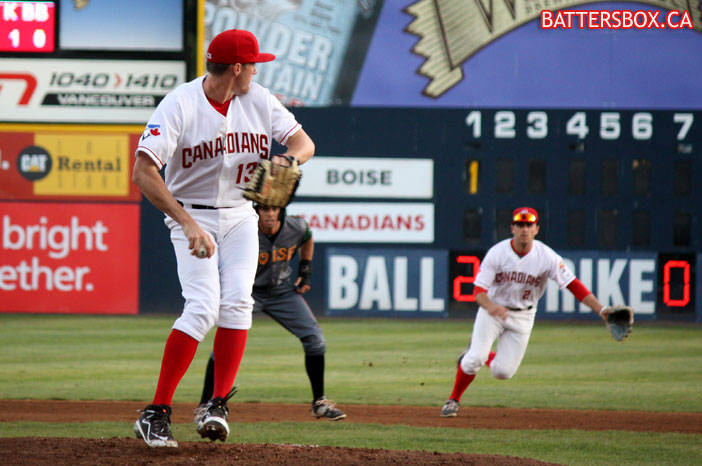 Josh DeGraaf
turns and fires to second base to pick off Boise's
Brian Carroll
with shortstop
Gunnar Heidt
heading to cover the bag.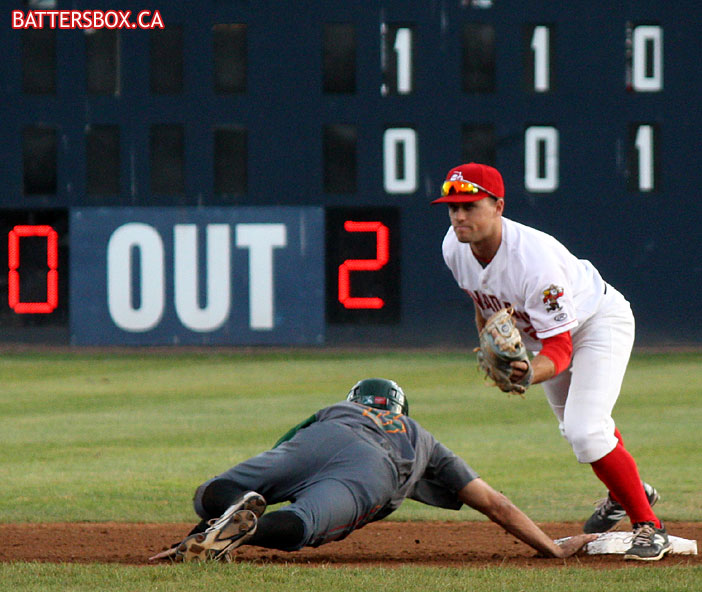 Gunnar Heidt
finishes applying the tag on
Brian Carroll
on the pick-off to end the first inning.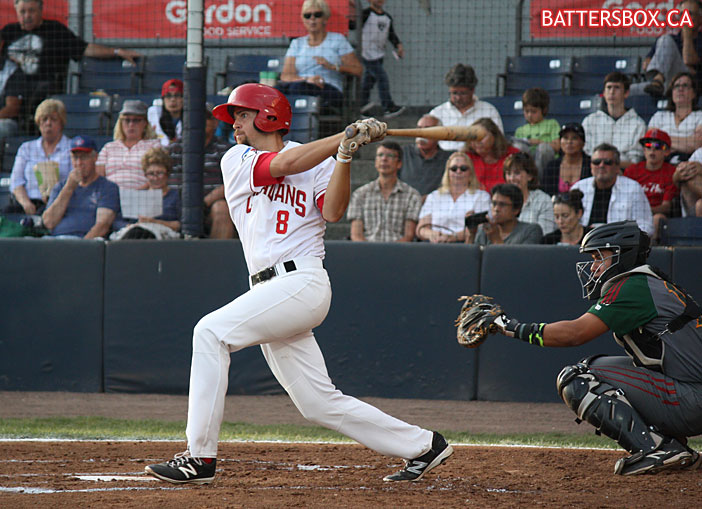 Ryan Metzler
flies out to left field in the first inning. He would go 0-for-4 on the night to end his 16-game hitting streak.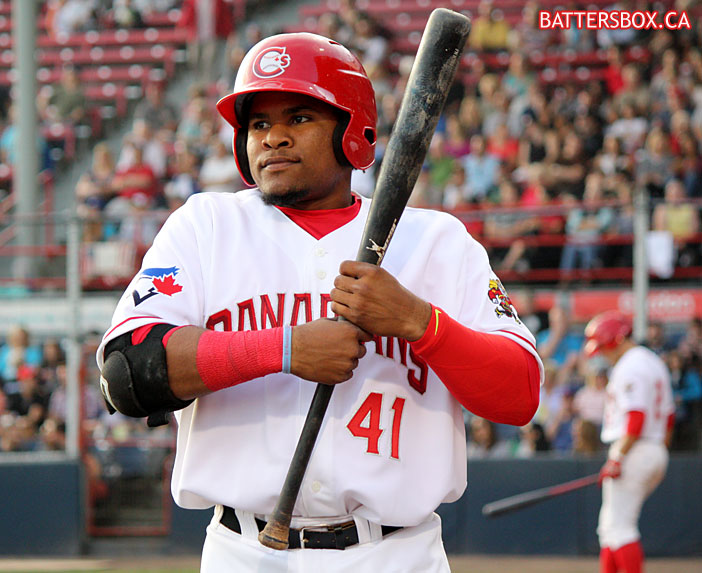 Juan Kelly
looks like he wants to strangle his bat after flying out to left in the second inning. Kelly would go 0-for-3 with a walk.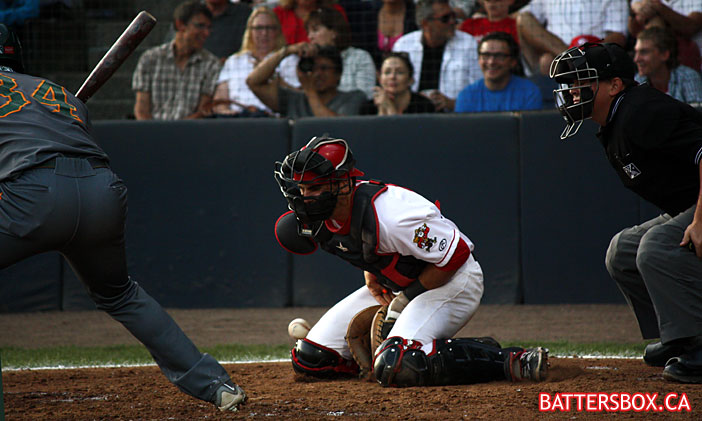 C's catcher
Josh Reavis
blocks a pitch in the dirt during the second inning.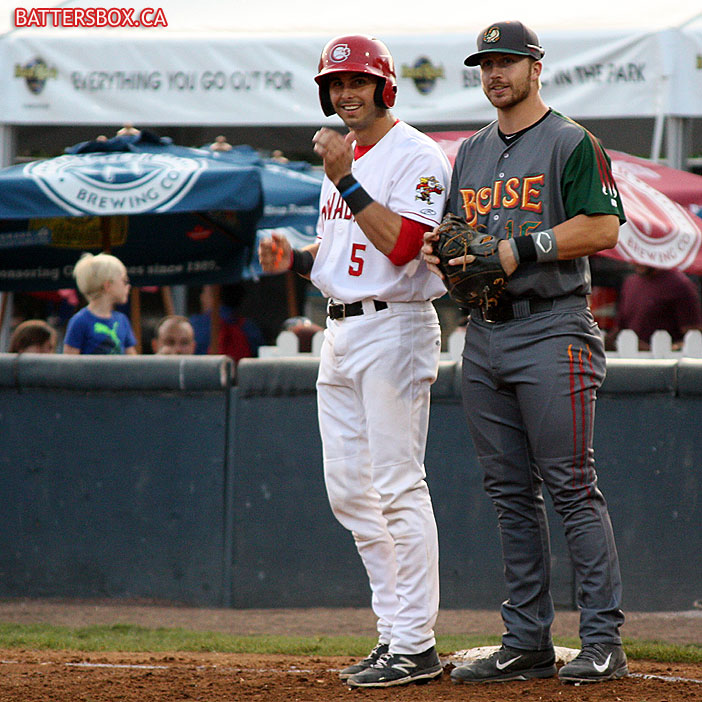 Josh Reavis
is all smiles as he gets to first base on a leadoff walk in the third. Boise first baseman
Brian Mundell
seems to be okay with it as well. Note Reavis' orange finger nails to help him relay signs to his pitcher.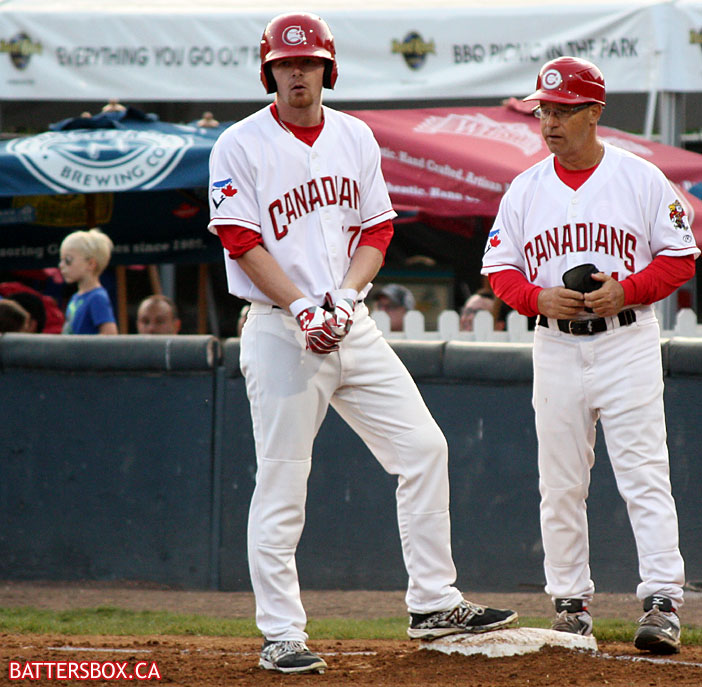 James Lynch
stands with hitting/first base coach
Dave Pano
after rapping a single to right field in the third, pushing
Josh Reavis
to second.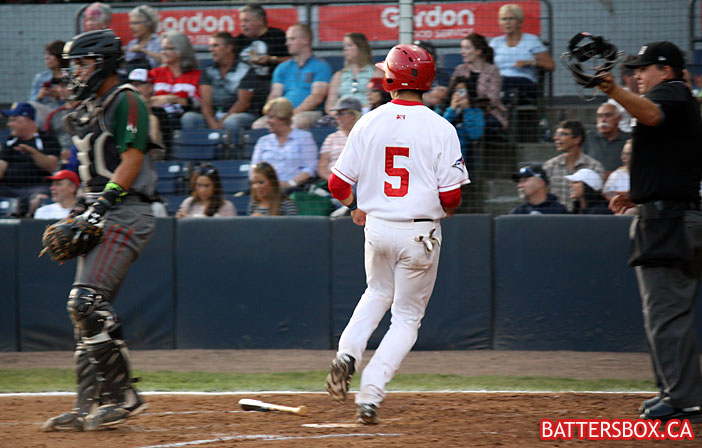 Josh Reavis
scores Vancouver's first run on a bunt single by
Andrew Guillotte
. Reavis went to third on a wild pitch from Boise starter
David Hill
before scoring.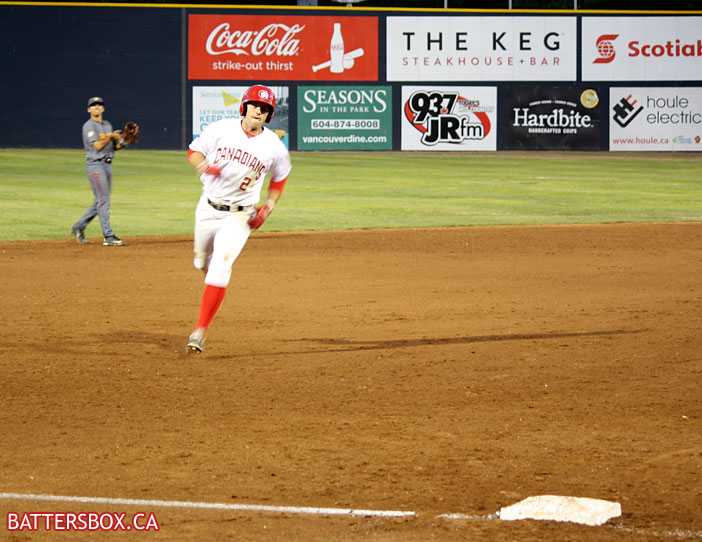 Gunnar Heidt
approaches third as he rounds the bases after hitting his third home run of the season to left field to tie the game at 2-2 in the fifth inning. However, Boise would score three in the sixth and
hang on
for a 5-2 victory.
---
A decent effort by
Josh DeGraaf
was wasted in this one. He gave up four runs on four hits over 5-1/3 innings with a 3-3 K/BB ratio and six of his 11 outs in play on the ground. Two of the runs were unearned. The first came in the first inning when his second pitch of the game was booted at short by
Gunnar Heidt
. A single, wild pitch and sacrifice fly would bring in Boise's first run. DeGraaf retired the side in order and got through the third unscathed despite two hits. He showed nice athleticism in getting to a sacrifice bunt down the third base line to throw out the runner at first. The righty had to deal with another two hits in the fourth but got a line out double play to short to end the threat. DeGraaf was perfect in the fifth but walked the leadoff man in the sixth. A stolen base, a
Josh Reavis
throwing error and another walk put runners on the corners. That led to DeGraaf's exit from the ball game.
Lefty
Turner Lee
was brought in to try to get a ground ball double play to end the inning. Instead, he yielded a sacrifice fly for the go-ahead run. Lee then allowed a single and a walk before getting the ground ball he was looking for. Instead, it was booted by Heidt at short and that led to two insurance runs.
Sean Ratcliffe
took over for Lee in the seventh after giving up an unearned run in his two-thirds of an inning. Ratcliffe had to endure a lengthy delay in which the home plate umpire could not continue due to some sort of injury/illness, leaving the base ump to go behind the plate and work double duty on the bases. When play resumed, Ratcliffe retired the side in order and survived a walk, single and stolen base in the eighth.
Andrew Case
got into a bases-loaded jam with one out after a single and two walks but he escaped, striking out a batter in the process.
As for radar gun readings, DeGraaf was around 82-93 and touched 95 miles per hour. Lee clocked in at 92, Ratcliffe was around 90 and Case reached 95.
The C's were able to get at least one runner on base over the final four innings but could not push a run across. The best chance came in the seventh when Reavis and
James Lynch
both singled with nobody out but a fielder's choice by
Andrew Guillotte
and a ground ball double play from
Ryan Metzler
killed the rally.
Guillotte, Lynch,
Justin Atkinson
and
Sean Hurley
all put up a couple in the hit column with Guillotte stealing his 16th base of the year.
Ryan Hissey
was 0-for-4 but was robbed of a couple of hits on two deep flies to the warning track in center field.
The C's finish up their homestand today against Boise before heading to Spokane for a four-game series that starts with a doubleheader. They get the day off Monday before visiting Tri-City for a three-game set. Their final home series begins next Friday with a weekend series against Everett. Thanks to Salem Keizer's extra-inning win over Everett, the 13-14 C's still trail the AquaSox by 2-1/2 games for first place in the Northwest League North Division. C's fans are hoping that final series will still mean something instead of just having to play out the string on the 2015 season.