The Vancouver Canadians home opener did not quite go as planned Monday night.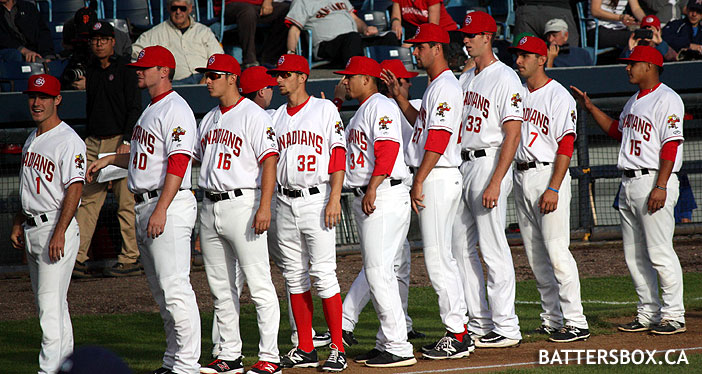 The 2016 Canadians roster is introduced to the sell-out crowd at Nat Bailey Stadium.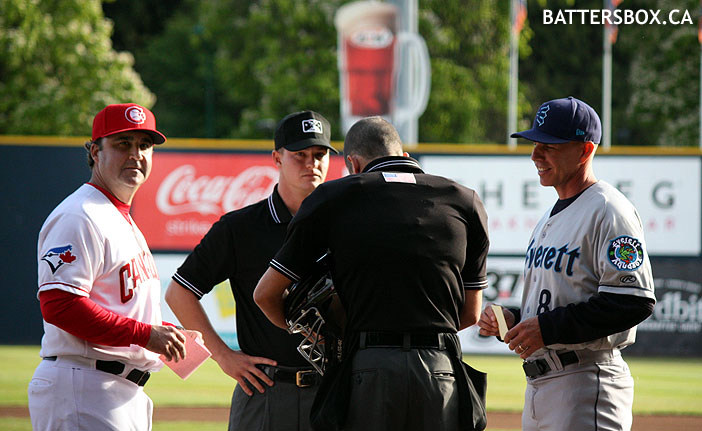 Canadians manager
John Tamargo Jr.
and AquaSox skipper
Rob Mummau
exchange lineup cards at home plate.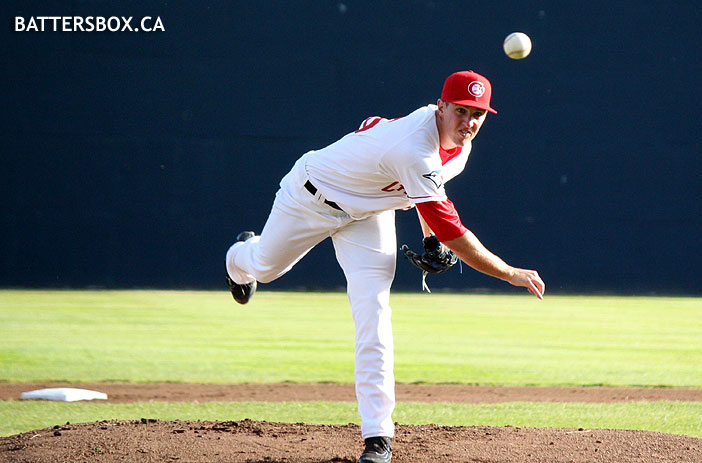 The first pitch by C's starter
Patrick Murphy
is a 91 MPH strike.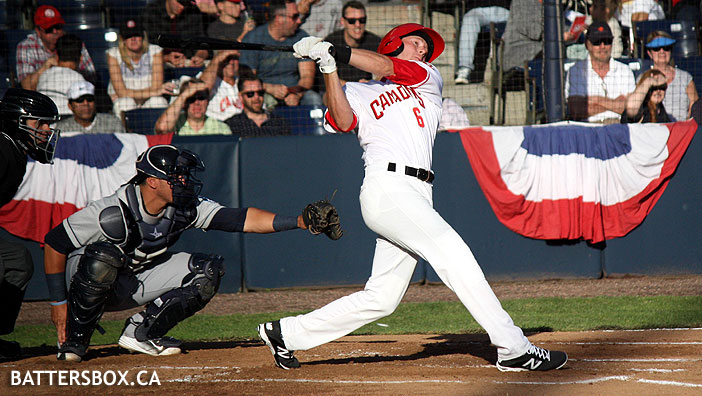 J.B. Woodman
gets the C's first hit as he pulls one down the right field line for a ground-rule double.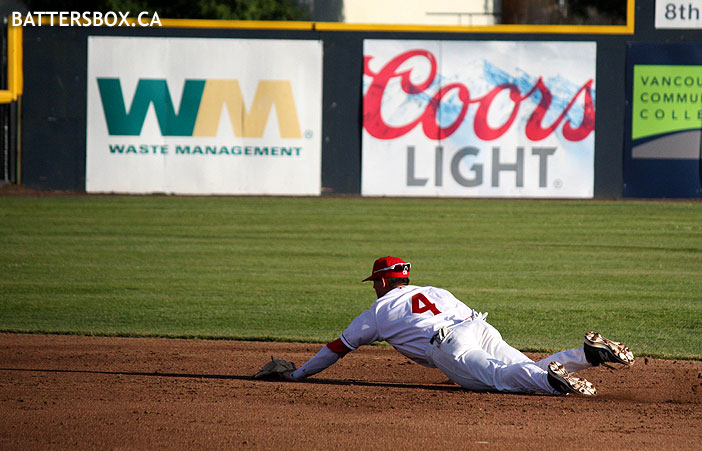 C's second baseman
Cavan Biggio
lays out to snare a sinking liner in the second inning.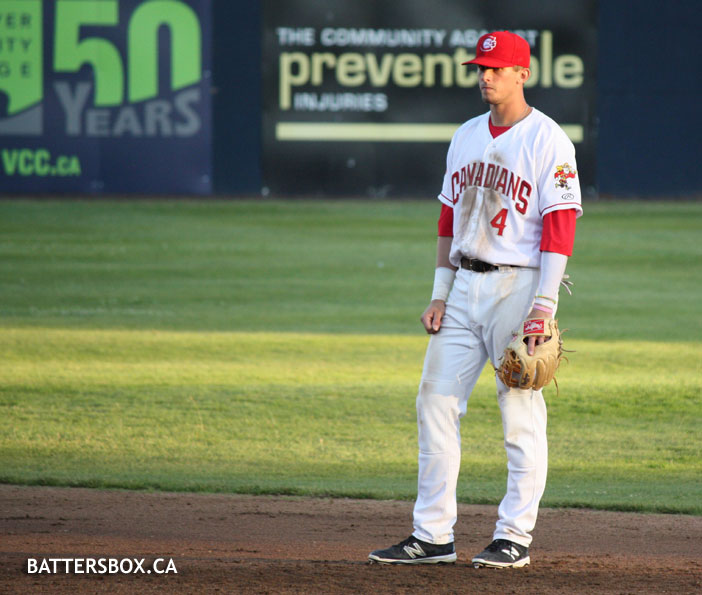 Cavan Biggio
in the aftermath of his diving catcher.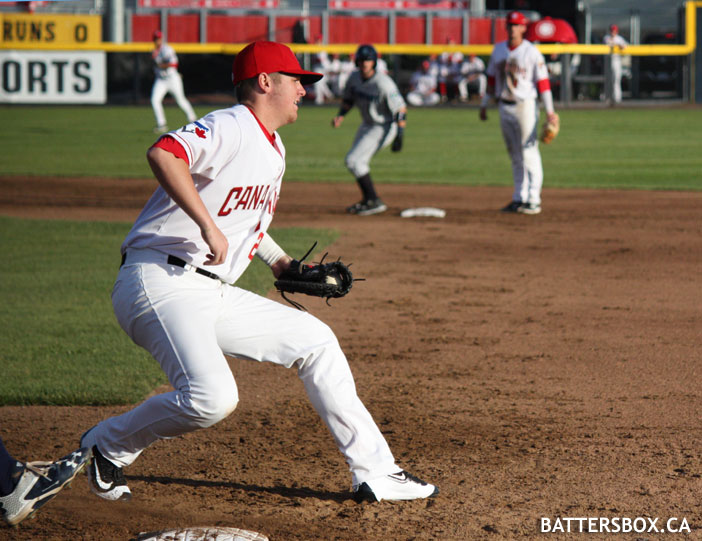 C's first baseman
Christian Williams
gets to the first base bag in time to record the inning-ending putout in the second.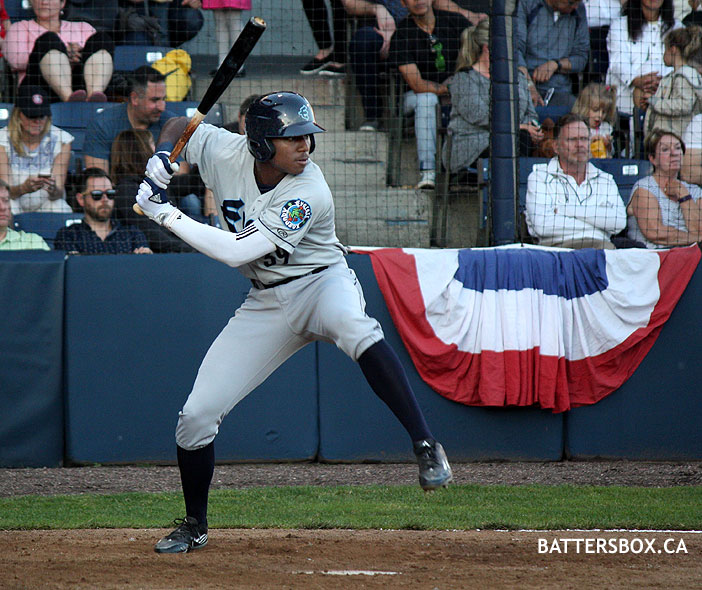 Mariners first round pick
Kyle Lewis
gets ready to attack a
Stuart Holmes
pitch.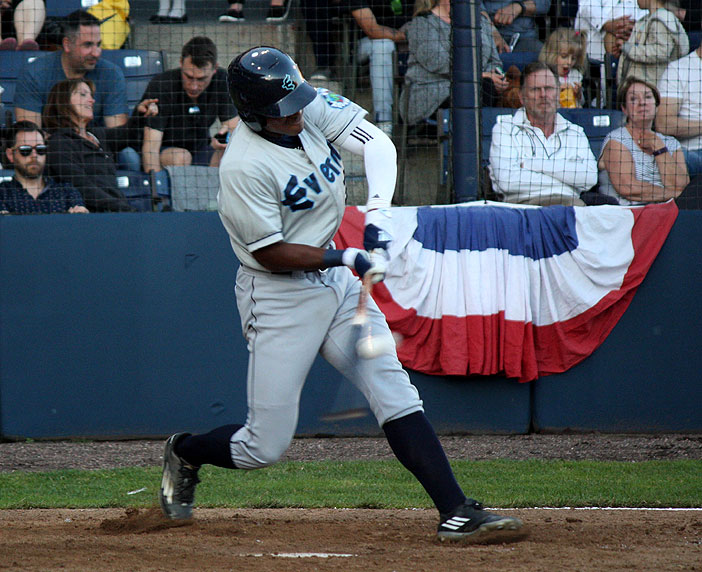 Kyle Lewis
connects for a single to left to make it 4-0 Everett in the seventh.
Griffin Glaude
gave the C's 1-2/3 shutout innings of relief in an eventual 10-0
whitewashing
by Everett.
---
Random observations...Patrick Murphy
threw fastballs in the 91-97 mile per hour range, settling in around 91-94. Two errors and a bad hop single over the head of Cavan Biggio at second played a large role in giving Everett a 2-0 lead. Murphy threw a curveball at 79 to retire Mariners first round pick
Kyle Lewis
to end the first inning. He also threw pitches at 84 and 88.
Griffin Glaude
's two strikeouts came on 91 mile per hour heaters.
Monty the Inflatable Mountie
was nowhere to be found. Deflate-gate in Vancouver.
Luis Sanchez
is listed as tonight's probable starter in a 7:05 pm start.
Justin Maese
gets the call on Wednesday night. Former Mariner
Mike Cameron
will be at the park for an autograph appearance Wednesday.
Two-time Northwest League champion Hillsboro is in town for a five-game series beginning Thursday.
Jack Morris
will be at the game to sign autographs. The Friday and Sunday games are at 1:05. The other three are at 7:05.