The final reveal! We have a top 10 list that looks a lot like last year's edition. Eight players return along with two new draftees. Max Pentecost and D.J. Davis hightail it out of the top 10.
We hope you enjoyed this year's list. A big thank you goes out to #2JBrumfield, sam and Thomas for helping select the top 30 and preparing the player stats and descriptions.
10. Jon Harris | RHP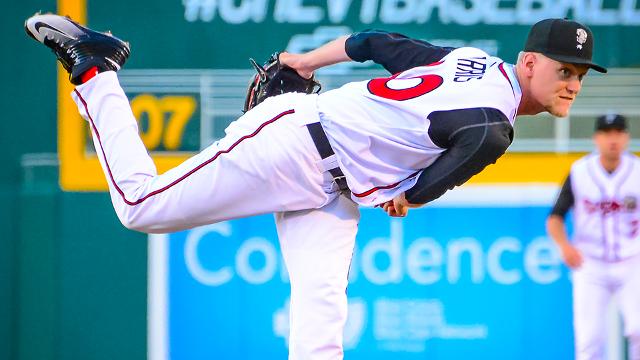 (Image from
MiLB.com
)
| | | | | | | | | | | |
| --- | --- | --- | --- | --- | --- | --- | --- | --- | --- | --- |
| Year | Age | Level | G | GS | IP | H/9 | HR/9 | BB/9 | K/9 | ERA |
| 2016 | 22 | A | 16 | 16 | 84.2 | 7.9 | 0.1 | 2.6 | 7.8 | 2.23 |
| 2016 | 22 | A+ | 8 | 8 | 45.0 | 7.4 | 0.4 | 2.8 | 5.2 | 3.60 |
The Blue Jays were pleasantly surprised when they landed righthander Jon Harris with the 29th pick of the 2015 draft, a compensation pick Toronto received when Melky Cabrera left to sign a free-agent deal with the Chicago White Sox. That glow faded some through the rest of 2015 as Harris didn't impress as much as a first rounder should have. Harris was deemed to be too tired and too weak to dominate professional hitters. As a result, there was some interest to see what Harris brought to 2016. Harris answered some of the questions by pitching well in Lansing and Dunedin. Harris made 24 starts and threw 130 innings for a successful full season. That good look at Harris did not eliminate all concerns about him.
Harris has four pitches, a 90-94 mph fastball, a change, a slider and a curve. All are decent but none are outstanding, or as the scouts say, plus. To succeed in the major leagues, you have to be able to get hitters out and that usually needs a plus pitch or two or fantastic command. Harris's current pitches could make it tough to succeed in the majors but also in AA. Jays fans remember Deck McGuire and Chad Jenkins, college pitchers who had good stuff but nothing that was above average. That's the potential downside to Harris right now. The hope is that Harris develops well beyond that. As mentioned in the opening paragraph, Harris needs to get stronger, as he could be considered to be a string bean. Harris is listed at 6'4" and 175 pounds. The extra strength would improve Harris' fastball and perhaps give him more leverage to work on his other pitches. Harris could also improve his pitches, get some movement on his fastball and/or improve his secondary pitches.
Harris will likely return to Dunedin to start 2017. His next big test will come in AA where the standard of hitting improves significantly. Harris will really have to pitch to succeed in AA. With some improved strength and perhaps better pitches, Harris could do well in AA and set himself up for a major league debut in 2018.

9. Bo Bichette | SS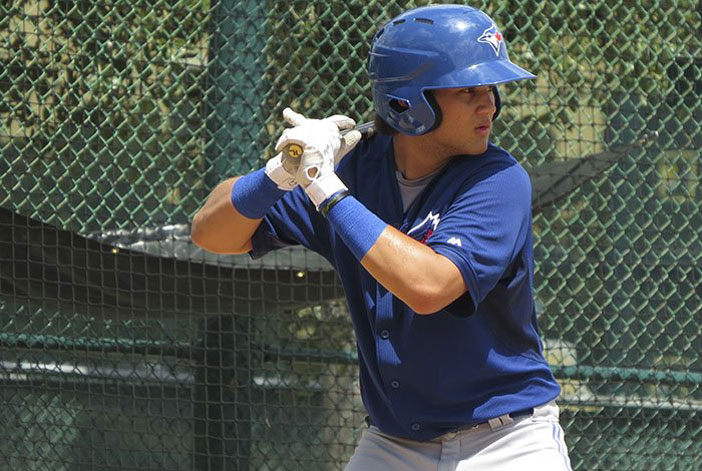 (Image from MLBPipeline.com)

Year
Age
Level
AB
2B
3B
HR
BB
K
SB
CS
AVG
OBP
SLG
2016

18

RK

82

9
2
4

6

17

3

0

.427

.451

.732

The second of three offspring of 1990's All-Stars on this list, few prospects did more during the second half of the season to improve their stock than this 2016 second-round selection. Toronto selected Bo Bichette 66th overall from Lakewood High School in St. Petersburg, where Bichette hit .569 with 13 homers and 44 RBIs in 25 games.
Bo followed his older brother, Dante, and father, Dante, into professional baseball. Dante Jr. was selected 51st overall in the 2011 draft by the Yankees, but has never truly lived up to his potential to date. It appears as if he may have stalled in Double-A with a career .690 OPS in the minors. Dante Bichette was a four-time All-Star in the mid-1990s and led the National League in home runs and RBIs in 1995. He spent a year as Colorado's hitting coach in 2013.
His brother's struggles may have made teams approach Bo cautiously, which worked to Toronto's advantage if that was the case. After projecting him to be Toronto's first round selection in an early mock draft, Keith Law ranked Bo 52nd overall just prior to the draft. He fared a little bit better with Baseball America, which rated Bo as the 46th best prospect going into the draft.
After the draft, Bichette told The Tampa Bay Times that he turned down four other offers to sign with Toronto, explaining that he felt the club was the right fit for him. The truth is that he was likely turning down offers to be drafted if he would agree to sign a below-slot deal, as he signed for $1,100,000, which was $121,400 over slot.
However, it seems Bo found the right fit with the Gulf Coast League Jays. In 91 plate appearances, Bichette hit ..427/.451/.732 for a 1.182 OPS. He led the GCL in batting average, slugging percentage and OPS and finished second in on-base percentage to a 23-year-old prospect five years his senior. Baseball America ranked him as the fourth-best prospect in the GCL after the season, behind the 1st and 9th overall picks in the 2016 draft and a 2015 international free agent signed for $1.5 million by the Nationals.
With regards to his weaknesses, Bo isn't known for his strong defensive skills. While he currently plays short, it's more realistic to think he'll move to second or third before his minor league career is finished. He has below-average speed.
However, this year demonstrated there's a lot to dream on offensively, as he showed signs of tapping into significant raw power and demonstrated a high baseball IQ that should serve him well as he progresses through the minor leagues.
8. Lourdes Gourriel Jr. | SS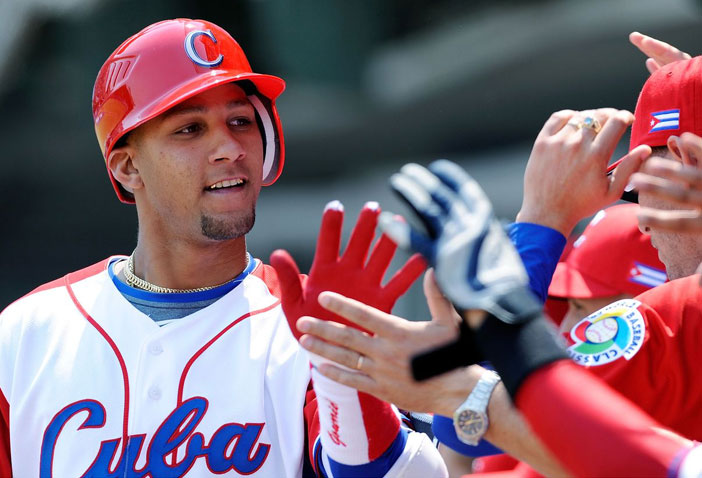 (Image from MLBDailyDish.com)

Year
Age
Level
AB
2B
3B
HR
BB
K
SB
CS
AVG
OBP
SLG
2016

22

-

Did

not

play

-

-

-

-

-

.000

.000

.000

Lourdes Gourriel Jr. will be the main mystery man in the Blue Jays system at the start of 2017. As a Cuban escapee he has not played in North America, other than in tournaments. How will he fare against professional pitching? Gourriel also did not play in 2016, it is tough to miss a year of development time at the age of 22. How long will it take him to get back into playing form?
This leads to the second area of uncertainty. Cubans have had a mixed bag of success, particularly recently. Some of the Cubans to arrive five to 10 years ago such as Kendrys Morales and Jose Abreu were successful leading to MLB teams pushing up the bidding on new arrivals. However, more recent Cubans have had a mixed bag of results. Yasmany Thomas has been okay, Hector Olivera has been a bust. Yoan Lopez also a bust. Even Yoan Moncada with the Red Sox has had some questions raised that would cause some to wonder if he will repay the Sox big investment in him. Where will Lourdes sit on this spectrum?
One of the reasons cited for Cubans having trouble settling in the US has been the change in society they experience. First, they are usually away from their family. They are often surrounded by people who are making money off them, such as agents, advisors and assorted hangers-on. And they arrive in the US from a society that is controlled by the state. They learn not to be too open about what they are thinking or feeling. The acclimation to US society can be rough for some. Add to this new found wealth and many opportunities to spend it and it can be a recipe for trouble. This can feed into on-field play.
Gourriel did not get anywhere near the money that other Cubans signed for. His older brother, Yuliesky signed for twice as much money even though he is already 32. That suggests that Lourdes is not as highly regarded as other Cuban players by MLB teams. Some writers have suggested he profiles best as a utility player like Sean Rodriguez or Ben Zobrist.
Gourriel can play anywhere, from second, to short to third, as well as the outfield. The Jays will play him as an infielder to start. While reports have suggested that Gourriel could start in AA or AAA, it would also not be a surprise to see him start in Dunedin where the weather is better and where the team has its US headquarters to assist, and keep an eye on, their signing. If Gourriel did go to AA, he would likely split time at shortstop with Richard Urena. Urena could play some second and Gourriel some third to give them more at-bats.
2017 will be a year fo discovery for Lourdes. What position will he play? What team will be assigned to? How will he settle into North American life? Was his contract low because he is a utility type or is it low because the value of Cuban players has gone down?
7. Conner Greene | RHP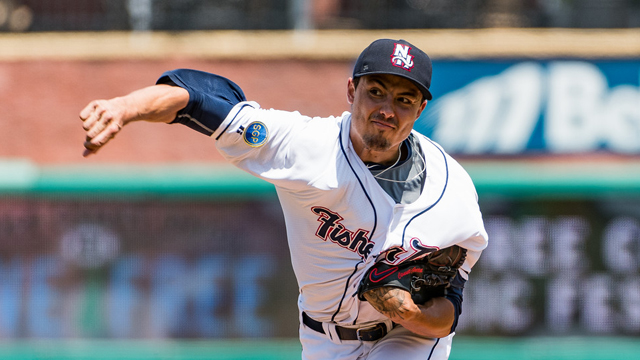 (Image from MiLB.com)

| | | | | | | | | | | |
| --- | --- | --- | --- | --- | --- | --- | --- | --- | --- | --- |
| Year | Age | Level | G | GS | IP | H/9 | HR/9 | BB/9 | K/9 | ERA |
| 2016 | 21 | A+ | 15 | 15 | 77.2 | 8.6 | 0.6 | 4.4 | 5.9 | 2.90 |
| 2016 | 21 | AA | 12 | 12 | 68.2 | 7.5 | 0.7 | 4.3 | 6.3 | 4.19 |
Conner Greene did not have an excellent 2016. In a surprise move, after finishing 2015 in AA, Greene was sent back to A+, Dunedin, to start 2016. Greene did nothing to prove the front office wrong. While Greene put up a 3.00-plus ERA through May, his WHIP was 1.5 and his strikeout rate was around five. Greene pitched better in four June starts and was bumped up to New Hampshire. Greene was fine in AA but again did not dominate. His 4.19 ERA, 6.3 K/9 rate and his 1.5 K/BB ratio did not scream out future major leaguer.
Pitchers have different development patterns to hitters. Hitters tend to have a more linear development while pitchers can come from nowhere or they can blow up and disappear. Greene is in the category of pitchers that have tools but they just haven't figured it all out yet. In addition to that, Greene is young, pitching in 2016 as a 21 year-old, which is young for AA. Greene leads with a very good 93-97 MPH fastball complemented with a good changeup. Both his slider and curveball need work. Those raw pitches are better than Harris' but Harris can command his pitches better.
Pitchers often have bumps along the way to the major leagues. Greene had a bumpy 2016 but he still has the weapons, he just needs to figure out how to use them. One area of concern for Greene's prospects is suggestions that his work ethic and his preparation routines are not as good as they should be. Greene had a meteoric 2015 and that might have caused him to ease off in 2016. Either that or he has absorbed life lessons from his pal, Charlie Sheen. Greene does need to rededicate himself to his craft in 2017. He has the ability, he needs time and effort.
6. TJ Zeuch | RHP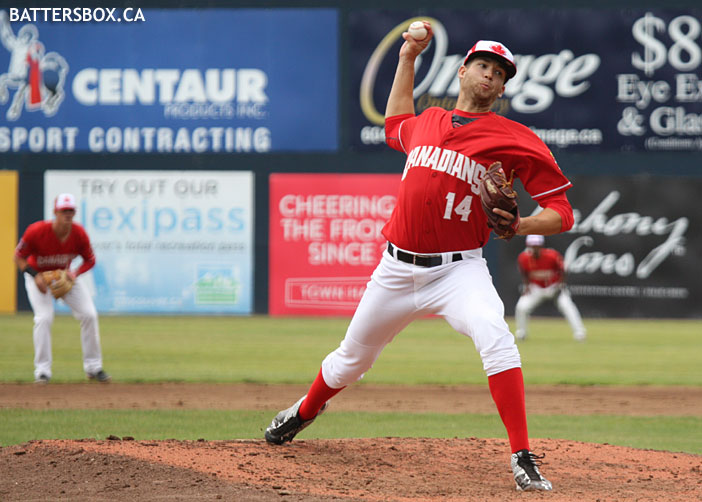 | | | | | | | | | | | |
| --- | --- | --- | --- | --- | --- | --- | --- | --- | --- | --- |
| Year | Age | Level | G | GS | IP | H/9 | HR/9 | BB/9 | K/9 | ERA |
| 2016 | 20 | RK | 1 | 1 | 3.0 | 0.0 | 0.0 | 0.0 | 6.0 | 0.00 |
| 2016 | 20 | A- | 6 | 6 | 23.0 | 8.2 | 0.4 | 2.0 | 8.6 | 3.52 |
| 2016 | 20 | A | 2 | 2 | 8.0 | 11.2 | 1.1 | 2.2 | 15.8 | 9.00 |
Adam Wainwright and Roy Halladay. Those are the major league comps that have been used to size up T.J. Zeuch, the Jays' first-round pick of the 2016 draft. The 6-foot-7, 225-pound right-hander from the University of Pittsburgh signed for $2,175,000 - just below the slot value of $2,285,100 for the 21st pick. There was some thought the Pirates may have taken the Pitt Panther with the 22nd selection had the Jays passed him up.

Timothy James Zeuch (pronounced Zoy-k) was drafted by Kansas City in the 31st round back in 2013 out of Mason High School in Ohio after posting a microscopic earned run average of 0.62 in his senior season. He recorded an ERA of 2.87 in his freshman season with Pitt in 2014 in which he split time as a reliever and a starter. Zeuch joined the Panther rotation full-time in 2015 and bumped his K rate to 9.2 per 9 innings from 6.6 but his ERA climbed to 3.87. His best outing that year came when he dueled with Virginia ace Nathan Kirby (later taken with the 40th overall pick by Milwaukee in 2015) for eight shutout frames in a game Pitt would go on to win.

The Mason, Ohio native emerged as the ace of the Panther staff in his junior season despite missing a month of the season with a groin injury. He posted his first winning season by winning six of seven decisions, posting a 3.10 ERA, striking out 74 batters in 69-2/3 innings and limiting hitters to a .229 batting average. Zeuch was named to the All-Atlantic Coast Conference second team, ranking fifth in the ACC with a 9.6 K/9 rate and walked just 19 batters a season. He saved his best performance for last as he struck out 12 in a nine-inning, one-run effort against Duke May 19, a game the Blue Devils would win in extras to spoil his final start.

According to Shi Davidi, Zeuch was on the Blue Jays radar after his Cape Cod League performance in the summer of 2015 in which he went 2-0 with a 1.31 ERA over four starts that covered 20-2/3 innings with Chatham. The Torontos brass continued to scout Zeuch heavily during his junior season in Pittsburgh. Former Jays director of amateur scouting Brian Parker called Zeuch's fastball his best trait and labeled him a projectable pitcher with upside and an improving curveball.

The big righty made his professional debut in the Gulf Coast League July 9 with three shutout innings that included a pair of K's. He reported to Vancouver a week later and was roughed up in Boise for two runs on four hits and two walks but struck out a pair over three frames. His July 22 home debut with the C's saw him take a liner off his right elbow just nine pitches in but he shook it off to deliver three shutout innings and limit eventual Northwest League champion Eugene to a couple of hits and a walk while whiffing a trio of hitters. T.J. was not the first member of the Zeuch family to pitch in the NWL or in B.C. for that matter. His father, Tim, was a Royals minor leaguer who pitched for the Victoria Mussels back in 1980.

T.J. put together another three-inning shutout against league finalist Everett on the road, limiting the AquaSox to just one hit. As part of a six-man rotation in Vancouver, he was given four innings in his next start in Eugene in which he gave up a two-run homer but posted a K-BB total of 5-1. He went five innings in each his next two home starts at home, giving up a combined five runs while striking out 11 and walking only one. He had a 13-day layoff between those starts as the C's skipped a turn of his in the rotation.

Like last year's fellow first-rounder Jon Harris, Zeuch would not be able to earn first professional win in a Vancouver uniform. He was called up to Lansing at the tail-end of August and was roughed up in his Lugnuts debut in Lake County, surrendering five runs over three innings. He bounced back against the same Lake County squad by reversing his run and innings totals in his next outing, striking out a combined 14 hitters with only two free passes over eight frames.

Zeuch's fastball has registered from 92-95 miles per hour, touching 97, with a hard-sinking, two-seam fastball. It's hoped he can add a tick or two more with his heater as he continues to get stronger. He also throws a upper 70's 12-6 curveball, an upper 80's slider and a mid-80's changeup but is working to improve the consistency of those offerings. His breaking stuff is considered to be solid-average with the changeup needing the most work. Zeuch told John Lott he needs to use his legs more in his delivery to take pressure off his shoulder and elbow, and improve his fastball command to his glove side – inside to a left-handed batter, outside to a right-hander.

Zeuch told Chris Cotillo from MLB Daily Dish that he considers his competitiveness and his ability to limit walks as his main strengths and being too negative and too hard on himself as his big weaknesses.

There is a lot of things about Zeuch for scouts to like, including his long levers and a high-release point that can make it seem like the ball is being released much closer to home plate than the 60-feet, 6-inches from the mound. At least that's how I felt when I took pictures from behind the home plate seats! Other positives include his August birthdate, making him younger than most juniors coming out of college, and his pitching in a cold-weather state limited his workland to help keep a lot of bullets left in his right arm.

Projected as a workhorse starter who could be a #2-3 starter in a major league rotation, Zeuch will probably be back in Lansing to start off 2017 as he goes after his first professional victory. He will turn 22 on August 1.


5. Rowdy Tellez | 1B/DH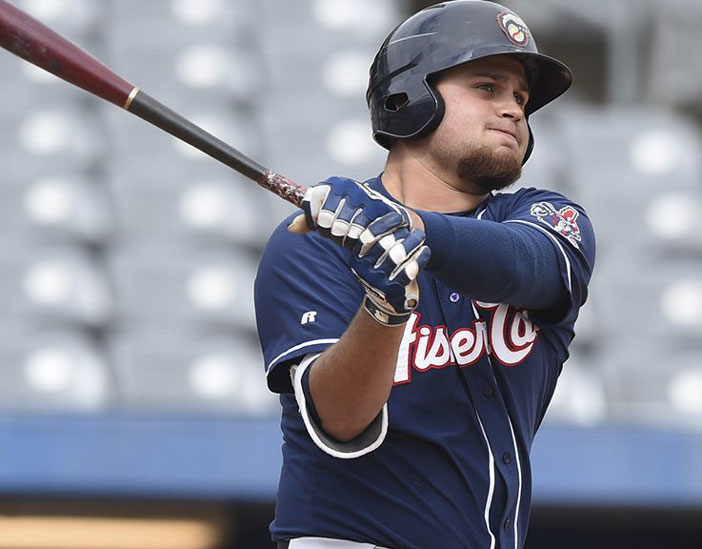 (Image from MLBPipeline.com)

Year
Age
Level
AB
2B
3B
HR
BB
K
SB
CS
AVG
OBP
SLG
2016

21

AA

438

29

2

23

63

92

4

3

.297

.387

.530

Rowdy Tellez is full value at #5 this year. With a promotion to AA New Hampshire, the 21 year-old Tellez posted a slash (OBP/SLG/OPS) of .387/.530/.917. Improvements across the board on his 2015 numbers are sufficient to warrant some whispers that he may be an option for the big club should Eddie and Jose walk.
Tellez joined the Jays in 2013 out of high school as a late round-high bonus pick. Always the advanced hitter, Tellez features a plus power and plus hit tool. He's a clogger on the base paths and though unlikely to ever win a Gold Glove, he can play a serviceable first base. After reporting earlier in his young career out of shape, Tellez has reportedly impressed many in the Jays' organization with his commitment to his body and craft. The results are there for everyone to see as Tellez has already shown true power potential, ability to hit for average and an understanding of the strike zone. Tellez is thus a bit of a rarity in today's prospect-dom of multi-tool athletes long on superlatives and malleability, and short on definition and craft. He will be a first baseman and quite likely a DH before all is said and done, but the potential is there to feature in the middle of a Jays' lineup for a number of years popping 25-30, driving in 100, walking 100 times and hitting for some average.
Tellez though is far from a finished product. First base prospects are notoriously difficult to develop, seemingly bounce back and forth between the Minors and Majors, and are often dealt before they realize their potential. He'll likely head to Buffalo where another 400-500 at-bats would do him well. The Jays will want to see him continue to work the walk and develop his power. Tellez has not struggled against left-handers, but posted noticeably lower numbers than against right-handers. Nonetheless, a big year in Buffalo could see Tellez up in Toronto by September, or earlier.
4. Richard Urena | SS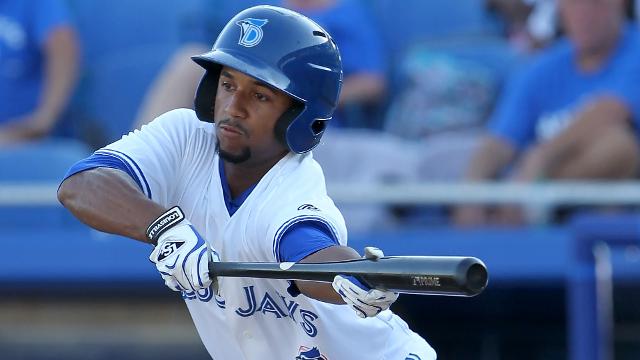 (Image from MiLB.com)

Year
Age
Level
AB
2B
3B
HR
BB
K
SB
CS
AVG
OBP
SLG
2016

20

A+

394

18
7
8

25
64
9
6
.305
.351
.447
2016

20

AA

124

6
5
0
4
19
0
2
.266
.282
.395
Richard Urena is an excellent prospect. Possessing solid to plus tools across the board, Urena improved in virtually all fronts in his second season of full-season baseball. He did so while being challenged across two levels (High-A and AA). Urena played another 120+ games, improved his OPS, and made strides from the right side of the plate.
Urena joined the organization out of the Dominican Republic in July 2012. Urena was a prominent signing that year and benefited from the organization's renewed focus on the July 2 IFA market (though Urena was signed on July). That summer he participated in Extended Spring Training; the following year in the DSL and GCL; the year after that in Bluefield and Vancouver; then up to Lansing with a stint in Dunedin; and this past year in Dunedin and New Hampshire. At this rate, Urena will be one of the few to have seen every affiliate in the organization. I pause here to note that Urena is the embodiment of what Alex Anthopoulos tried to accomplish with his renewed focus on Latin America. That is a highly curated progress from prominent July 2 signing through steady, patient attendance at all Blue Jay locales, to all-pro Major Leaguer.
Urena is a switch-hitting SS prospect with a five-tool mix ranging from solid to plus. While he is unlikely to ever receive the plaudits of his prospect middle-infield brethren, Urena does everything well and plays the game with a fluency and ease that make purists purr. The optimist might say he is your two-hole hitter for the next decade, popping 15-20 home runs each year with some average, all the while playing the type of defence that when it's gone, you spend another decade looking for it. Urena, after all, has improved from level to level. As a 19 year-old last year, he clubbed 16 home runs in Lansing and Dunedin. Impressive, but he walked just 16 times and his OPS came in under .700. This year he walked 29 times and sported an OPS of .769. Further, he reduced his swing and miss, and hit better against LHP. Urena is deserving of the accolades and is one of those prospects you count on coming back and improving again.
Urena is likely to start the season at AA. Complicating things a tad for Urena is the incoming Lourdes Gurriel Jr. who is reported to be destined for SS in New Hampshire as well. I suppose some reps at second base is never a bad thing, however, Urena is one of the better SS prospects this organization has ever had. He stands to work on his right-handed hitting and look to post a sub-20 error season, but the signs are there for an exciting prospect.
3. Anthony Alford | CF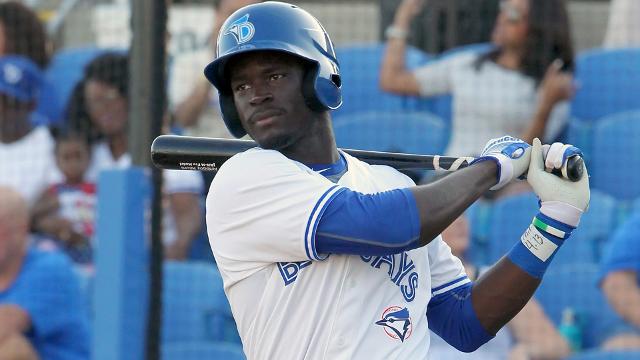 (Image from MiLB.com)

Year
Age
Level
AB
2B
3B
HR
BB
K
SB
CS
AVG
OBP
SLG
2016

21

A+

339

17
2
9
53
117
18
6
.236
.344
.378
After a pretty sensational 2015 season in which he convinced some that he was Bo Jackson-lite, Anthony Alford came back down to earth in 2016. Alford experienced injury after injury, playing in just 92 games at High-A Dunedin where he compiled a .236/.344/.378 line with 18 stolen bases. Alford just recently completed his fall league season in Arizona and received fairly positive reviews from online baseball dignitaries. His OPS was roughly 60 points higher in the desert. I often think my OPS too would be 60 points higher if I lived in perpetual sunshine as well.
Many of us know the story on Alford. Drafted in the third round back in 2012, Alford was a football-first guy in Mississippi. The Jays were not to be dissuaded and signed Alford to an above-slot bonus on the condition that he could pursue his football career first at Southern Mississippi as a dual threat QB and later as a DB at Ole Miss. So Alford played his football and reported to the Jays for a few games and instructs. He played 25 games across three seasons of baseball. Then, four games into the 2014 college football season, Alford had enough and opted to pursue baseball full-time.
I think for most of us who watched him swing a bat and play football, it was always clear that his path to stardom was more likely on the diamond than on the football field. In fairness, Alford though can perhaps be forgiven for pursuing both sports out of high school. After all, Alford came out of high school the same year as Jameis Winston, who also played baseball and football in college (albeit Winston was the far superior football prospect). Alford is a pretty special baseball prospect. He is the rare blend of 30-30 potential and plus defence at a premium position in CF. Think Mike Cameron. For scouts, Alford's are rare and perhaps overly cherished ballplayers. They take a long time to develop and likely only have a couple years putting up those power/speed numbers before they resort to something around a 20/20 player with 200 Ks. This usually happens just after you pay them. That got dark. I apologize.
Alford probably needs some more time in the minors before we have a good idea what he truly is. He is raw and essentially played a half season this past year. One would like to see him play at least another full season of baseball before determining the type of prospect he is. Further, one would hope that Alford learned from the adversity and injuries this past season. I do not subscribe to the belief that because Alford played football, he will stand to handle injuries better. The sports are completely different and require completely different skills. Alford hopefully will have gleaned valuable insight from his experience this past season to handle the likely future injuries that are to come his way in the sport.
Alford will be 23 next year and while he's older than most prospects at the stage of his development, time is still on his side. The Jays recently protected Alford from the Rule 5 draft. This will an ongoing issue for the Jays as Alford likely needs several seasons of minor league seasoning, but will require continued protection throughout. The Jays would do well to remain patient. Alford should start in Dunedin with a possible promotion to AA mid-season.
2. Sean Reid-Foley | RHP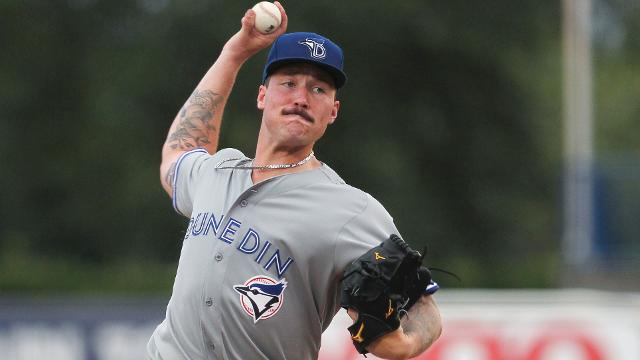 (Image from MiLB.com)

| | | | | | | | | | | |
| --- | --- | --- | --- | --- | --- | --- | --- | --- | --- | --- |
| Year | Age | Level | G | GS | IP | H/9 | HR/9 | BB/9 | K/9 | ERA |
| 2016 | 20 | A | 11 | 11 | 58.0 | 6.7 | 0.3 | 3.4 | 9.2 | 2.95 |
| 2016 | 20 | A+ | 10 | 10 | 57.1 | 5.5 | 0.3 | 2.5 | 11.1 | 2.67 |
Sean Reid-Foley came into the year with a significantly re-worked delivery and goal to lower the walk totals, which had plagued his 2015 season. Reid-Foley accomplished this task walking 38 in 115.1 innings across two levels of Minor League baseball. Reid-Foley's overall line across Lansing and Dunedin, which he split roughly down the middle, reads 21 starts, 115.1 innings pitched, 78 hits, 38 walks, and 130 strikeouts, a WHIP of 1.01, and an ERA of 2.81. He was impressive, to say the least.
Drafted in the second round out of high school in 2014, Reid-Foley was perhaps the typical Alex Anthopoulos pick. Lots of projection, but signability concerns due to a commitment to Florida State. The Jays ended up inking him to an above-slot bonus and assigning him to the GCL. The following year the Jays surprised many and promoted him to full-season baseball in Lansing. If that wasn't surprising enough, despite struggling with the walks, Reid-Foley was promoted again mid-season to Dunedin.
Always the physical pitcher, Reid-Foley is unlikely to ever to dazzle with perfect mechanics and a free and easy motion. Reid-Foley, however, is not a max-effort pitcher and profiles in a rotation going forward. Where in a rotation remains to be seen. Critical to his success will be his ability to repeat his motion and consistently pitch downhill. Reid-Foley features two plus offerings in his fastball and slider and has struck out minor leaguers at a high rate throughout his young career. Hailing from northern Florida, there's a real classic baseball player feel to Reid-Foley. He's big and stocky and looks like he'll eat 200-inning seasons for breakfast. Count me a fan.
Reid-Foley looks to have turned the corner and will likely start next season at New Hampshire. He likely needs another season or two in the minors before seeing a Major League rotation.
1. Vladimir Guerrero Jr. | OF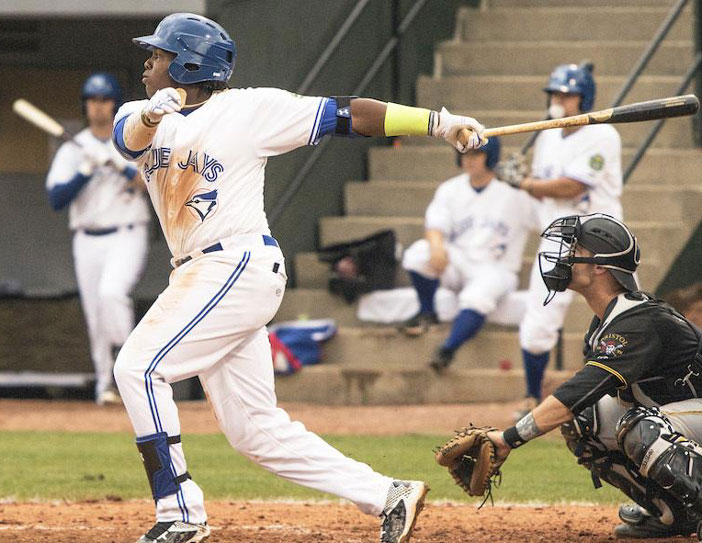 (Image from John Lott - Vice Sports)

Year
Age
Level
AB
2B
3B
HR
BB
K
SB
CS
AVG
OBP
SLG
2016

17

RK

236

12

3

8

33

35

15

5

.271

.359

.449

Last year, the Batter's Box Top 30 Prospects feature began Vladimir Guerrero's profile by warning readers, "Get ready to be seeing this name near the top of this list for the next several years." Well, the future has arrived now.
Vlaidmiur Guerrero Jr. was born on March 16, 1999 in Montreal and both throws and bats right-handed. He is listed at 6'1" and 210 pounds. The son of a beloved Expo, who also happened to be a nine-time All-Star and former MVP, in his first professional season in the United States, Guerrero Jr. demonstrated why the Blue Jays paid $3.9 million to sign him as an international free agent prospect.
He has immense raw power and his body is bigger than his father's was at a similar age. Although he'll never escape comparisons to his father, Blue Jays special assistant of Latin American Operations Ismael Cruz noted differences between Vlad Jr. and his father in 2016, stating, "He has a better bat now than his father did at that age and it's not a swing that's going to go away, he's had it for a long time and he has always hit. ... He's hit all his life and he's always faced competition above him."
However, Cruz admitted that Guerrero doesn't have his father's arm strength or speed at this stage. Cruz continued, "Since I've been doing this I haven't seen a kid with this power." Cruz also noted that Guerrero didn't have to pursue baseball, given his father's earnings, but he plays it because he loves the sport. That was reflected in Guerrero's ambitious comments shortly after being drafted that he wanted to reach the majors within two years.
That'll be a virtually impossible time frame to meet. However, Guerrero's first year in America could hardly have gone any better and he showed the potential to rise through the minors relatively quickly. He played in the Appalachian League, where he was more than three years younger than the average player, and posted an above-average .808 OPS that was good for 32nd in the league. Only eight teenagers posted better marks than Guerrero. He was seventh in the league with eight home runs, 10th with three triples and tied for 17th with 12 doubles. He had the third-most plate appearances of any player, but also the fourth-highest walk total.
Baseball America noted that Guerrero "does just about everything evaluators want to see in a teenage hitter. He has tremendous hand-eye coordination and bat-to-ball skills, to the point he seems to have been born to hit. His special hands allow him to manipulate the barrel and square up pitches of all types." Although he doesn't appear to have the same all-around tools as his father, he displayed an advanced hitting approach for such a young hitter and has "excellent strike-zone judgment for a 17-year-old, walking nearly as often as he struck out and showing an ability to lay off breaking balls that will be further tested at higher levels." Baseball America also described him as having "tremendous raw power and showed the ability to drive the ball to all fields at an advanced rate for his age."
There is a strong possibility he winds up at first base or DH, although the Blue Jays have been working with him at third base, where he has limited experience, and he may be able to play third early in his career. He worked hard on his defence this year, improving his quickness and mobility. Prior to signing, he was described as having 40-45 arm strength on the 20-80 scouting scale but reportedly now has an average to above-average arm strength. His stocky body is his biggest potential weakness.
Having been compared to Edwin Encarnacion, it's difficult to overstate Guerrero's upside offensive potential and for the next several years it's just a matter of nurturing and developing his talents. If his bat winds up anything close to what his father's was, it will play at any position and the Jays have themselves a true center of the lineup bat.
---
That is your Batter's Box top 30. As mentioned previously 13 players have dropped off the top 30. They are: D.J. Davis; Juan Meza; Tom Robson; Roemon Fields; Dwight Smith Jr.; Clinton Hollon; Lane Thomas; Matt Smoral; Mitch Nay; Jorge Flores; A.J. Jimenez; Andy Burns; and Chad Girodo. Smith, Thomas and Jimenez just missed this years top 30 along with newcomers Yennsy Diaz, Matt Dermody and Bradley Jones. Some of those who dropped off did so due to injuries, some were just passed by in a stronger Blue Jay system.
Now, how many days until spring training?