The Toronto Blue Jays head to the Lone Star State to begin a seven-game road trip.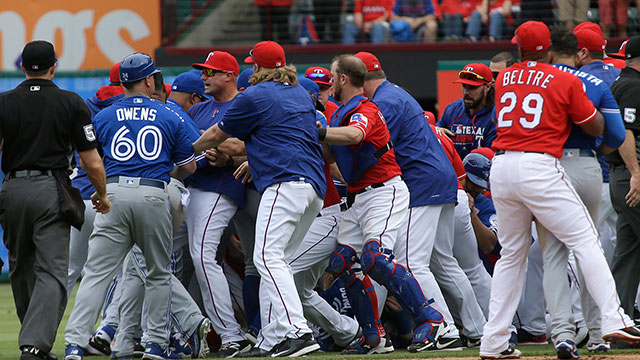 Image from Sportsnet.ca.
Series Schedule/Probable Starters
Monday at 8:05 pm ET -
Marco Estrada
(4-5, 4.54) vs.
Austin Bibens-Dirkx
(2-0, 3.28)
Tuesday at 8:05 pm ET -
Francisco Liriano
(3-2, 5.36) vs.
Nick Martinez (1-3, 4.67)
Wednesday at 8:05 pm ET -
Joe Biagini
(1-6, 4.26) vs.
Tyson Ross
(1-0, 3.18)
Thursday at 2:05 pm ET -
Marcus Stroman
(7-3, 3.15) vs.
LH Martin Perez
(3-6, 4.72)
---
The Rangers fell back to .500 with a loss to Seattle yesterday but they are 4-2 on their homestand after taking two of three from the Mariners and the Houston Astros. Texas is in second place but are 11 games back of Houston in the American League West.
The Blue Jays finally beat the White Sox but finished their five-game homestand with a 2-3 mark. They are 33-35 but are 5-1/2 games back of the New York Yankees in the AL East despite being in the basement.
Burning Question
- Will there be another bench-clearing brawl between these clubs?
Hot Take
- The Rangers are going to start something again, aren't they? The Jays should sign draft pick and black belt in karate
Riley Adams
for this series.
On Deck
- At Kansas City June 23-25.