The affiliates won seven of eight on the eve of the fourth of July. Only New Hampshire did not hold up their end of the bargain.
Buffalo Bisons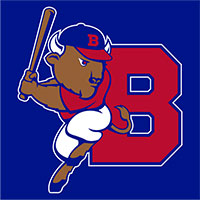 Chris Rowley
won his first Triple-A start with five solid innings of one-run ball on three hits. He walked two, struck out six and split his six outs in play evenly between the ground and the air.
John Stilson
was charged with a run in 1-1/3 innings.
Matt Dermody
stranded two of three runners for Stilson as he pitched 2-2/3 innings of one-hit, striking out three and inducing four groundball outs.
Raffy Lopez
had the only two-hit night but
Mike Ohlman
was the on-base leader with a hit, two walks and a stolen base.
Rowdy Tellez
had a double and two RBI.
Dwight Smith Jr.
,
Jon Berti
and
Roemon Fields
each had a hit and a walk with Fields and Berti stealing bases.
New Hampshire Fisher Cats
Tim Lopes
had a 3-for-4 night at the plate, finishing a triple shy of the cycle.
Richard Urena
also homered as part of a two-hit night while
Derrick Loveless
had two hits and a walk.
Danny Jansen
had a triple and two runs driven in.
Harold Ramirez
was 2-for-4 with a stolen base.
Shane Dawson
gave up five runs (four earned) on seven hits over five innings but had good peripherals with an 8-2 K/BB total.
Carlos Ramirez
made his first appearance on the mound since April 30 and struck out two in a shutout sixth.
Alonzo Gonzalez
could not get any of the six men he faced, giving up five runs to take the loss.
Yonardo Herdenez
surrendered just one run in his three-inning Double-A debut.
Dunedin Blue Jays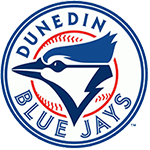 Lourdes Gourriel Jr.
belted his first professional home run to go along with a walk.
J.C. Cardenas
had a two-hit game with a double, a run batted in and two runs scored.
Connor Panas
singled and walked while
Juan Kelly
heard ball four twice.
Jordan Romano
scattered three hits, two walks and a plunk over seven innings with a K an inning.
Jackson McClelland
maintained the shutout with two scoreless frames that included a punchout.
Lansing Lugnuts

Bo Bichette
and
Josh Palacios
led the Lansing attack with three hits apiece with Bichette clubbing his 10th dinger of the year and 31st double and Palacios swiping his fifth base and earning an outfield assist. Lansing broadcaster
Jesse Goldberg-Strassler
had a tweet about Bichette and his ability to bounce back from 0-for-5 games.
Bo's 0-for-5 games in 2017, and the next day's showing:
May 8, then 3-for-4
May 19, then 2-for-4
June 22, then 3-for-5
July 2, then 3-for-5
Mitch Nay
singled and walked twice and
Nick Sinay
had two hits and a hit by pitch (quelle surprise!) but was caught stealing twice.
Geno Encina
looked good in his first professional start. He made it through five innings, giving up two runs (one earned) on five hits, striking out four and walking nobody.
Nick Hartman
stranded a runner and pitched 2-2/3 scoreless frames with one strikeout to offset his one hit allowed.
Jared Carkuff
walked one in a scoreless ninth.
Vancouver Canadians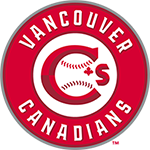 Riley Adams
had four hits in five trips to the plate, driving in a trio of runs.
Reggie Pruitt
and
Owen Spiwak
had two hits apiece.
Juan Nunez
gave up two runs over 5-1/3 innings on four hits and three walks while whiffing four.
Miguel Burgos
pitched 2-2/3 innings scoreless frames and
Orlando Pascual
took care of the ninth. More deets on the game
right here
.
Bluefield Blue Jays

Ryan Noda
and
Ryan Gold
had the big nights at the plate with Noda doubling and walking twice and Gold driving in five runs with two hits, including a triple.
Anthony Fuentes
singled, was hit by a pitch twice and scored three runs.
Sterling Guzman
and
McGregory Contreras
had a hit and a walk.
Joel Espinal
gave up just one hit over five shutout innings, striking out six for a Game Score of 74.
Jordan Barrett
had a 4-2 K/BB total over two scoreless frames.
Kelyn Jose
and
Jose Nova
gave up two runs apiece over the last two frames.
GCL Blue Jays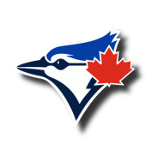 Davis Schneider
belted a two-run homer to give the G-Jays all the offence they needed. He also drew a walk.
Joseph Reyes
singled and was hit by a pitch.
Hagen Danner
went 1-for-4.
Jake Fishman
put up a zero in the first inning before
Elieser Medrano
went the next five, surrendering a run on two hits, two walks and two plunks to earn the win thanks to five strikeouts.
Maverik Buffo
pitched two scoreless frames and
Adams Cuevas
struck out the side in a one-hit ninth for the save.
DSL Blue Jays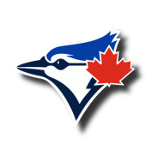 Steward Berroa
had a triple, two runs batted in, two runs scored and a stolen base.
Hector Guerrero
had the lone two-hit game.
Gabriel Moreno
and
Andres Martinez
were 1-for-3 with an RBI with Moreno swiping a bag.
Warnel Valdez
singled and stole a base.
Hugo Cardona
walked and scored a run.
Emanuel Vizcaino
was victimized for an unearned run over three innings.
Jhon Victorino
contributed a scoreless frame.
Luis Alvarez
pitched a one-hitter and struck out three over four shutout innings for the victory.
Elixon Caballero
struck out two in the ninth for the save.
*** 3 Stars!!! ***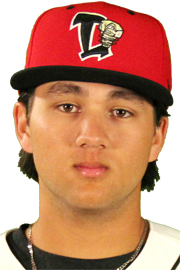 3. Bo Bichette, Lansing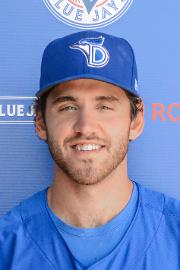 2. Jordan Romano, Dunedin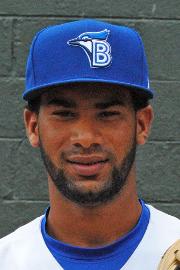 1. Joel Espinal, Bluefield
Linescores
Extra Innings