The top 40 prospects in the Toronto Blue Jays farm system have been announced by
Baseball America
. However, it is really a Top 37 ranking as three of the players are no longer with the organization.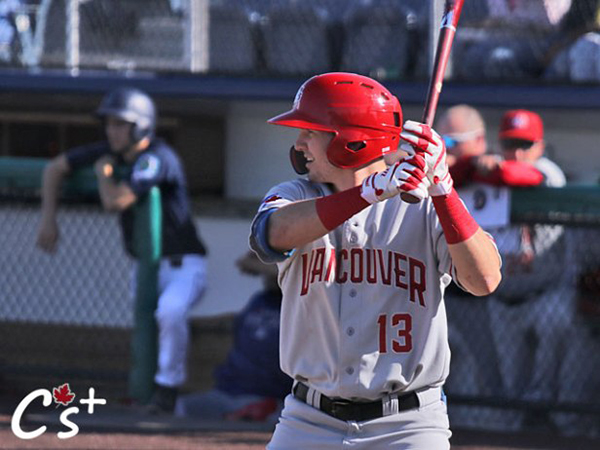 Spencer Horwitz
enjoyed a breakout season in 2021 with Vancouver to place him in the top half of the Baseball America Blue Jays prospect rankings.
No.#
Player
Position
1
Gabriel Moreno (BA Grade: 65/High)
C
2
Nate Pearson (BA Grade: 55/Medium)
RHP
3
Orelvis Martinez (BA Grade: 60/High)
SS/3B
4
Jordan Groshans (BA Grade: 55/High)
SS/3B
5
Gunnar Hoglund * (BA Grade: 55/Extreme)
RHP
6
Otto Lopez (BA Grade: 50/High)
2B/OF/SS
7
Kevin Smith * (BA Grade: 45/Medium)
SS
8
Manuel Beltre (BA Grade: 50/Extreme)
SS
9
Ricky Tiedemann (BA Grade: 50/Extreme)
LHP
10
Leonardo Jimenez (BA Grade: 45/Very High)
SS/2B
11
Samad Taylor
2B/OF
12
Estiven Machado
SS
13
Sem Robberse
RHP
14
Irv Carter
RHP
15
Spencer Horwitz
1B/OF
16
C.J. Van Eyk
RHP
17
Adam Kloffenstein
RHP
18
Thomas Hatch
RHP
19
Tanner Morris
2B/3B/SS
20
Chad Dallas
RHP
21
Miguel Hiraldo
SS/2B
22
Dahian Santos
RHP
23
Yhoangel Aponte
OF
24
Zach Logue *
LHP
25
Eric Pardinho
RHP
26
Kendry Rojas
LHP
27
Hagen Danner
RHP
28
Rikelbin De Castro
SS
29
Luis Garcia
SS
30
Josh Palacios
OF
31
Victor Mesia
C
32
Bowden Francis
RHP
33
Adrian Hernandez
LHP
34
Fitz Stadler
RHP
35
Dasan Brown
OF
36
Trent Palmer
RHP
37
Joey Murray
RHP
38
Yosver Zulueta
RHP
39
Addison Barger
SS/2B/3B
40
Rainer Nunez
1B
* Traded to Oakland in Matt Chapman deal March 16
---
Best Tools
Best Hitter for Average: Gabriel Moreno
Best Power Hitter: Orelvis Martinez
Best Strike-Zone Discipline: Spencer Horwitz
Fastest Baserunner: Dasan Brown
Best Athlete: Dasan Brown
Best Fastball: Nate Pearson
Best Curveball: Sem Robberse
Best Slider: Nate Pearson
Best Changeup: Ricky Tiedemann
Best Control: Eric Pardinho
Best Defensive Catcher: Gabriel Moreno
Best Defensive Infielder: Rikelbin de Castro
Best Infield Arm: Jordan Groshans
Best Defensive Outfielder: Dasan Brown
Best Outfield Arm: Chavez Young
Also of note, Baseball America did not mention C.J. Van Eyk underwent Tommy John surgery last September and is expected to miss the entire 2022 season. It would have been interesting to see if that would have had an effect on Van Eyk's ranking.