When you've lost 9 of 10, you need to draw a line somewhere. But where?
Let's ask the Captain.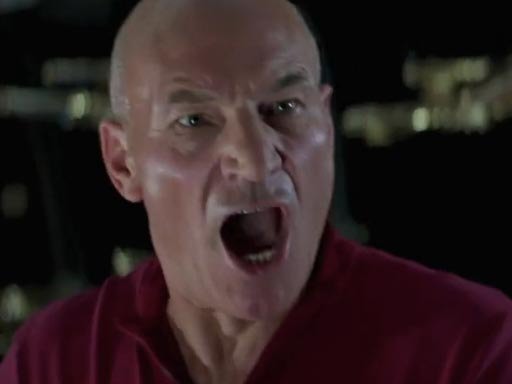 That's right. This far and no further.
Kevin Gausman won't make the start tonight - maybe tomorrow, they say - but yesterday's off day (at last!) means the team can just roll out their regular rotation for the next four days if necessary. The only point to having Gausman start tomorrow is it would allow him to make two starts before the All-Star Break. I expect they'll decide to hold him back until Saturday. There's been no word as we went to press (whatever!) on the status of Danny Jansen - they were waiting for him to get comfortable at the plate, and he did hit a home run for Buffalo on Sunday. Which suggests a certain level of comfort has been reached.

The Phillies have been playing .667 ball (24-12) since Joe Girardi walked the plank, despite losing their best player and the reigning NL MVP to a thumb fracture that will keep him out of the lineup for at least another month, if not longer. Bryce Harper had been limited to appearing as the DH because of a shoulder problem, but he was having another magnificent year with the bat until Blake Snell caught him on the thumb. Harper doesn't turn 30 until October, and he has a chance to put up some pretty interesting career numbers. Harper is quite a bit like Ted Williams, except Harper's just a .280 hitter (Williams hit .344 for his career.) Harper will now have had two seasons shortened significantly by injury, and another by a global pandemic These things, along with the enormous number of walks he takes, make it unlikely that Harper will make it to 3,000 hits. Williams came up short as well. Williams, of course, lost almost an entire season with a broken elbow and broke his collarbone a couple of years later. He also went off to war, twice. But Harper should cruise to 500 home runs, and has a real chance to go well beyond Williams' 521 and make a run at 600 career homers, territory reached by just nine men so far.

The Philies will have four players on the COVID restricted list because they haven't been vaccinated: catcher J.T. Realmuto, third baseman Alec Bohm, and starters Aaron Nola and Kyle Gibson. Gibson suffers from ulcerative colitis and takes a number of medications to deal with it. They compromise his body's capacity to build up antibodies. The Phillies can't replace Nola on the roster (he pitched Monday); they can replace Gibson for Wednesday's game only.
Andrew Bellatti is the listed starter for the Phillies tonight. He's a relief pitcher, and this is going to be another bullpen game for the Phillies, their second in three days. This had been Bailey Falter's spot, filling in for Ranger Suarez, the last couple of times through the rotation. The Phillies, thinking ahead, optioned Falter to Triple A last week because he isn't vaccinated. But Suarez will be on the IL for the rest of the week.

Matchups
Tue 12 July - Berrios (6-4, 5.44) vs Bellatti (1-3, 3.14)
Wed 13 July - Stripling (4-3, 3.34) vs Wheeler (8-4, 2.46)