But for the struggling Skychiefs and a Pulaski rainout, it would have been another clean sweep for the Jays' farm system. Also struggling is my computer, which wouldn't access several sites this morning, including MiLB.com and the
New-Hampshire Union-Leader
. Accordingly, if I've missed any highlights, stories or other aspects of last night's minor-league action, please add them to the thread.
Pawtucket 9 Syracuse 6
Box score
Game story
It just keeps going from bad to worse for the Skychiefs.
Mike Smith
started and was pounded by the PawSox for 8 runs (6 earned) on 8 hits and 3 walks in 5 innings, striking out 3. Smith's ERA now stands at 6.83, and the end of the line is almost certainly approaching. Remember when Smith and Pasqual Coco were the Blue Jays' best two pitching prospects? Those days are gone and are utterly not missed.
Dave Maurer
continued his resurgence, firing 3 strong relief innings in which he allowed just 2 hits (one a solo homer) and 1 walk in 3 innings, whiffing 4.
Bob File
threw a shutout inning at the end.
At least the batters did some damage.
Russ Adams
was the hitting hero: sandwiched into the #2 spot, he had 3 hits, including his 2nd homer of the campaign, scoring two runs and driving in 2. Adams was able to bat 2nd because
newly promoted Anton French
led off and swiped his first two bases for Syracuse, which becomes I think his fifty-ninth professional team.
Simon Pond
collected 3 hits and 2 RBIs out of the cleanup spot, while
Gabe Gross
doubled and walked twice with an RBI.
Guillermo Quiroz
went hitless in 4 trips.
**** Hijack by Robert Dudek ****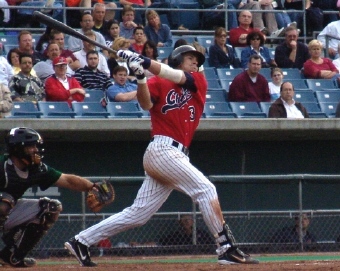 In honour of Russ Adams's solid performance, here is a great action photo sent to me some time ago by Ed Gonser, Syracuse freelance writer & photographer. This was meant to be part of the Russ Adams interview posted about 3 weeks ago, but it got lost in a hectic shuffle before I went on holidays. My sincerest apologies to Mr. Gonser.
**** End hijack ****
New Hampshire 3 Portland 1
Box score
Game wrap
Chris Baker
, who had been getting ripped in Syracuse, continued to establish himself as a vital member of the Fisher Cats' playoff drive. Baker fired 8 innings of 4-hit ball, allowing just 1 run with 1 walk and 4 strikeouts, but didn't get the win.
Justin Singleton
won the game with a dramatic two-run homer in the 9th inning;
Tyrell Godwin
had tied it in the 8th with a solo shot of his own.
Aaron Hill
wrapped up a red-hot July with 2 more hits and a walk.
John-Ford Griffin
was hitless in 4 trips, while
John Hattig
went 1-for-4 against his old team and is off to a slow Fisher Cats start at .154.
Dunedin 4 Clearwater 3 (12 innings)
Box score
A marathon effort in Dunedin last night, and an exciting finish. In the top of the 12th, the Threshers pushed across a run against
Todd Ozias
to take 3-2 lead. In the bottom of the inning,
Jason Waugh
scored on a single-passed ball-groundout-wild pitch combination, and
Vito Chiaravalotti
later won the game with a bases-loaded RBI single. Big Vito led the offence with 2 singles and a double, while
Jayce Tingler
and
Manny Mayorson
each had 2 singles and a walk.
Ryan Roberts
cranked his 3rd homer of the season.
On the mound,
Chad Pleiness
had one of his best outings of the year, throwing 5 1/3 innings of 1-hit ball, surrendering just 2 unearned runs (though his own error contributed to that); however, 3 walks and no strikeouts is not a good sign.
Derrek Nunley
and
Brian Reed
combined to throw 5 2/3 innings of shutout relief, with a combined 5 hits, 4 walks and 2 strikeouts (the K's belonged to Reed). The D-Jays are now one game out of the division lead.
Charleston 6 Hagerstown 3
Box score
Game story
The recovery of
Kurt Isenberg
continues. Back off the disabled list, Isenberg fired 4 shutout innings for the Alley-Cats, allowing only 1 hit and striking out 3; excellent news for the struggling lefty, who left the game with a 5-0 lead. Less excellent was the performance of
John Wesley
, who followed Isenberg and allowed all 3 Hagerstown runs on 4 hits, striking out 2.
Matt Dalton
picked up the win with 1 2/3 perfect innings (1 K), and
Jordy Templet
earned his 2nd save, a 2-inning, 2-hit performance.
The offence was shared equally last night, as every starter in the lineup picked up exactly one hit.
Clint Johnston
cracked a solo homer, his 11th, while
Eric Arnold
doubled and drove in 2.
Auburn 11 Aberdeen 1
Box score
Really, now, this is just unfair. The Doubledays are dominating the New York-Penn League and are on pace to shatter last year's franchise record of 56-18. Last night, Auburn put the game away with 8 runs in the first 3 innings and cruised from there. Right fielder
Adam Lind
had the line of the night, pasting two homers and driving in 6 runs. Third baseman
Vinny Esposito
doubled twice and singled, while CF
Erik Nielsen
homered and singled twice.
Joey Metropoulous
poked his 2nd homer of the season, and
Chip Cannon
singled twice and scored a run.
Curtis Thigpen
took the lone oh-fer on the night.
Casey Janssen
started and was superb, allowing just 2 hits and 1 walk in 5 1-run innings, striking out 4. Four relievers mopped up with one inning each behind Janssen, who lowered his ERA to 2.21.
Pulaski
was rained out. This is the third consecutive minor-league update I've done where the P-Jays were rained out. I must be some sort of evil Appalachian rain god.
Your Three-Star Selection:
The Third Star:
Syracuse's Russ Adams, with 3 hits, 1 homer, 2 runs scored and 2 RBIs in the Skychiefs' loss.
The Second Star:
New Hampshire's Chris Baker, who threw 8 terrific innings of 1-run ball to lead the Fisher Cats to victory.
The First Star:
Auburn's Ryan Lind, with a 2-homer, 6-RBI performance to pace another dominant Auburn win.