David Laurila
of
RedSoxNation.net
recently sat down with Portland (now New Hampshire) slugger John Hattig. Originally signed by the Red Sox in 1998, the 24-year-old Hattig was acquired by Toronto in a trade last month for Terry Adams and has an on-base percentage over .400 in the Eastern League this season, with 15 home runs. A switch-hitting third baseman, he is trying to become the first native of Guam to play in the big leagues. Shortly before the trade, David caught up with John at Hadlock Field in Portland and talked about his dream of some day wearing a major league uniform... a dream that now will be happening in shades of blue rather than shades of red.
Thanks so much to David and to RedSoxNation.net for allowing Batter's Box to print this interview, to let our readers get a little closer to Toronto's new prospect.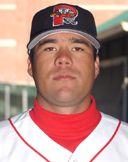 RSN: Your power numbers are up this year. Is there a reason for that?
JH: I think it's a few things. For one, I had a better off-season conditioning program. Another is that I've fine-tuned my swing a bit, making it more consistent. Maturity is probably a factor, too. I guess I'm growing into my man-strength (smiles).
RSN: Your manager, Ron Johnson, says you have the potential to be a 25-30 HR guy in MLB. How would you describe yourself as a hitter?
JH: Run production is important for corner guys, especially RBIs. I'm really a gap-to-gap hitter -- that's my approach. But I am showing more power this year, as you mentioned.
RSN: You're a switch-hitter. Compare your swing from each side.
JH: I think I can make better contact right-handed -- that's my natural side. I obviously get more ABs from the left side, though. I'm not sure there's a big difference power-wise, but maybe there's more from the right side. I'm comfortable either way.
RSN: When did you start switch-hitting?
JH: Not until after turning pro, when I was 18 or 19. I was a 195 lb. shortstop when I was drafted, without much power, and a scout suggested I try it. As I matured I gained weight and strength, and started driving the ball better.
RSN: What were your goals coming into the season?
JH: Hitting above .280 and topping last year's numbers. Defensively, I wanted to improve my footwork. My hands and arm are pretty solid.
RSN: Talk a little about baseball on Guam.
JH: It's the number-one sport there; everyone plays. Soccer has grown in popularity, but baseball is still big.
RSN: Do people follow MLB?
JH: Absolutely. You get ESPN there, so I always watched Sunday Night Baseball and the highlights.
RSN: Was there a team, or players, that you followed?
JH: A friend of mine was a big Oakland fan, so I followed them a bit. I really liked Jose Canseco. I also liked Ken Caminiti. He's a switch-hitting 3B like me, and always played hard and played hurt.
RSN: Does Japanese baseball have a following on Guam?
JH: There's a Japanese channel that shows games. Tourism is a big industry back home -- though it was hurt by 9/11 -- and there are a lot of Japanese tourists. A few teams from the Japanese League have come to train there, too, including the Yomiuri Giants. I worked out with them once, and they were really impressed with my size. They said I should come over and play in Japan.
RSN: I understand that you have an uncle who played pro ball.
JH: Yes, he was in the Angels organization but only went as far as A-ball. Unfortunately he got hurt and didn't get a chance to make it any higher. He was a switch-hitter, too, and could really run. He lives in South Carolina now -- his wife is stationed at Shaw Air Force Base.
RSN: And you have a Nebraska connection, also.
JH: My grandfather is from there, and I actually spent a year in grade school in the state.
RSN: Thinking back to when you were drafted, what was it like to go to the Red Sox?
JH: Being from Guam, it was awesome just to get drafted. My uncle, the one who played ball, had recommended me -- he was a bird dog. I was sleeping when he called to tell me I'd been picked. I remember going to school in the morning and telling people. My buddies didn't believe me at first!
RSN: What are some of the things you've learned about the organization?
JH: When I was in Sarasota, our manager, Tim Leiper, used to say how important it is to beat the Yankees. He talked about it a lot.
RSN: Have you been to Fenway Park?
JH: I was there for the first time in 2002 when I was Player of the Year at Augusta. They brought all of us over for a ceremony. [EDITOR'S NOTE: Hattig was also Player of the Year last season, at Sarasota, hitting .295-8-70 in 400 ABs.]
RSN: You were out of the line-up for a few weeks earlier this season. Tell us about that.
JH: I was suffering from back spasms, but I'm doing great now. I had gained a little weight and it started tightening up on me. Since then I've lost some weight -- I'm down to 227 -- and have done a lot of exercises to strengthen it. I had never had the problem before, and I should be fine.
RSN: Brett Roneberg, one of your teammates, will be playing for Australia in the Olympics next month. As Australia and Guam compete against other in the Oceana region, did you ever play against him?
JH: It seems like we would have, but we never did. Guam actually had to pull out of the tournament last year because of economic issues. Brett and I did play against each other in winter ball in 2000.
RSN: What are you like off the field?
JH: I'm just a normal guy. When I get some down-time I just like to chill. In the off-season I go back to Guam and work at a beach resort. That's a good place to get a tan and watch girls (smiles).
RSN: Anything you'd like to close with?
JH: Just that I'm a fun-loving guy, but I take the game seriously. I understand that baseball is built around failure, and I use that as a learning tool. You usually can't tell after a game if I went 0-4 or 4-4, but that's not because I don't care -- that's just the way I approach it. I do my best and let the game come to me.
Thanks again to David Laurila and RedSoxNation.net for permission to print this interview at Da Box. If you have an article or idea that you'd like to see as a "Pinch Hit" on Batter's Box please e-mail craig@battersbox.ca.