The pun was so nice, he used it twice.
Dustin returned to Double-A last night, the D-Jays At The Bat didn't help out Casey one bit, the Devil Rays' affiliates paid back Syracuse and Lansing for the 12-3 thrashing of the parent club and there was a little dispute involving the French. All told, a 2-4 night on the farm.

Durham 11, Syracuse 9
Box score
Despite nine runs, there's a lack of prospect news to deliver from North Carolina here. The only hitters I would consider prospects went a combined 2 for 7, with three strikeouts. One of them, John-Ford Griffin, did get on base three times, though. He's now hitting .251, which is about 30 points down from his end-of-April numbers. If he declines further, call it the Eric Hinske lesson. If he improves, call him the Eric Hinske replacement. (Okay, not really, but the repetition in sentence structure fit.)
Danny Solano, Kevin Barker and Josue Matos all drove in a couple of runs, with Barker being the only SkyChief to hit for extra bases. But how much must this suck for Jason Arnold? He enters the game in the eighth, gives up a solo homerun to left, then another shot to left, then strikes out every single one of the next three hitters. Would that make his non-DIPS ERA a complex number?
Josh Phelps homered off Cameron Reimers. I gotta tell you, I didn't think I would ever say that sentence. Reimers' return to Syracuse was not a breeze, giving up seven runs in the first three innings.
I said lack of prospect news, but Anton French was ejected in the first inning after grounding out on a bunt to the pitcher. This newsworthy event (for a Minor League Update, anyway) is not explained in the Syracuse Post-Standard game story. I figured it would be. Anyway, I guess Anton thought he was safe and/or the first baseman missed the tag.
New Hampshire 3, Trenton 1
Box score
You may remember Dustin McGowan's last "first start" of the 2005 season. It was in the FSL, and he...well...did this: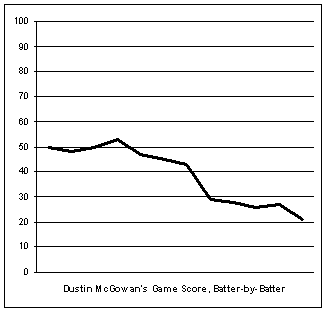 .
Well, his first start in the Eastern League went more like this:
5 2/3 IP, five strikeouts. Just one run. Barely one baserunner per inning. In other words, just fine.
So, for the first seven innings, this was a typical Fisher Cats game. No offense, good pitching. But the presence of Eric Crozier (Seriously, was it "I Was Traded On August 4, 2004 Night" in the minors on Wednesday?) in Double-A threw everything off and New Hampshire scored three in the top of the eighth. And guess what? A homerun! By Raul Tablado! He also had a double! Jake Jarmel would hate this paragraph! Four hits for Tablado, in fact.
Sarasota 2, Dunedin 0
Box score
This is where the recaps get shorter. Casey Janssen lost his first game in Dunedin, and while W-L records are generally meaningless (especially for prospects), he could have at least have had some run support if he was destined to lose. Down in flames, and all that. Your hitting stars on the night were Chip Cannon with a single and Chip Cannon with a double. And -- get this -- no strikeouts.
Southwest Michigan 5, Lansing 4
Box score
Heretofore unheard of (by this updater, anyway) Charlie Anderson hit a 2-run homer in the third, scoring Christian Snavely, who hit two doubles. Juan Perez pitched a couple of scoreless innings in a losing cause.
The most interesting part of this game was all the cool names on the SWM team: John Jaso, Andrew Sonnanstine, Reid Brignac, Travis Schlichting, Robert Asanovich. Yeah, it's late. I got nothing.
Auburn 3, Jamestown 2
Box score
Jermy Acey had two doubles, while Orlando Trias appeared in his second game this year and dropped his ERA to 1.69 with a five inning, one unearned run performance. He struck out nine, too. The unearned run came after an error put Marcos Cabral on first. He was singled to second, then Trias threw a wild pitch. Then another. There was a hit batsman in the middle of all this, so methinks Trias was not throwing Towers-like fastballs.
Burlington 5, Pulaski 1
Box score
Another hometown win by the B-Towners. (Apparently, this Burlington is in North Carolina. Population: 44917.) Wilfreddy Aguirre had another not-so-good start (4 walks, 3 runs in 4 innings), while Eziemir Reinoso (2.1) and Cory Hahn (1.0) provided some scoreless relief innings. Alas, the Pulaski bats fell silent except for the sixth, when Zachary Kalter scored on a Jacob Butler RBI groundout.
Three-Star Selection:
3. Orlando Trias, despite the wildness
2. John-Ford Griffin
1. Raul Tablado