That must have been painful to watch.
I didn't even get to watch the end of it. I was at one of my favorite watering holes watching the game. Score was tied and the Tigers were batting in the bottom of the 10th. THEN THEY TURNED OFF THE TVs!! Why? Because it was time for Rick McGhie to do a set. Anyone who has ever gone to Western will know what I'm talking about. If you haven't attended Western, well, my condolences. Rick's a great guy, and saying a single disparaging remark in his direction is automatic grounds to become permanently ineligible for the Grad Club "Hall of Fame". Yes we have one. No, I'm not enshrined there.
What I'm trying to say is that it was frustrating. Almost as frustrating as an episode of Quincy without Quincy appearing in it. Yet it seems like it may have even been more frustrating to watch, as the game before was. Check out what the last two games have done to the Jays playoff chances, according to BP: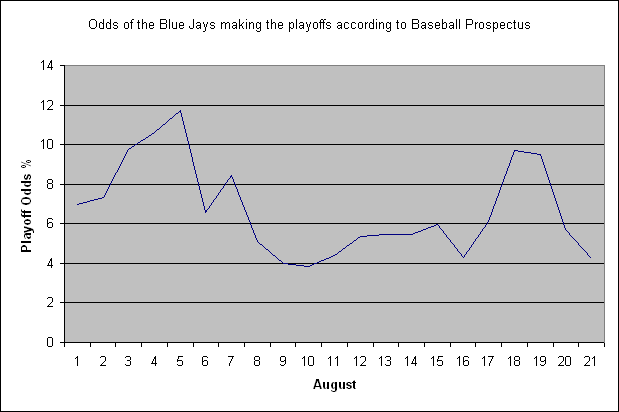 Ouch! Still, though, even if the Jays don't make the playoffs, it's been a fun ride, andthe front office ought to be very proud of what they've accomplished this season. I, for one, was very skeptical, predicting that the Jays would only win 73 games this season. Surprising performances by Chacin, Hill,and Adams have made this a first division club. Plus, as Named For Hank will tell you, Shea Hillenbrand has been pretty good as well.
Random Thought

Bush:    89.0 IP, 15 HR, 16 BB, 41 K
Chacin: 153.2 IP, 15 HR, 57 BB, 90 K

Are these guys really as different as their ERAs suggest? Bush gives up more longballs, but Chacin walks a lot more guys. I wouldn't be surprised if these two have almost identical ERAs next year.
Today's Game
McGowan 1-0 vs. Douglass 4-2 - Can the Jays avoid the sweep?