By
Fawaz
.
Every time I read a suggestion that Orlando Hudson is headed to Team X for John Q. Slugger, one name pops into my mind: John 'Hot Rod' Williams. I vividly recall my cursing out loud (to the chagrin of a 10-year-old Fawaz' parents) and the ensuing swoon in my fandom following the announcement that the Phoenix Suns had finally acquired the big man that was going to put them over the top. I didn't know much about the guy. He was 6'11" and I had his basketball card, though I never looked at it. I knew everything about the guy he was traded for. He was an all-star, went for 16-5-4 in 1994-95 and knocked down threes whenever Charles Barkley felt moved to pass the ball. (He was in town last season doing the colour commentary for the Suns broadcast and before the game he started knocking down long three-balls in his suit… one-handed.) He was Thunder Dan Majerle.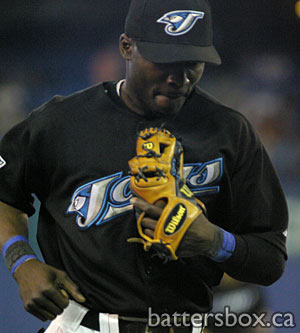 I don't remember what the Suns' record was in 1995-96. I know that they didn't become an elite team. I know Majerle's numbers dropped with the Cavs – he was perfectly suited to the Suns and no one else. And I know that everyone soon realized what a ten-year-old's gut had told him all along; the Suns had traded away a piece more important than they had understood. He wasn't as good as KJ or Barkley, but he was a perfect complement. He completed a virtuous circle for that team (this is, of course, a completely alien concept to Bauxites…).

Not that it really mattered. They could have won the championship that year and it wouldn't have been the same. A parade with 'Hot Rod' Williams leading the way just wouldn't have looked right. I rooted for a group of players that had its own style and character, not a design on a uniform. (What made me feel differently about the trade that brought Barkley into the fold? I don't know and I won't pretend that my feelings are logical.)

So when I hear Orlando Hudson for Troy-Freaking-Glaus (a man with Toronto on a no-trade list!) bandied about, it upsets me. Forget the fact that Hudson is incredibly valuable to the Jays. As far as I'm concerned, he IS the Jays. He wants to be here. He's fun to watch, and I can't stress the importance of that enough. I know this is where I differ from a lot of fans, but I'd rather enjoy watching 162 games featuring a 3rd-place team (with a winning record - I'm not sick) I relate to than watch 162 games and a playoff run orchestrated by a bunch of mercenaries. I hate the Sox and I hate the Yankees, not least because their current incarnations are filled with a bunch of guys that earned their stripes with other teams. I'm rooting for a sports team, not a management group. That's not to say I'm against improving a team, but I would like it to remain recognizable.

Go ahead. Trade Hudson for some OBP and some SLG. It might push the Jays over the top. I might even smile about that. But whenever I reflect on why I'm so emotionally invested in sports, I'll feel even stupider than I do now (and that's hard for a guy who's never even lived in Phoenix, but still lives and dies by their success). At least now I can say that I root for a style, a distinct character and a group I've watched develop. A trade would mean all I'm doing is rooting for a uniform and the empty privilege of being able to say "my" team is a winner.

Many thanks to Fawaz for this great pinch-hit, and to Aaron Reynolds for his usual stellar photography. If you'd like to submit an article for publication here at at Batter's Box, please contact any roster member by e-mail.