Big sluggers get big money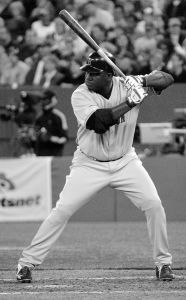 It was one of those Mondays yesterday, not much action on the field and the main news of interest coming off it. Two of the biggest potential year-end free agents took themselves off the market, signing extensions to their existing deals.
Derrek Lee got a five year $65 million deal
from the Cubs and the Red Sox avoided an armed revolt from Red Sox nation
by signing Big Papi
to a four year $52 million extension. These guys are both thirty years old, and by the standards of deals given out over the winter (the Konerko signing for example) the contract amounts seem fair for the player and club. They both still seem to be rather too much to me, but then I'm just an old reactionary and no fan of giving the huge money to first basemen, designated hitters and corner outfielders.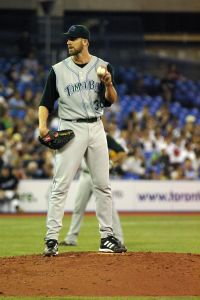 Some big (and not so big names) landed on the DL yesterday too. Coco Crisp is out for at least ten days with a broken finger, Canadian Adam Stern will pick up the slack along with Wily Mo Pena. Lurch was put on the DL down in Tampa just before he got another chance to embarass the Orioles tonight. The big fella has shoulder tightness and will be replaced tonight by Jason Hammel. Chipper Jones will also be getting a rest, he hurt his ankle and knee on Sunday when he got his spikes caught charging a grounder, and is on the 15-day DL,
I did see some baseball last night. St Louis were debuting a fancy new stadium and seemed to be cruising to a nice satisfying home win against the Brewers. Mark Mulder went eight strong and hit a dinger, but he gave up a single to start the ninth and LaRussa couldn't resist going to his 'pen, Things didn't go as planned as Looper and
Isringhausen made a right mess of getting a couple of outs, the bullpen meltdown gave a couple of old friends a chance to get in on the action though, Corey Koskie came to the plate as the final out and walked before Gabe Gross grounded out to Pujols. After that I checked out the lesser division rivals as the Orioles took on the Devil Rays and beat them 6-3. Great night for Ontario's own Erik Bedard, I've watched him quite a lot and I think this is the best I've seen him. The O's have clearly worked on some of his bad habits. He started off like a Mazzone pitcher working away a lot, where previously he came inside most of the time, when he got ahead he was challenging the hitters over the plate with his fastball and not nibbling at the corners and best of all he got ahead constantly and was working fast - Hernandez seemed to be after him all night to keep up the pace.

The good guys are in Boston this afternoon, Josh Towers against Beckett in the Fenway opener at 2:05.