I don't like Mondays, I want to shoot the whole day down
Especially Mondays on which the Jays aren't playing and you end up flicking between the Orioles and Mets games.
Bobby Cox
started Jorge Sosa yesterday, which meant he had to pitch to Carlos Delgado with the expected results. After a single and a dinger Delgado is now at 14 for 27 against Sosa with seven home runs. The games real story though was the
200th win
in Pedro's remarkable career.
Daniel Cabrera
can show Ted Lilly a thing or three about teasing, in his first two starts he was giving up walks at about the rate I drink coffee, sixteen in six and a third Innings of work. Last night, the other Daniel appeared, the one that gets everyone excited and starts people talking about him being a potential ace. He went seven strong, walking only one with six strikeouts and was hitting 99 mph regularly on the (generous) OPACY gun. The Orioles won it 4-2. They've taken three of four from the Angels and are now at 8-6.
The Jays spending spree
over the winter has got them noticed by the press south of the border. Ahead of this weeks mini-series with the Yankees The New York Times has
a summary of the moves from the winter and some Godfrey quotes
about the rebuilding process (RR).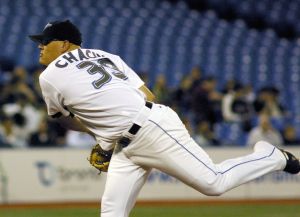 Today is the 25th anniversary
of the 33 Inning game between Rochester and Pawtucket, the Washington Post has
a look back.
Wade Boggs was 22 when the game started and 23 when it ended, and he was playing opposite Cal Ripken who went 2 for 13.
Steve Treder
has a look at the
early days of the Expos
(and the Padres) over at THT.
What's up:
Tonight the AL East bottom dwellers fight it out. Johnson vs Chacin 7:07 at the RC.