The Jays cube the Orioles 8-2 and move to 11-8, one back of the Red Sox.
Star of the Game:
Let's give it to Alex Rios, I'm still getting used to seeing him turn 'star of the game' type performances every night. Wells was outstanding too, but I'm conditioned to expect it from him. Rios was three for four with a couple of runs and ribbies and a homer. He was also clearly loving it out there last night, he had a smile a mile wide at the end of the game.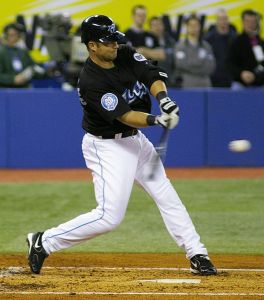 Unsung Hero:
Shea was great, going three for four and pulling his average up to .290. He's six for his last eight now going back to the last game against Boston.
Defensive Play of the Game:
Jointly awarded to Rios and Johnson. Sparky put on his usual clinic, charging balls hard and making quick strong throws in to stop Orioles runners even thinking about taking extra bases. Rios meanwhile made a couple of top drawer running catches in the seventh, with Tabler noting he is getting much better jumps on the ball this year.
Mis-Play of the Game
: Pick any Orioles defensive blunder from about a half-dozen, Millar's botched run-down on Rios in the eighth sort of summed up the Orioles night defensively.
DP-Watch:
Just one for the Jays, and three for the Orioles, gotta love that. Who would have thought having Conine follow Millar would result in a DP. To be fair to Perlozzo he probably wasn't expecting Millar to get on-base when he's busy thinking of slogans to put on t-shirts
Perlozzo:
Continues to baffle with his bullpen usage. Last night as Rob noted Rleal was too important to bring into a tie game, tonight he comes in when they're down by four. I'm looking for some mop-up work from Chris Ray in the sixth tonight.
Boxscore:
right here
WWJP:
Nothing too remarkable from the GM, except to note that Janssen will not be an up-and-down call-up, he'll get the chance to stick around for all of Burnett's time on the DL if he pitches well.
Elsewhere:
Tim Wakefield's knuckleball was not behaving last night, as the Indians got a 7-1 win over the Sox behind an good outing from Cliff Lee. The Devil Rays got to Mo Rivera in the tenth for a couple of runs and beat the Yankees 4-2, despite walking 14. Walking 14 really takes some doing, Seth McClung had to really pull out all the stops to walk seven in five innings. Jason Giambi hit fifth and only had one official at-bat in five plate appearances.
Today:
I'm greatly looking forward to the debut of Mr Janssen, he takes on Kris Benson who has been suprisingly efficient for the Orioles so far, good time for that to come to an end.