Blowing smoke out the ears
I donít like the feeling of being out of control
Josh Towers looked great through three innings, allowing just two singles while striking out three. It fell apart in the fourth inning with Bobby Crosby and Adam Melhuse going deep, Josh wasnít back out for the 5th, and the Aís held on to win 6-5.
Star of the Game: Danny Haren was brilliant through 6, allowing his mates to amass a 5 run lead before allowing a 3-spot.
Unsung Hero: Melhuse, filling in for the suspended Jason Kendall, struck the biggest blow with his 2-run homer in the 4th and later added a single.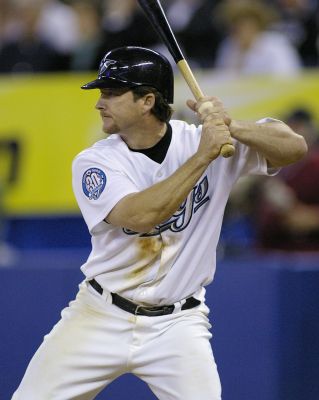 For the Jays: Gregg Zaun got the home team back in it with his 2-run jack in the 7th. Reed Johnson delivered two clutch hits, including a double in the bottom of the ninth for his first extra-base knock of the year.
It Really Falls Apart: Ever hear them say that defence doesnít go into slumps? Theyíre wrong. Russ Adams is in such a trough defensively that us eternal optimists are starting to think the Chicken Little radio callers might be right, the Jays may have to start looking at their options. Weíre keen to find a bright side though, and our man Jerry Howarth played up the conviction with which Thrillhouse threw out Crosby in the ninth.
You Be The ManaÖ: Oops, almost ripped off a copyrighted phrase (and Mike Green will be horrified at the second-guess feel of whatís about to follow). Anyhow, Jays manager John Gibbons made some interesting moves.
a) Johnson over Rios in right field, downgrading offence against the best pitcher the Jays will face this week and downgrading defence with the weakest Toronto pitcher on the hill.
b) Pulling Towers after 4 innings despite his not pitching terribly.
c) Scott Downs for just 1 inning. Is there a reason to bring Downs into a close game other than needing somebody who can go several frames?
d) Pete Walker pitching in a close game with Justin Speier fully rested
e) Reed Johnson batting against Huston Street in the bottom of the ninth with Alex Rios on the bench
For the most part, these decisions turned out quite well, and my opinion that Gibbons is a good tactician and very good handler of egos is not swayed.
Boxscore: At your service.
Elsewhere In The East: If thereís one thing in which Iím guilty of schadenfreude itís when it comes to key members of the Red Sox and Yankees struggling mightily. Yes, it brings a smile to my face to see one of the greatest pitchers of all time take a good drubbing, and even moreso in that itís just the latest in what has become a collection of bad starts in the early season for Randy Johnson. Last night it was Boston taking him to the woodshed for 7 runs over 3 2/3. If youíre a Yankee fan (no, donít admit it), you can tell yourself that it was only 5 hits, that 5 of the runs were unearned, that he didnít give up any homers. But you need to worry about the 3-5 K-BB.
On the other side, Josh Beckett snapped off a string of 3 bad starts by going 7 innings charged with 3 scores on 6 hits, 7 Ks without a walk.
Elsewhere In New York: Actually, Philadelphia. Details, details. A prime pitching matchup saw Pedro Martinez for the Mets facing off with Brett Myers for the Phillies. Pedro went 7, striking out 10 and holding the Phils to 4 hits and 2 walks, but they parlayed that into 3 runs. Myers went 8, striking out 6 and conceding 2 runs on 5 hits. Tom Gordon came on for the ninth and was charged his first blown save of the season as the Metropolitans rallied for 2 runs to tie it up. Flash was then assigned his second win of the campaign when his fellow Phillies put together this unconventional two-out rally: Dave Dellucci tripled, Jimmy Rollins was hit by pitch, Chase Utley walked on 5 pitches, and Aaron Heilman threw away a Bobby Abreu grounder. Call it 9 straight wins for Philadelphia.
Welcome To Arlington: The wet noodle Twins came to Texas and blasted Kevin 60-Millionwood for 6 runs in the first and 3 in the second on their way to a 15-5 victory.
Today: Sweet Smelling Chacin faces off against Bland Joe Blanton.