As if I get the Rogers preview channel...
Boxscore
:
This link
goes first, since it's the first place I went to find out how the game went.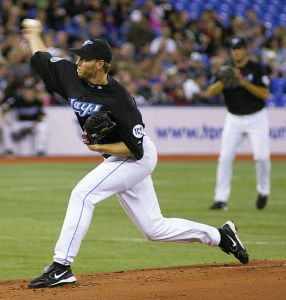 Star of the Game
: Well, um, that big guy on the mound did rather well. 89 pitches and all those groundouts in a complete game? It's almost like we're watching a Cy Young winner or something. Five 1-2-3 innings, too.
Unsung Hero
: Well, since nobody was really "sung" in this game, not having seen it, let's go with Reed Johnson, who didn't get a hit but brought in a run on a hit-by-pitch. I guess it's the Sparky Special.
Defensive Play of the Game
: By default, it has to be Carl Crawford's "leaping catch" at the wall I saw on MLB.com.
Idea That Sounded Good At The Time:
Sitting Jonny Gomes, figuring Doc would be on last night and he'd just go 0-for-Saturday. Well, the only run came on Gomes' 13th HR and he was the only one of the first 14 batters to reach. Not to mention he was the only one to get an extra-base hit off Halladay.
Today's Game
: Josh Towers, Casey Fossum, 1:15. Only in Tampa Bay would they have bizarre start times like 1:15.
Lieber Alone:
Was it Vin Scully who said the pitcher's mound was the loneliest place during a possible perfect game? Jon Lieber had one through six until a ball up the middle eluded Jimmy Rollins' grasp and it became a mere two-hit shutout.
David Bush Update:
He didn't pitch too well against the Dodgers, though he did strike out 7 in 6 innings. Russ Martin and Olmedo Saenz homered off him and that was all L.A. needed. Game Score: 42. Friday night, the Brewers hosted the Mets and it was Lima Time! Bush pitched just about as well as he did in the last start, but what a difference run support can make. Game Score: 47, meaning his average is still a very good 54.
Closers Update:
Jon Papelbon is still on top (1.6) with Chris Ray, B.J. Ryan and yes, Shawn Camp at 1.0 above average. Todd Jones finally got his first regular save after eight easy ones, so he jumps up to 6th-best in the league. But it's still early.