How about that? The second Saturday game in a row that I didn't see.
Chuck made a good point regarding the Rockies in
yesterday's TDIB thread
. I don't have anything to add to it:
I wasn't even positive they existed until I saw them on TV last night. Even now I'm not entirely convinced the ballgame wasn't some CGI trickery.


Saturday Night, Executive Summary:
Ty Taubenheim apparently pitched well enough for his ML debut. Fighting Jays had no fight. Jeff Francis was perfect through four and no-hitting Toronto until the sixth.
More on Taubenheim:
He struck out in his only AB and as far as I can tell, aside from 17 AB with Huntsville (AA) last year, he hasn't hit since, oh, Edmonds Community College? He only had one quick inning and was pinch-hit for in the sixth by Eric Hinske, who doubled home one runner. Not two, one.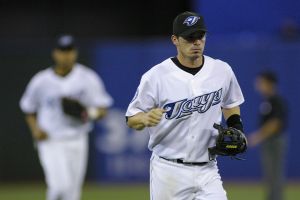 Yeah, the Minister of Getting Thrown Out!
Well, I won't repeat my thoughts on Johnny Mac again, so let's move on. Russ Adams replaced him and made an error in the 8th.
You're Kidding Me:
Yeah, I know. The one chance you get when John Freaking McDonald has taken away your job and you throw it away. I like Adams, I really do -- some of my best friends are shortstops who can't throw and leadoff hitters who can't get on base -- but I have more impatience this year than usual with players' mistakes.
Boxscore:
Here you go
.
Star Of The Game:
I have no idea. The boxscore says Jeff Francis, but when a game isn't on TV, I have three options: radio, Gameday, or both. The first and third ones require me to listen to the Wilner-less broadcast team and the second one only works for so long until you can't stand the little outline guy who stands in against the red and green circles. Besides, in the time it took the Jays to get a hit, I was able to sit through the first boring hour of
Match Point.
The last half of that movie is okay, but man...it took a while to set up the [spolier removed] with the [spolier removed], am I right?
Who is Lyle Lovett?
No, I'm serious
.
Standing O?
Barry Bonds "tied" Babe Ruth in Oakland last night, and according to what I heard on the Giants' radio feed, they applauded him. A lot. Go figure. I thought he was the Evil Lord of Baseball (hitting-wise, anyway; thank you, Mr. Loaiza). Oh, and I say "tied" because if you read Alan Schwarz's excellent
The Numbers Game
, you'd know that there should be 715 next to Ruth's name, not 714.
Closers Update:
The latest results still have Jon Papelbon on top (1.9) with Chris Ray (1.2) and B.J. Ryan (1.1) behind. Fourth and fifth are Shawn Camp and Todd Jones, which makes me question this system just a little bit...
That's The Best Hit He Had All Day:
Michael Barrett took exception to a baserunner actually wanting to run in the baseline and Steve Moore'd A.J. Pierzynski. MLB.com doesn't have a link to the highlight video on the Cubs' side of things, but the
White Sox do
. Funny stuff, if you're into that sort of thing. As if someone would take exception to AJP...
And How About Dave Bush?
I suppose this is a bad time to note that his shortest outing this year is six innings. In the National League, where he could easily leave in the fifth for a pinch-hitter. Funny how well he can do when he's not pulled in the fourth inning every other game.
Before Anyone Says Anything:
Yes, I like David Bush. No, I won't listen to your completely reasonable, objective criticism of him, since if I was a GM, he'd join Jae Seo and Paul Byrd in the rotation.