Who am I to argue with Jordan?
Finally, some home run power out of the shortstop position tonight....
With Ted Lilly on the mound, it seemed reasonable to expect that most of the plays would be made by the outfielders. Against Freddy (7-1) Garcia, having nine real hitters seemed a wise policy.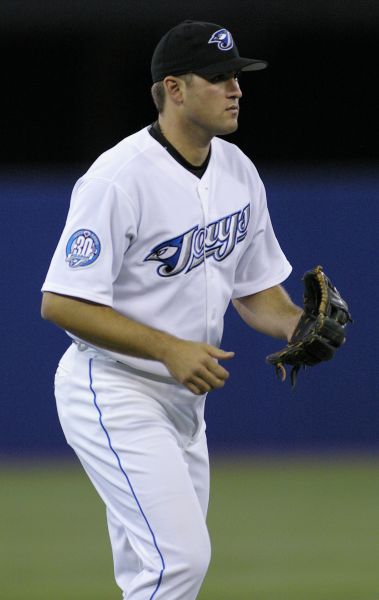 Gibbons got away with his gambit because Lilly pitched into the seventh inning- if he had needed to call on Pete Walker in the third inning this might not have gone nearly so well.
But clearly, this is a splendid opportunity to walk through the history books and look for other notable occasions of Blue Jays playing strange positions. And, as always, all praise and glory to
Retrosheet.
May your feet always be swift...
September 19 1977 -
Doug Rader
started in RF, batting cleanup. Rader, who had won five consecutive Gold Gloves from 1970-1974, had never played a single inning in the outfield before, and never would again. He handled five fly balls without incident, and his fine career came to an end the following spring when the Jays gave him his release.
August 28, 1980 - Toronto's game against Minnesota was suspended after 14 innings because of a curfew - when they resumed the next day,
Dave Stieb
was the new left fielder. With runners on second and third, Marshall Edwards singled to left. Stieb played the ball well enough to hold the second runner at third. He batted in the bottom half of the inning and flied out to centre. It would be eighteen years before his next major league at bat, which is not a record but damned peculiar anyway.
April 18, 1981 - With the Jays trailing 4-1, John Mayberry led off the eighth inning with a double. Dave Stieb
pinch ran for him, but was unable to advance.
April 20, 1981 - With the Jays trailing 1-0, Mayberry led off the seventh with a single and again
Dave Stieb
came in to run.He moved up to second on a walk to Woods, and scored from there on Bonnell's single to right.
May 15, 1984 -
George Bell
made the first of his several appearances at third base. Gath Iorg had pinch hit for Mulliniks in the seventh, and Rick Leach batted for Iorg in the ninth. The Jays got the tying run, and Bell switched from RF to third base for the bottom of the ninth. In the tenth, Bell hit a two-run triple and in the bottom of the inning he successfully handled his first chance as an infielder, a ground ball from Tim Teufel. The very next day, Bell would move from LF to third base after Iorg and Griffin came out of the game - Mulliniks went to short. Gruber, who had come off the bench to play both third and short the day before, seems not to have been available - as a Rule 5 pick from Cleveland, the Jays had started the year with him on the 25 man roster but they eventually worked out a deal with Cleveland and were able to send him to Syracuse. This might have been the day. Bell would get another appearance at third base a couple of days later, and a few more over the years. He regularly took grounders at third, was acknowledged as the emergency option, and from time to time folks seriously speculated about moving Bell to third full-time to make room for one of the hot young outfielders coming up through the system - Mitch Webster, Rob Ducey, Ron Shepherd, and Syl Campusano were some of the contenders back in the day.
April 20, 1986 -
Cecil Fielder
struck out pinch-hitting for catcher Jeff Hearron to end the eighth inning. With Garth Iorg and Kelly Gruber already out of the game, Mulliniks moved over to second base and Fielder made his first appearance at third base. Nothing happened.
April 22, 1986 - With the Jays trailing 10-1 after 6 innings, Williams pulled George Bell from the game and sent
Cecil Fielder
out to play the final three innings in left field. This would be the only outfield appearance of Fielder's career, but the Rangers never did test him. After a leadoff walk, Don Gordon retired the final nine men in order and only one ball left the infield (a flyout to Leach in RF.)
May 1, 1986 - With the Jays trailing 7-3 in the eighth,
Cecil Fielder
struck out pinch hitting for Mulliniks and replaced him at third for the ninth inning. The Angels tried to go down in order, but with two out, Buck Martinez dropped Doug DeCinces foul pop up for an error. DeCinces then hit a ground ball to Fielder, who misplayed it for another error. George Hendrick then hit another ground ball to Fielder, who handled this one just fine and threw to second for the force.
May 10, 1986 - With the Jays trailing 5-4, Cliff Johnson pinch-hit for Buck Martinez and hit a lead-off single. Williams sent
Dave Stieb
out to pinch run. As noted above, Stieb had done this sort of thing before. He had also pitched and lost the day before - his record was now 0-4, 6.02 - so this may have been the best way for him to help the team at the time. He advanced one base at a time, on singles by Fernandez and Garcia, and scored the tying run when Moseby was hit by a pitch.
August 28, 1986 - I missed this one. In the tenth inning of a tie game, Jeff Burroughs reached on an error by Gaetti and took second on an another error by Hrbek. Jimy Williams looked down his bench for a pinch-runner and saw... well, besides Al Widmar, he saw Cecil Fielder and a few pitchers. Dave Stieb wasn't one of them - he had started the game. So
Jimmy Key
trotted out to second base to run for Burroughs. This didn't work particularly well. Willie Upshaw hit a drive to centre, Key tried to advance to third... and was thrown out by Kirby Puckett.
April 20, 1987 - Trailing 6-2 heading for the top of the ninth, the Jays would put together one of weirdest rallies ever. Fred McGriff, batting for Fielder, led off with a walk. Rick Leach pinch-hit for second baseman Mike Sharperson and drew another walk. Mulliniks walked to load the bases. A Dempsey passed ball made the score 6-3, and after an out Gruber was hit by a pitch to reload the bases. Moseby cleared them with a three run double that tied the score at 6-6. After the second out, a wild pitch sent Moseby to third. Yet another walk put Barfield on first. Barfield stole second, and Upshaw walked on a wild pitch that scored Moseby with the go-ahead run. The Jays scored 5 runs on one hit, no errors, five walks, a hit batter, a passed ball, and a wild pitch. You need to know that earlier in the game Garth Iorg had replaced Tony Fernandez (Gruber moved from 3b to short), and when Ernie Whitt pinch-hit for Iorg in the in seventh, Rance Mullinks came in to play third. With Sharperson out of the game, the Jays were also out of infielders. And so
George Bell
moved from LF to second base, for the one and only time in his career. He handled a ground ball off the bat of Otis Nixon, and threw to Gruber for the force at second.
May 9, 1987 - With the Jays leading 15-4,
Cecil Fielder
came in to play third base for the ninth inning. Fielder had actually been the DH, so pitcher Tom Henke went into the lineup as the cleanup hitter, replacing George Bell (who had driven in 7 of the 15 runs before taking the rest of the day off.) By this time, Leach was in LF and Gruber had moved to short.
August 6, 1987 - Cleveland had a 14-5 lead, so for the ninth ining Fred McGriff replaced Lloyd Moseby. McGriff played first base of course - Williams managed the rest of it by moving third baseman Kelly Gruber to CF and switching
Cecil Fielder
from first base to third. Naturally, it was McGriff who made an error.
May 2, 1988 - Here is the sequence that lives in legend. Nelson Liriano had struggled out of the gate, and the Jays sent him to Syracuse at the end of April, just before heading to Seattle and a west coast road trip. This left the team without a backup infielder, and Manuel Lee (who had gone 2-4 in the final game before the trip) suddenly informed the team that he was unavailable - I forget why. And so, the starting lineup listed Kelly Gruber at 2B and
Cecil Fielder
at 3b. This wasn't how they actually lined up - they switched positions for the very first batter of the game, current Jays hitting coach Mickey Brantley. As it worked out, effectively Gruber was the third baseman and Fielder was the second baseman unless a LH batter - Alvin Davis or Harold Reynolds on this night - came up to the plate. In that case, they would swap positions. Gruber handled the only chance in the first inning, and Gruber was in on the third inning rundown that erased Brantley. So far, so good. Feeling his oats, in the fourth inning Williams moved Gruber to second with slow footed catcher Dave Valle batting with a man on first and none out. This was a DP situation, and a 4-3 DP is exactly what Gruber delivered. The Jays lost the game, and drove scorers absolutely insane, but they had more or less been able to get away with playing a slow-footed DH in the infield. Good thing too, because they would have to do it again...
May 3, 1988 - Same situation, except the role of Cecil Fielder on this night was played by rookie catcher
Pat Borders
. Fielder, possibly exhausted after changing positions
eighteen times
(I counted 'em!) the day before, confined himself to DHing on this night. Borders spent most of the night at second base, but moved to third base for LH batters - Davis, Phelps, Reynolds and the occasional DP situation. Borders had actually been a third basemen in the minors, and he would make occasional appearances at third towards the end of his career. This would be his only major league appearance at second, however. While at third, he made an error on a Davis foul pop, but Davis ended up grounding out to Gruber at second. In the ninth, Gruber made an error at 2B on another Davis grounder, but the Jays won the game 9-2 anyway. And so, one more time...
May 5, 1988 - Manuel Lee was actually back in the lineup to play second base in Oakland. The Jays fell behind 5-2 but got the first two men on in the top of the seventh. Lee was due to hit, and Jimy Williams by now seemed convinced that he could play anybody anywhere. So Rick Leach pinch hit for Lee, and after a pitching change, Fielder pinch hit for the pinch hitter. Fielder walked, and one out later Moseby walked to force in a run. Borders then pinch hit for Whitt.and delivered a two-run single to tie the game. Borders  stayed in to catch, and Williams brought back the
Gruber-Fielder
show in the infield for the final two innings - Oakland scored once in the seventh and twice in the eight to win 8-5.
This sort of stuff is a lot of fun, and we've certainly never seen anything like that around here since. Jimy Williams was responsible for most of it, and Cito Gaston replaced Williams in May 1989 after a disastrous 12-24 start. I have long suspected that Gaston's Rule #1 of managing was "
Don't do what Jimy would do
." Generally, this policy worked pretty well for Gaston. But some roster problems did force one unusual manoeuvre...
In June 1989, Lloyd Moseby's back problems took him out of the lineup for about ten days. The only outfielder available to Gaston at that moment was the legendary Kevin Batiste, making his one and only tour of the big leagues. Batiste is best remembered for getting busted for carrying a gun on his one road trip. (Rob Ducey, after a poor start and an injury, was in the minors; Glenallen Hill would eventually be called up at the end of July.) Rather than actually play Batiste, Gaston moved his rookie RF, Junior Felix to centre, and switched his third baseman, Kelly Gruber, to right field. Manuel Lee filled in for Gruber at third base. The other options on the bench, if you're wondering, were utility infielder Tom Lawless, catcher Pat Borders, DH-3B Rance Mulliniks, and C-1B-DH Bob Brenly. When Moseby was available for duty, Batiste was sent on his way and replaced on the active roster by C Greg Myers. This meant that Gaston actually had more
catchers
(four) on his active roster than
outfielders
(three). This is extremely strange roster construction, and I have to suspect that Gaston had a few choice words for GM Gillick on the subject. In the meantime, it rather inevitably led to one strange moment...
July 5, 1989 - Gruber, Felix, Bell were the starting outfield, Myers was the DH and Lee was at 3b. Moseby could swing the bat, but apparently couldn't play in the field. Borders pinch hit for Whitt in the sixth and took over the catching.Brenly pinch hit for Myers in the seventh. And in the bottom of the eight, the Jays down 5-3, things started to get weird. Bell singled in a run to make it 5-4. Lawless pinch ran (pinch-runing was basically Lawless' role on the team) and stole second. Mullinks pinch-hit for Borders and walked; Moseby pinch-hit for Brenly and flied out. And so... Gaston had gone through all four of his catchers, and two of his three outfielders. He already had one infielder - Gruber - playing RF. So Gaston moved Gruber to LF, switched thirdbaseman
Manuel Lee
to RF, and put infielder
Tom Lawless
behind the plate, to catch Tom Henke. Mulliniks stayed in to play third base. This was the only outfield appearance of Manuel Lee's career, and needless to say it was the only time Tom Lawless was ever used as a catcher in his career. So what happened? Well, Billy Ripken led off with a single, tried to steal second... and Lawless threw him out. How about that?
And since then, we've had nothing really weird to look at - with the exception of the things that we were
forced
to look at regularly because the team was trying to see whether or not this particular goofy idea would work. Thus we were treated to Carlos Delgado gallumphing about in left field in early 1994... the unforgettable spectacle of Tim Johnson's mid-season outfield in 1998, Shawn Green flanked by Jose Canseco and Tony Phillips, which was without a doubt the Worst Defensive Outfield I Have Seen In My Life, although the Yankees do keep trying....poor Homer Bush bravely filling in at shortstop in 1999, the memory of which may have caused some of us to give Russ Adams a little too much slack...Frank Catalantto's comic misadventures at first base in 2003, which have kept him out of the infield ever since, for which we may all be grateful.
Until last night. Finally, a little power from the shortstop position. Supplied by quite possibly the biggest shortstop in major league history. I'm just saying...
But seriously. Can anyone think of a larger man who's started a game at shortstop?