Edgardo Alfonzo's contract was purchased this afternoon. He'll cover second base until Russ Adams pushes him out. To make room on the active roster, John McDonald was placed on the 15-day DL after pulling his groin in Saturday's loss. Aaron Hill will likely move to shortstop.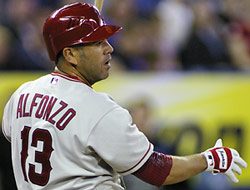 Alfonzo
's pretty much done, so don't expect anything here, offensively or defensively. He hasn't been a league average hitter since 2002 and hasn't cracked six games at second base in a season since 2001. The Jays will be paying him the major league minimum pro-rated to however long he's with the team.
Hill looked good at shortstop last year, but he is changing positions again this year, so a transition period is expected. For whatever reason, I never pictured him as a long-term shortstop, but obviously the Jays know more than I do and they think otherwise. I expected him to end up at 2B or 3B, but it looks like he'll be #1 on the depth chart for a while.
Figueroa, known to us so far as the guy whose glove broke on a Jim Thome line drive and also someone who runs as fast as he possibly can down the first base line to stay two steps ahead of the bus to Syracuse, is now the backup infielder to Alfonzo and Hill.
With the 40-man roster full before Alfonzo's arrival, the Jays made room by placing A.J. Burnett on the 60-Day DL. Burnett wasn't going to be back by late June anyway, so that's a non-event.