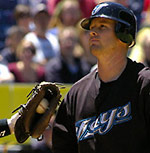 The Jays have traded Shea Hillenbrand and Vinnie Chulk to San Francisco for pitcher Jeremy Accardo.
Accardo is 1-3 with a 4.91 ERA for the Giants, but 40 strikeouts and only 11 walks in 40 1/3 innings. He'll likely help Speier out in the setup role.
The Giants will apparently take on all of Hillenbrand's salary, so the Jays now have the financial flexibility to add another player at the deadline without going over budget.