Nothing.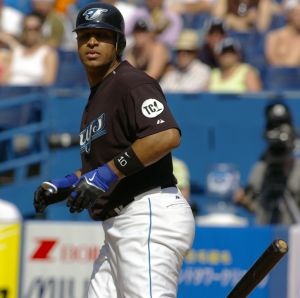 This series we have just watched has been one of the most thrilling and most important in recent Blue Jay history. Nothing I can write can possibly add to the excitement of the series, the craziness of
Shea's Rebellion
, the
Most Satisfying Regular Season Home Run Ever
, the ballboy going nuts, the futility of
John McDonald's swings
, John Gibbons'
bizarre bullpen management
on Saturday, and so much more. (Moving A-Rod to DH on Saturday could not have worked out worse, by the way. His defensive replacement was not good, to say the least, and his offensive replacement -- himself -- didn't hit a fair ball all day.)
Fittingly, the series ended with The Joe Torre Throws His Hands Up In Disgust Game, which I insist must join The Travis Lee Game and The Mike Napoli Game in Blue Jays lore. (Jamie Campbell: "If you're keeping score at home, you're likely exhausted.")
So rather than write a couple of thousand words, include a couple of data tables, and try to write something that will measure up to the four games we just saw, I won't even try it. Playoff baseball is not something I'm used to from the hometown nine. This series felt very much like that, and it was the first time all season I felt that this team was
not
going to finish in third place. That may be overreacting to four games, but so be it. Vernon Wells
said
"You start looking at the standings -- where we are and where they are -- this was a big series. I think everybody had the same idea. We had to play good baseball."

Yes, this was a series that the Fighting Jays needed to show up for. And they did.