Maybe it was just a slow week for the A's, but this seems like a really boring team. Sweeping the Mariners is like the bus being on time -- yeah, it's cool and all that, but it's what you expected and five minutes later, you forget all about it. Not to mention that with Huston Street on the DL, I have very little reason to watch this series.
Nonetheless, you must read the Advance Scout if you wish to learn more than you'll ever need to know about Dan Haren; find out who the Mystery Tuesday Starter will be; and read about Kiko, Scutaro, the Big Hurt, and Swishahouse.
On to the Advance Scout!
General:
Must be August. The A's have won 13 of 16 to open up a 4.5-game lead over the Angels of Anaheim in the AL West ... They have played Seattle 15 times this year and only lost once ... Oakland's got call-up/send-down fever! Thanks to a doubleheader in Kansas City last Friday, the A's rotation has been upset, so Brad Halsey will be summoned from Sacramento to start the second stanza of this series. Due to a Huston Street groin injury, Ron Flores was also recalled from Sacramento. This gives A's three lefty relievers in their pen: Joe Kennedy, recent reclamation project Scott Sauerbeck, and Flores ... Justin Duchscherer closed out yesterday's win in Kansas City in a non-save situation; expect him and Kiko Calero to serve as a two-headed closing monster until Street returns ... The A's face Ted Lilly tonight; their current roster has combined for more walks than strikeouts against the former A ... Nick Swisher, Eric Chavez and Frank Thomas are 10-11-12 in the AL in walks ...
Dan Haren:
Has a long, productive, consistent, possibly great career ahead of him. The 6'5" righty out of Pepperdine was one-third of Oakland's return in the Mark Mulder trade, and it took him all of a year and a half to establish that he's unequivocally better than the current edition of Mulder, at a fraction of the cost ... Haren is a legit top-5 Cy Young contender. He is sixth in the AL in ERA, fourth in RA, third in innings pitched and
behind
only
Santana
,
Halladay
and
Liriano
among AL starters in the WPA department ... Haren is a power pitcher with a deep arsenal and good control. He rarely beats himself pitching around hitters; he hasn't allowed more than two walks in an AL park ... He doesn't throw all that hard - his four-seamer is usually around 93-95 mph - but he has a serious out pitch in his straight power splitter. It starts on a downward plane because of his height and just plummets as it reaches its destination. Humpless, as it were. He'll throw it to anybody in any count. It usually runs around 84, 86 miles an hour, a sharp change of pace from the fastball ... Haren throws a lot of high, inside fastballs early in the count to speed bats up and set up the splitter ... He is comfortable changing speeds on his slider, which was clocked all over the place between 78 and 87 at the RC in May. The slider tends to miss barrels and often induces routine grounders from splitter-conscious righties ... Also mixes in a straight change once in a while ... If you're a pull-happy low-ball hitter, you will probably like this guy and punish his mistakes. A ton of Haren's homers allowed have come on knee-high mistakes on the inner half that left the yard in a hurry ...Haren has won five straight starts; his lowest Game Score over that stretch was 66, and the highest was 72 ... Has not walked a hitter after getting ahead 0-2 (they're batting 3-for-60 with 30 strikeouts) ... He's shut down the Yankees in the Bronx twice, allowing two runs over 15.2 innings for two easy wins ... Is averaging 105 pitches a start; he's thrown at least 104 in each of his last seven. Macha doesn't mind. The A's broadcasters have speculated that Ken Macha thinks since Haren is so big and strong, it won't put too much wear on his arm. Haren is 25 going on 26 in September; we'll see ... Gregg Zaun is 3-8 with three walks and two homers off Haren. He'll probably start Monday ...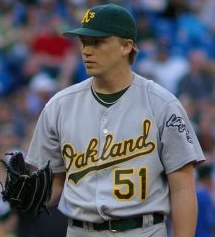 Brad Halsey:
Don't mean to jinx everything, but this guy looks like the ideal pitcher for the Jays' lineup: an unoverpowering lefty ... Halsey can dial his fastball up to 90. He also uses a slider and a changeup, and frustrates hitters by being unpredictable. Once in a while he cuts his fastball, too ... Has pronounced career platoon splits ... Has 3 pickoffs. Runner beware ... Tends to go right at weaker hitters ... Also noticeably alters his throwing motion to the plate with runners on. He alternates frequently between using the slide-step and not using it ... Bradford Alexander Halsey became the answer to a trivia question when he surrendered #714 to Barry Bonds earlier this year ... Jason Phillips, of all people, is 3-5 with a homer and a double off Halsey. There may be an Ali G sighting on Tuesday. No other current Jay has a hit off Halsey ...
Esteban Loaiza:
Signing hasn't quite turned out as planned ... Lord Voldemort had a 4.19 ERA over the past three years, even including his dreadfully mediocre 2004, and his 2005 K rate in Washington was up to his lofty Cy runner-up 2003 standards. Over that '03-'05 stretch, he's had a lofty 7.14 K rate; either that was a mirage or the AL is a wee bit tougher than the NL. Or Loaiza's getting old - he's 34. Either way, this isn't the greatest start to a $21-million 3-year contract ... Still uses lots of cutters, like he has ever since his breakthrough 2003 year ... His 2006 season has been weighed down by an absolutely putrid start in which his velocity was way down. Loaiza spent some time on the DL for shoulder and back pain and has come back stronger, usually hitting the low 90s with his straight heater. Two starts ago against Tampa, Loaiza really had the good stuff, reaching 95 a couple of times. He was pretty excited, according to the Sacramento Bee: "That's my fastest speed this year. I haven't hit that in a long time. My first two innings I think the highest I hit was 91. I got stronger and it turned out to be a great game" ... Individual splits against current Jays are pretty good. Frank Catalanotto has had the most success against Loaiza, going 11-29 with two walks and two homers. Lyle Overbay is 0-11 with a walk and four K's ...
Huston Street:
Pulled his groin on Friday, in Game 2 of a doubleheader. "It's about as sore as I thought it would be. For me to pull myself out of a game it is going to be pretty bad" ... Won't pitch in this series, obviously, and the time off may be good for him. According to the SF Chronicle, some scouts are speculating that Street has been used a bit too liberally this year, as his arm slot is getting lower; apparently this is a sign of fatigue. Hogwash, says Macha. "He's throwing 93 mph. He's getting the saves. How's he pitched? That's the question" ...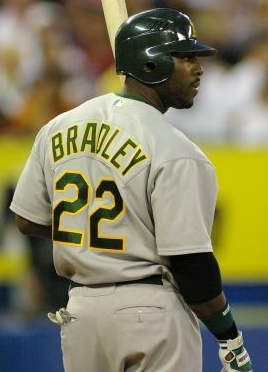 Milton Bradley:
Yesterday in KC, with the A's leading 6-2 in the ninth and a runner on first, Bradley had a Fielding Adventure in right. Mark Grudzielanek lined a shot to right field. It took a hop that handcuffed Bradley and skidded to the right-field foul pole. And since that area of Kauffman Stadium is shaped a bit like Fenway's Pesky Pole, the ball rolled along the wall toward right center, as Bradley jogged over to pick it up. Grudzielanek ended up with an inside-the-park homer ... With a four-run lead, I think taking a rash route to the ball to try and keep the runner on first if you can help it was the "right" play (GIDP or bust!) That said, he looked really bad on the play ... Should be beaned at least three times this series for causing Jays fans so much anguish several Sundays ago at the Coliseum ...
Bobby Crosby:
Returned to the team for Friday's nightcap, after missing most of August with a lower back strain ... Macha says he won't start every day, though: "I would like it be that way, but our training staff wants us to be cautious with him. Their next concern is the turf in Toronto."
Mark Kotsay:
Like Crosby, will probably do a fair bit of sitting this series because of the debilitating Fieldturf. He's a lock to sit Monday against Ted Lilly and may also rest Wednesday against Gustavo Chacin. The lone righty the A's will see this series, Tuesday starter A.J. Burnett, has problems managing speedy baserunners, so Kotsay may start that one, though the A's brought up the possibility of not starting him at all on the turf ... Bobby Kielty usually plays left and bats in the two-hole against lefties when Kotsay sits, with Jay Payton moving over from left to handle centerfield duties. Against righties, Nick Swisher bats second and Kielty assumes the 7-hole, with the same defensive alignment ... Kotsay is making $7 million this year ... He's the all-time career batting average leader at Cal State Fullerton, alma mater of Reed Johnson and Ricky Romero ...
Justin Duchscherer:
An oddity. He's a very tough late-innings reliever who doesn't throw hard at all, relying instead on a deep repertoire of pitches that includes a cutter and a straight curveball. His fastball might reach 90 on a good day; his cutter induces an awful lot of swings and misses for a cutter ... 2.08 career ERA in 17.1 innings against the Blue Jays ...
Kiko Calero:
Another part of the Mulder haul ... Has really improved this year, posting a 10+ K rate as one of Huston Street's primary setup guys. He'll probably get a few chances to nail down saves while Street is out ... Enrique Nomar Calero essentially symbolizes Chad Gaudin's upside. He has always had a vicious slider that breaks hard down and away, but he's upped his fastball velocity this year and is more confident throwing the heater ... He's having much more success against lefties than usual this year. Makes sense ... Nick Swisher appreciates the guy, according to the SF Chronicle. "Kiko's been coming in and keeping us in games. He's been facing tough guys, too; he's in there in spots where you can't ever feel too comfortable. He's mixing that fastball in and that's keeping guys off balance - it's got a little zip to it'' ...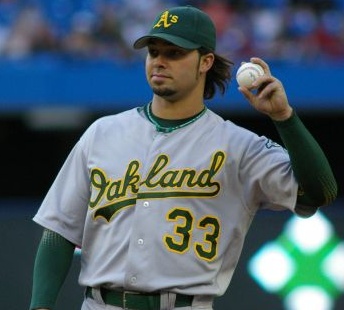 Nick Swisher:
AL beware: Swishahouse is awakening from his slump. After a .204/.342/.337 June and a .188/.310/.306 July, Swisher was back up to .258/.333/.484 in August not counting yesterday's game, in which he went 2-4 with a homer ... The consistently strong isolated walks and power throughout the slump are a very positive sign. Swisher is here to stay ...
Scott Sauerbeck:
Former Pittsburgh Rule 5 pick was released by Cleveland and scooped up by the A's on June 19 ... The release came shortly after Sauerbeck was
arrested
and charged with permitting someone intoxicated to drive his car. His penalty included community service in the form of speeches in three local school districts about the dangers of alcohol use ... 2000 and 2001 were the high point in Sauerbeck's career; he posted 11.35 and 10.05 K rates in those two years, and his walk rate was respectable. All hitters combined had a .627 OPS off Sauerbeck in 2001, and lefties are hitting .200/.300/.334 off Sauerbeck in his career, so he's a worthy candidate for a reclamation project ... Sauerbeck missed some time with a groin injury after being signed by Oakland, but he's at full strength now ... The lefty specialist has been awful against lefties this year (.923 OPS) but not in the past three (.620) ... Sauerbeck has always walked a lot of batters; from 2003 to 2005, lefties batted .180/.306/.315 against him. That's 28 walks and 32 hits for the guys he's brought in to get ...
Joe Kennedy:
Despite allowing more than a hit an inning and an uninspiring walk rate in a small sample, may get a couple of save opportunities while Street is out, according to the Contra Costa Times. May any Oakland save chance in this series go to Kennedy ... OPS splits are backwards this year, but he's been much tougher on lefties over his career ... Slight groundball pitcher ... Hasn't allowed a homer yet ... Will always have a special place in Alex's pantheon of Irrational Fan Grudges for defeating Kelvim Escobar and the Jays 1-0 on Tony Fernandez Day in 2001 ...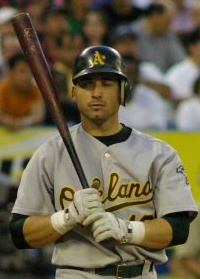 Marco Scutaro:
Is batting a completely unexpected .289/.349/.500 after the all-star break with three homers; he'll probably start at least twice this series ... A versatile defender who's seen significant PT at second, short, third and left field ...
Frank Thomas:
OPS by month: .669, .971, 1.060, .953, .940 - spot the outlier ... Has one homer off B.J. Ryan in his career ... BP's always-excellent
Week in Quotes
contains some really good lines on Thomas. Beane on signing Thomas: "That was no genius on my part. That was all Frank. We looked at the medical records and saw that he was healing, and Frank convinced us he was going to keep healing and get better. I have to admit, that was a time when I probably went more with my gut than what I had in front of me in terms of medical and scouting reports. But Frank sold me." And Swisher: "I think he just gives us that added dimension. The guy causes fear just standing at the on-deck circle" ... Thomas is third in the AL at 4.4 pitches per PA, percentage points behind leaders Kevin Youkilis and Jason Giambi ...
Eric Chavez:
Hit-unlucky this year (19% LD, .263 BABIP), but he still walks like a beast and has good power numbers, on pace for yet another 20-homer season ... Is in the midst of a very close battle with Mike Lowell for the third-base Gold Glove ... Yes, I know Jeter's going to win it ...
Jay Payton:
3-3 with a homer and two walks off Scott Downs ... The remarkably consistent Payton is hitting lots of line drives this year and rarely strikes out, though he doesn't walk either ...
Jason Kendall:
Has an incredibly obnoxious batting stance ... Only homered once since 2004 ... One of the least powerful leadoff hitters in baseball: his isolated power is .047, and that's not an outlier. It was .040 last year ...