The calm after the storm sees the Jays top the Aís in unremarkable fashion.
Star of the Game
: Vernon claims the honour for his 2-run homer in the 5th. The Jay attack was very democratic, with the 8 different hitters contributing one base knock.
Unsung Hero
: A.J. Burnett battled without his best stuff to keep the Jays in the game and give the bullpen a little rest.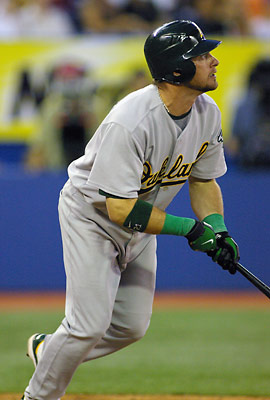 For the Athletics
: It doesnít just feel like Mark Kotsay has been a Jay killer this year; the numbers bear it out, to the tune of .360 / .448 / .600 in 29 plate appearances. This from a guy hitting .269 / .326 / .386 overall. Last night he doubled twice. Jason Kendall doubled and singled.
Elsewhere in the AL
: Kenny Rogers tossed 7 shutout innings at the White Sox for his 4th consecutive good start after a very rough July. The Twins fell to Baltimore, leaving Detroitís Central rivals 7.5 and 8 games back with 41 games to play.
The Red Sox lost their 6th straight, falling 4-3 to LA of A. Dustin Pedroia made his big league debut as Alex Gonzalez went on the DL with a strained oblique. Bostonís shortstop-of-the-future collected a single and starting a twin killing. The Jays are now 2 Ĺ back of the reeling Sox.
The Mariners snapped their 11-game losing streak and felled the Yankees as Adrian Beltre homered twice, including a walk-off solo shot served by Ron Villone. Bobby Abreu is loving New York, hitting .388 / .495 / .553 in 85 Empire at-bats. Craig Wilson not so much, batting .254 / .279 / .407 for his 59 AB.
Today
: Gustavo Chacin makes his return from the DL, opposed by Steve Loaiza. The degree to which Chacin shows himself to be healthy and effective over the remainder of this season will go a long way towards the amount of optimism this Jays fan has for 2007.