That didn't quite go according to plan.
Chacin was really bad last night, he only lasted 1 1/3 and gave up five runs, for his worst major league start. He looked tentative and out of sorts and was leaving too many pitches up in the zone. Gibby was concerned with Chacin's mechanics noting that he was falling off towards third. These results wouldn't be a surprise as Chacin's record in his rehab starts was anything but encouraging.

Star of the Game:
E______ bleepin' L_____ when he's good, I'm sorry to say, he's very good. You can occasionally see why Gord Ash had such a man-crush on him. Anyway, I'm stopping watching him, every time I do he's brilliant, the last game I saw him pitch was
this one
.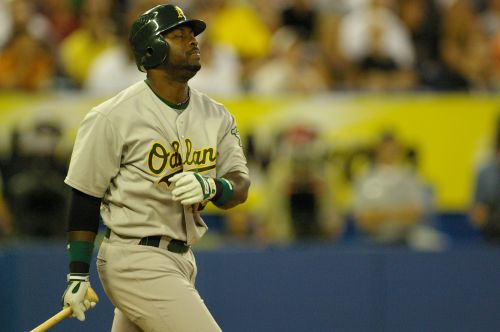 Unsung Hero
: Milton Bradley and the Big Hurt did most of the damage to Jays pitching, combining for four hits, two dingers and five RBI.
For the Jays:
Erm, well, let's see. Scott Downs was pretty good in his 3.1 scoreless Innings. Let's just move on.
Elsewhere in the East:
Tampa Bay beat Texas and handed another win to Shawn Camp as he continues his probably futile chase of Oscar Villareal for the major league lead in cheap wins by a middle reliever. Matt Garza had six shutout Innings against the Orioles which was more than enough to allow the Twins to cruise to a four-one win. Chien-Ming Wang took his win total to 15 and lowered his ERA to a highly respectable 3.80 as the Yankees beat up on Seattle and King Felix. Also on the West Coast, Boston ended their losing streak with a 5-4 win over Kelvim Escobar and the Angels.
Ted:
Jeff Blair reports that Ted Lilly didn't make it through waivers, surprise surprise,
and was claimed by an AL club
..."the Toronto Blue Jays were unable to work out a deal with that team, despite submitting a specific player request."
Organisation Chart:
The Triple Steal blog has
an organisational Chart for the Jays
, like the one Will Young put together for the Twins.