Gustavo looks a lot better than he did in his first start back from the DL, but C.C. looks like an ace and Gus has to leave with an injury.
Star of the Game
: Sabathia tosses a complete game 4-hitter.
Unsung Hero
: Travis Hafner smacked a homer in the first, prompting the Jays to pitch around him and walk him twice.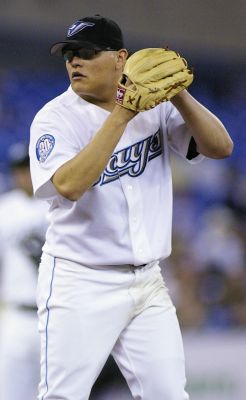 For the Jays
: Chacin goes 5 1/3 allowing just a run on 2 hits and 3 walks, and looks like his old self dodging bases-loaded bullets after walking the sacks full in the 4th.
The official word is that he left the game with a strained finger, nothing to get too concerned about.
Elsewhere
: The premiere matchup, wherein the Tigers were going to show that they are indeed the class of baseball by sticking it to the Yankees, was postponed due to rain. Double dose today starting at 1:05 PM EDT. Robertson vs. Wang in the opener, Ledezma vs. Wright in the nightcap.
Boston
fell to Oakland 2-1, so the Jays remain 2 games back of 2nd place in the East. The White Sox out-slugged Devil Rays and the Royals (Redman) out-pitched the Twins (Garza). Chicago is now half a game up on Minnesota for the Wild Card lead, 5 back of the Motor City. Tampa's game featured the debut of Delmon Young, and he made it memorable, hitting a homer and a single after being hit by a pitch in his first at-bat.
Today
: Shaun Marcum takes on Jeremy Sowers.