So near, yet so far. Jays lose in the tenth.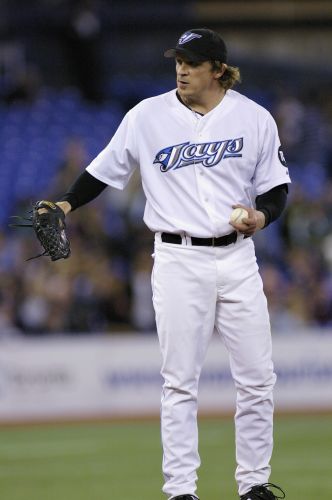 With a game and a series sweep on the line Gibby turned again to B.J Ryan last night. Bo Jr came through the first time, coming in for League in the ninth with two runners in scoring position and one out he struck out the AL's best hitter and got Victor Martinez to fly out to Sparky. He couldn't repeat the magic in the tenth though and gave up the walk off homer to Peralta. There's a finite number of miracles that even Sir Robert Victor can perform.
It was another one of those kind of nights for the Jays, the pitchers kept Cleveland under control, but never looked entirely on top of things and the hitters couldn't seem to get anything going. Marcum started off wild, walking three consecutive batters in the first, but later he settled in to have an ultimatelty effective if uninspiring night. The manager was in LaRussian mode in the middle Ininngs as none of the bullpen pitchers inspired much confidence, they weren't terribly bad as a unit, but still they did just enough to lose the game with no support coming from the bats. The offence definitely loses a step when Cat doesn't come in after Sparky.

Star of the Game:
Travis Hafner had two identical laser beam line drive home runs tattooed over the left field wall, one off Marcum and one off Accardo.
Unsing Hero:
Fernando Cabrera and Rafael Betancourt blanked the Jays hitters over the last four and a bit Innings as their hitters clawed back the lead from the Jays pen.
Boxscore
Elsewhere in the East:
New York split a double-header with Detroit, they won the first game, but in the second Proctor wasn't up to the hardest job in sports - filling Mo's shoes, and blew the save on a Monroe three run homer. The battered remnants of the Red Sox lost another in Oakland, Baltimore beat Texas and the Rays bullpen blew a game they should have won against Chicago.
Today
: Doc to the rescue again against old friend Boomer Wells and what's left of the Red Sox.