Jays 2, Angels 1 as "
Catalanotto solves puzzle of Escobar
".
(And if you're wondering, there were no quotes about his binder in that story when I read it for the first time.)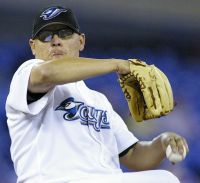 Not having seen the game (which is what can happen with a 10:05 start time on a Saturday night...), it looks like it was a tough night for Russ Adams, who struck out twice and grounded into a double play. Gustavo Chacin appeared to be the Chacin of old, with 3 K and 2 BB in 7 innings. Give him the star of the game.
Brandon League's resurgence continues: groundout, groundout, strikeout. And if you've been following our minor league coverage at all, you know all about Adam Lind, so his two hits (including a double) really shouldn't surprise you.
But this game was fairly meaningless. The Blue Jays really haven't done anything lately that would make me want to watch another game this year. My
preseason prediction
(quick lesson: predicting these things is a futile exercise) was 92 wins and second place. The way Boston is phoning it in, the latter is easy to visualize. 92 wins? It would require an 18-2 run from now until October 1. At the very least, Toronto would have to win 6 in a row three separate times.
So, uh, that's not going to happen. They've won 74, lost 68, which is a .521 record and on pace for 84 wins. I can't use the words "massive disappointment" here because, honestly, it's a game played by strangers. But I wish I had a good phrase to describe confusing decision to play John McDonald every day. .217/.263/.296 is something you can put up with if the guy is Ozzie Smith. But Ozzie hit that poorly in exactly two of his 17 full time years, and never with the Cardinals.
Elsewhere
, the thoroughly mediocre NL West just got a little closer. After Ray Durham's 77th career triple -- don't forget, he's only 21 behind Hank Aaron's record now -- a couple of meaningless intentional walks preceded a Mark Sweeney pinch-hit single and the Giants beat "San Diego featuring A Bunch Of Ex-Red Sox" 5-4.
The two New York teams hold the largest division leads. When was the last time we could say that?
And according to MLB.com, there are four officially eliminated teams in the majors. Can you name all three non-Royal clubs?