The Yankees come into the RC for three games. They may be in a snarly mood. A sweep of yesterday's double-header would have eliminated the Red Sox. Instead Boston swept them. Just to make matters worse, Derek Jeter's hit streak ended at 25 games, with the Yankee captain standing in the on-deck circle, his team trailing by a run, and the tying run on base. It was the longest hitting streak by any Yankee since Joe Gordon hit in 29 games in a row back in 1942. I think the team record was set the year before that...
And there's more...
The Yankees need to win two of the three games in order to formally eliminate the Blue Jays; whether they actually clinch the division will depend on what's happening between Boston and Minnesota. At any rate, unless the Blue Jays win this series, there is a dangerthat we will all witness the depressing spectacle of the opposition celebrating a championship. In Our House. Which has got to suck.
"But wait!", you say. Just winning the division? Why would Derek Jeter or Mariano Rivera get excited by that?
Well, that's what they play for.
It's true that Jeter and Rivera have never missed out on post-season play - this will be the 12th year in a row that they (along with Bernie Williams) have been involved in the post-season. It's the tenth straight year for Jorge Posada (who also made a cameo appearance in the 1995 playoffs, although he didn't make the big club to stay until 1997.)
As you would expect, most of the Yankees have some post-season experience, and many have played in the World Series. Hideki Matsui, Jason Giambi, Mike Mussina were all with the Yankees when they lost the World Series to the Marlins in 2003; Mussina was also around for the loss to Arizona in 2001. Jaret Wright made two fine starts for the Indians in the 1997 World Series (he would have been the wining pitcher in Game 7 if the bullpen had been able to hold a 2-0 lead); Wright also appeared in the post-season for Atlanta.
Alex Rodriguez, Chien-Ming Wang, Scott Proctor, and Jaret Wright have been part of those recent Yankees teams that were eliminated in the playoffs before the World Series. Sal Fasano got into one post-season game with Oakland in 2000. Kyle Farnsworth was with the 2003 Cubs and the 2004 Braves, neither of whom made it to the final series. Octavio Dotel got into the post-season with the Mets and Astros; Corey Lidle made two trips with Oakland. Ron Villone was with the 2001 Astros. Bobby Abreu had three pinch-hit appearances for the 1997 Astros, who lost to the Braves in three straight; Nick Green appeared in a couple of games for Atlanta when they lost to Houston in 2004.
But when you add it all up - Jeter, Rivera, Williams, and Posada own 16 World Series rings. (I assume they gave Posada one for 1995.) And all the rest of the Yankees have just four rings combined. They are: Gary Sheffield 1997 Marlins; Randy Johnson 2001 D'Backs; Johnny Damon 2004 Red Sox; and Mike Myers 2004 Red Sox (although Myers didn't get into a World Series game.)
So I don't know, but I think there could be some
hunger
in the opposing clubhouse this week...
Anyway, back on Saturday I was visiting the Chat, and Lefty was suggesting that one of the reasons re-signing Justin Speier should be a priority was because contending teams always have experience in the bullpen. This got my attention because, as is well known, I have a weird, irrational, practically superstitious aversion to Justin Speier. Don't ask me to explain. For some people it's Ted Lilly, for me...
But just to prove that I know I'm being silly, let's have a nice picture of Jay Spy the Setup Guy! Yesterday's winning pitcher, after all.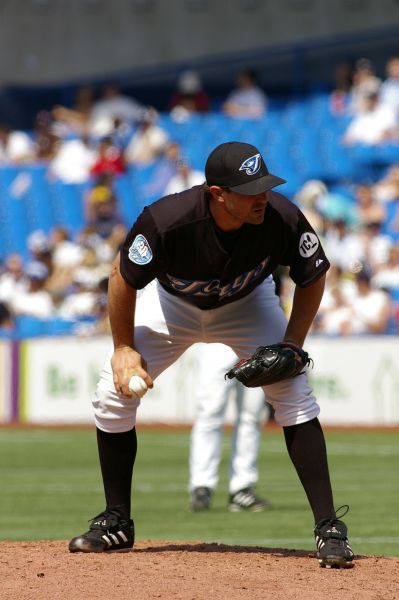 As I recollect, Lefty was thinking that counting on Ryan supported only by the likes of Accardo and League would amount to trusting just a little too much on unproven or inexperienced talent. I countered with the 2002 Angels, who struck me as similar to the Hypothetical 2007 Blue Jays - a pen with an experienced closer (Percival/Ryan) supported by a bunch of comparatively inexperienced and unknown arms (Weber, Donnellly, Schoeneweis in the case of the Angels.) The most memorable reliever on that 2002 Angels squad, Francisco Rodriguez, actually made his major league debut just two weeks before that post-season got going, and why he was actually eligible to appear in the post-season is still one of the Darker Mysteries of Our Time.
I did promise that I'd look into the matter. So I gathered together all the AL teams that have played in the post-season since 2000; I added the five teams still squabbling for the four spots up for grabs this season. I then mixed in two versions of the 2007 Blue Jays, one with Speier and one without. I took the five most frequently used reliever from each of these teams. I then added the career appearances, innings, and saves for all concerned (for our hypothetical Blue Jays squads I've pro-rated this season's numbers.) And voila! I have a Data Table!
Rank Year Team                   Games  Innings   Saves
 1   2005 Boston                 2846    2846.2    406
 2   2004 Boston                 2455    2928.1    371
 3   2006 NY Yankees             2349    2826.0    419
 4   2004 NY Yankees             2338    4022.2    428
 5   2003 NY Yankees             2061    3942.1    292
 6   2002 Minnesota              2031    3090.1    274
 7   2005 NY Yankees             1968    3881.0    463
 8   2002 NY Yankees             1676    2433.1    321
 9   2001 Seattle                1636    2420.0    163
10   2003 Boston                 1635    2304.0    202
11   2001 Cleveland              1529    1845.2    150
12   2000 Oakland                1499    2243.2    328
13   2000 NY Yankees             1494    1965.1    213
14   2001 Oakland                1409    2167.1     65
15   2005 Chicago White Sox      1300    2846.2     70
16   2001 NY Yankees             1285    2005.1    236
17   2006 Detroit                1243    1373.1    243
18   2007 Toronto w/Speier       1190    1483.1     99
19   2003 Oakland                1171    1349.1    136
20   2003 Minnesota               995    1864.1    119
21   2006 Minnesota               928    1314.0     93
22   2007 Toronto w/out Speier    910    1160.2    100
23   2002 Oakland                 906     998.2    119
24   2005 LA Angels               879    1358.2     74
25   2000 Seattle                 833    1735.2    150
26   2002 Anaheim                 818    1296.2    214
27   2004 Anaheim                 786     985.1    300
28   2004 Minnesota               681    1107.2      4
29   2000 Chicago                 583     755.0     73
30   2006 Chicago                 547     716.1     21
31   2006 Oakland                 401     718.1     32
Once more, let me emphasize - these numbers represent just
the five most frequently used relievers.
The 2005 White Sox total does not include Bobby Jenks, the 2002 Angels do not count K-Rod. Who would both add zero to the totals anyway. The numbers represent their career totals going into the season in question.
As you can see, with or without Speier, the 2007 Blue Jays will not have the greenest bullpen in the recent history of post-season play. The five pitchers I am using, by the way, are Ryan, Accardo, League, Downs, and either Speier or Frasor. As it turns out, the 2002 Angels really are a decent comparison. On both teams, a veteran closer accounted for roughly half of the total career appearances. Both teams had a LH reliever (Schoenweis and Downs) who had accumulated most of his big-league innings as a starter. The Jays unproven RH relievers, Accardo and League, actually have more experience than Weber and Donnelly. Weber had pitched in 75 games before 2002; Donnelly, like K-Rod, had
no
major league experience prior to their championship run. The Angels did have an experienced LOOGY, Alan Levine.
The most inexperienced bullpens of all are in the thick of this year's action - Bobby Jenks, of course, had never pitched in the major leagues until the season that ended with him closing out games for the World Champions. The most experienced of this year's White Sox relievers is Cliff Politte, even if he has already been cut loose. Neal Cotts is the only other top Chicago reliever other than Politte who had appeared in more than 100 games prior to this season. Oakland has two relievers who have both pitched in about 125 games (Calero and Duchscherer) - the others (Street, Gaudin, Halsey) are all second-year players who had pitched in 149 games between them coming into this season.
The most experienced bullpens have been seen hanging around the top of the AL East these last few years, and topping the list were last year's Red Sox, who took these numbers into the season:
Player    Games  Innings  Saves
Foulke     501     660.1    175
Timlin     812     955.1    117
Myers      684     419.1     14
Embree     568     515.1      7
Mantei     281     296.1     93
TOTAL     2846    2846.2    406
Embree, of course, actually ended up moving on to the Yankees later in the year - but he was one of Boston's five most often used relievers, and not one of New York's.
The bullpen crew with most innings pitched? Your 2004 New York Yankees, which saw the great Rivera supported by a man who had been both a successful closer and a successful starter (Tom Gordon), and one of the great rubber arms of recent years (Paul Quantrill). (The 2005 Yankees had the most saves, as Rivera had added another 53 to his total in 2004, which more than offset the loss of Quantrill.).
Player  Games Innings Saves
Rivera    512    650.0  283
Quantrill 705   1091.1   20
Gordon    591   1807.0  110
Heredia   461    417.0    6
Prinz      69     57.1    9
TOTAL    2338   4022.2  428
And finally, let us consider the 2004 Minnesota Twins. They headed bravely into that season with their five most important relievers having combined for the whopping total of four - yes,
4
- saves. Two of those had been recorded by Aaron Fultz, a LOOGY of no fixed abode. Joe Nathan and J.C. Romero had one apiece. They did OK.
So it can be done...