Do the second-place (second-place!) Jays feel like helping the Twins? With 156 down and 6 to go, they can. Minnesota sits just 1 game behind Detroit and two of three by Toronto in this series could lead to Aaron Gleeman boasting about three division championships in four years.
But we're talking about the Tigers here. Tied for the best record in the majors with the Yankees, they
clinched
a playoff spot after beating the Royals on the weekend. This, of course, is the first time they've been in the playoffs since the Collapse of '87. They can -- nay, will -- clinch the division itself this weekend when they host Kansas City, since the season series is "DET 14, KC 1". Until then, however, the Jays face their youngest starter, their oldest starter, and a starter...for whom we have a picture.
On to the Advance Scout!
General:
Rob's always the elder Scout with over nine months on the younger Alex, but please note that the latter's later birthdate means
he wasn't alive
the last time the Tigers made the playoffs ... Unless they really, really want home field advantage (they don't), don't expect "play-or-die" from this squad this week ... Can we
please
stop keeping track of saves? Todd Jones entered Monday in a tie for 3rd in the AL, despite not being very good and hanging around with the Michalak Line Boys too much ... Detroit has given up the fewest runs in the majors, at 629. Their starters have held hitters to just a .319 OBP and a .413 SLG; their relievers, .316 and .371 ... Tom Gage of the Detroit News
is excited
to the point of incomprehensibility: "Win it
all
? As in winning the World Series? Why not? The odds of that occurring are a lot better than they were in April that we'd even be talking about such a possibility in September."
(In true sportswriter fashion, it took him three paragraphs to say that.) Most of the mainstream media is looking ahead to the playoffs -- you can't blame them, really -- and very few actually mention them playing Toronto this week." ...
They were actually batting Neifi Perez leadoff at some point this year, which should automatically disqualify them from playoff contention. Their OBP is also 12th out of 14 in the AL, but there's no way those two can be related ...
Other things
that should disqualify them? "The commissioner of baseball is thrilled the Tigers have made the playoffs." We'll see if they can ward off the Selig anti-mojo ...
Jeremy Bonderman:
Strikeout pitch is definitely a nasty mid-80s slider that eats up righties ... In the midst of his hot June, the Jays were able to reach him the most,
with six hits and three walks in six innings
. In his other four starts, allowed just 28 baserunners in 29.2 innings. Oddly enough, Toronto struck for eight runs in the eighth after Bonderman left. Not oddly enough, Placeholder Alfonzo was 0-for-3 in that game ... Has struck out more batters than innings pitched in 15 of his 32 starts. No, I'm not sure what that means, but it sounds cool ... Looks like he's rounding into superstar form: he's improved every year since 2003 without much on the way of outliers in his peripheral statistics. He gets more groundballs than everyone except five pitchers (Wang, Westbrook, Halladay, King Felix, Bedard) ...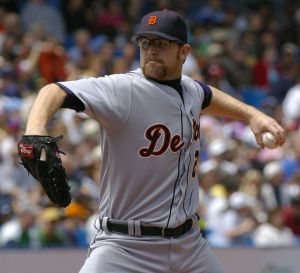 Nate Robertson:
STATS Inc. scouting report
tags him
with Ted Lilly Disease: "There is a certain lack of consistency Robertson displays that is maddening." ... Also a fastball/slider pitcher, but about 80% that of Bonderman ... Born in Wichita, went to high school in nearby Maize, then back to Wichita State University ... Maintains the appropriately-URLed
naterobertson.mlblogs.com
.
Sunday's entry
echoes the "a season is 162 games long" sentiment: "It's not getting too high when you do what you're supposed to do on a winning team. But it's also not getting too low when you have a little funk. You're going to have those funks throughout a major league season like we have." The life of a starting pitcher: he wrote 1295 words for Sunday the 24th after last pitching on Thursday the 21st ... Has the most quality starts and highest average Game Score on the team (20, 53.0) but it's a close race with Rogers (19, 52.2), Bonderman (18, 52.9) and Justin Verlander (18, 52.3) ...
Kenny Rogers:
An old lefty without overpowering stuff. The Tigers must have got this guy from Seattle ... Won't face Dustin McGowan in a battle of Savannah-born pitchers. And no, any rivalry these two might have from their high school days is sort of negated by the fact that Rogers' first daughter was born when McGowan was 11 ... As you remember, started the All-Star Game this year, one season after being all but blacklisted from the festivities ... Sixth in the league in G/F. Yes, he's right behind Bonderman ... To date, is in exclusive company as one of only two pitchers with a K initial to throw a perfect game. After that game, appeared on Letterman
along with
Top Ten George [H.W.] Bush Complaints About Dan Quayle's Book. Ah, 1994 ...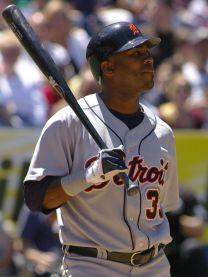 Marcus Thames:
Pure power hitter ... He's a 29-year-old who is starting in the majors for the first time after very short stays in New York, Texas, Detroit and Detroit the last four years respectively ... He spent most of 2004 and 2005 at AAA Toledo, where he put up obscene isolated power numbers. Obscene. In 2004, he put up a .329 average with 77 hits in 234 at-bats. 24 were homers. 21 were doubles. 1 was a triple. Barely 40% of the hits were singles. That's a .735 slugging percentage. In 2005, same deal, except with more singles: 265 AB, 90 hits, 22 homers, 18 doubles for a still Bondsian .340 BA and .679 slugging percentage ... Predictably, Thames' line drive rate is not good (15.2%), but it doesn't have to be. 59.1% of his balls in play are flyballs. He has so much power that even playing in Comerica, a park that stifles what he does well, he's hitting .259/.337/.555. And only 41 of his 89 hits are singles ... 88 strikeouts in 386 PA - not bad ... 4.0 pitches per PA - excellent ... He's not hit lucky, either. With 15.2% LD and a .274 BABIP, he may be getting ever so slightly lucky, but it's important to recognize that this season is not a fluke. If I were a GM in need of a DH or a corner outfielder, I'd seriously consider giving the Tigers fair value for Thames and bank on him hitting 40 homers in a hitters' park, even sitting 20 times against righties. Why not? ...

Carlos Guillen:
Has returned to his 2003 form ... Has started four games at first base this year and his eight total in 2006 are the only eight he's played there in his career ... During some good-natured managerial ribbing of Fernando Rodney, yelled out "Diablo!" to which Leyland
responded
: "Damn right I am."
Ivan Rodriguez:
Continuing the "out of position" theme, has a couple of 1B and 2B innings under his belt this year. Previously, every single time he played the field was as the catcher; Leyland must like Vance Wilson a lot ... Not walking a whole lot, but it's still about twice as often as he did last year. He's also set a "career high" in G/F ratio with 1.98 ...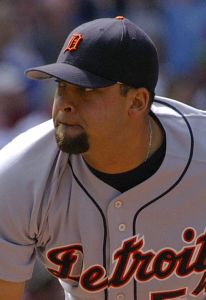 Joel Zumaya:
The most entertaining pitcher in baseball this year ... In case you've been living under a rock, this guy can dial it up to 102 mph with his heater, and he's been mixing in a slider more and more as the year goes on to keep hitters off it ... Zumaya is a flyball pitcher with a solid line drive rate. He has, however, probably been a bit hit-lucky (.254 BABIP) ... He's had at least a strikeout an inning in every month of this season ... And as the Tigers' setup ace, being called on frequently to get out of jams, he has only blown five saves ... He's got a 343 WPA ...


Sean Casey:
After years in Cincinnati, came to Detroit after a brief stop in Pittsburgh. It's always nice when you can go from one of the worst teams to one of the best ... Not really the guy you would expect to see batting third for a team on top of its league, but there you go ...
Chris Shelton:
Lesson #2192 re: April stats: Christopher Bob Shelton's SLG by month goes .783, .363, .364, .386, N/A, .333 with a demotion to Toledo (AAA) explaning that nonexistent August ...