Julio Lugo is interested in joining the Blue Jays according to a
Blair article in the Globe
.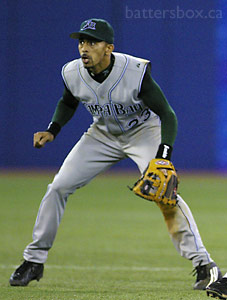 If you remember back to the trade deadline the Jays had considerable interest in acquiring Lugo, but weren't able to work out a deal with the Devil Rays. So apparently both parties are interested in one another.
The Devil Rays had explored a contract extension with Lugo prior to the trade deadline but were unable to come to agreement. It was believed that Lugo was seeking a
5 year contract for about $40 million
. Lugo turns 31 next month.
Prior to this I had been thinking that a 4 year, $30 million deal for Lugo would be a fair deal and given his apparent demands that seems like a reasonable landing spot. The Jays gave 570 ABs to McDonald, Adams, Alfonso, Roberts, and Figueroa this past season, with Adams posting the highest OPS at .600. So needless to say, Lugo would represent a considerable upgrade and would allow Aaron Hill to remain at second base.
----
Hey - there's baseball today! It turns out that the season isn't over when the Yankees lose after all. Detroit visits Oakland where Barry Zito and Nate Roberston will take the hill tonight at 8 eastern.