As the Mets, Phillies and Braves are all going to win the N.L East, I'm going to confidently predict that the Nationals finish last.
The Plan
The plan is big news amongst Nat's fans, its the reason/excuse the front office are peddling for not having any starting pitchers. The Plan was announced by Jim Bowden last May, as he outlined in a newspaper column just how the Nats front office was going to set about repairing the mess they'd been left in by a few years of MLB ownership "There are three main ways to add good young talent to an organization: First is the amateur draft (where I have been involved in the drafting of such players as Ryan Zimmerman, Adam Dunn, Austin Kearns, Barry Bonds and Moises Alou). Second is international signings as the Braves have proved with Andruw Jones and the Expos did with Vladimir Guerrero. Finally, there's trading veteran players for young players". There are certainly signs they are taking this seriously,
Bowden has been in the press this spring singing the praises of the new and improved scouting department that features big names such as ex Rays GM Chuck LaMar as a cross-checker, and into which the Nats have obviously poured some significant money. Bowden has, of course, also been doing his bit for the future through trades, particularly off-loading an aging and expensive Jose Vidro for a couple of pretty good prospects from the Mariners.
It's hard to see why having a plan for the future means you have to have a AAA rotation, but
as Jeff Sackman notes
, signing some over-the-hill mid-level starters to long term contracts would have been a terrible thing for the team to do. They might struggle this year, but the front office has wisely avoiding doing anything that might mortgage the future. I will confess to being lost though as to why they've allowed the rotation to become so potentially bad, throwing a bit of money at Mark Redman, say, for a year would have done nothing of consequence to stall future development, but would have gone some way to providing a little more stability for a starting staff that figures to struggle greatly.
Catchers
Brian Schneider will be the starter again, and Washington will need him to recover his stroke with the stick after a very poor year in 2006 during which he slugged a terrible .329, he had just 22 extra base hits in 450 plate appearances. Schneider will be joined behind the dish by Jesus Flores a 22 year old rule 5 selection from the Mets who has a reputation as a whiz with the glove, Flores is the kind of long term project a team in the Nationals position can - and should be - taking a flyer on. Robert Fick will see some time as the third catcher as part of his super-utility duties.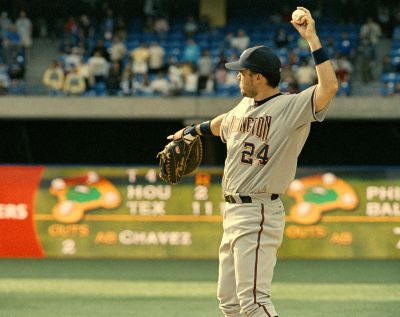 Infield
Nick the Stick is making slow progress recovering from the leg he broke colliding with Austin Kearns in September. Johnson won't be ready for Opening Day and indeed the word June seems to be being mentioned more often than May when his eventual return date is discussed. To put it mildly the Nat's need Johnson in the lineup sooner rather than later. Prior to his injury last year Johnson was having the best year of his fine career, he was getting on base at a typically astronomical clip (.428) but was hitting for more power than he ever had before posting a gaudy .520 SLG. In Johnson's absence Travis Lee is in camp, but the majority of the playing time seems likely to go long-time prospect Larry Broadway, the organisations second ranked prospect after the 2004 season, he missed most of 2005 with a knee injury, but bounced back with a decent campaign for New Orleans in 2006. Dmitri Young is also in the picture, but seems unlikely (judging by the media coverage from camp) at the moment to make the team. The job seems to be Broadway's to lose with Lee likely to serve as a pinch hitter/late inning replacement type, while management makes daily calls to Johnson's doctors hoping for news of an early return. Old friend F-Lop will be starting at second and will join Christian Guzman as part of onwe of the majors most unproductive double play combinations. I will refrain from any Christian Guzman jokes and merely point out that last time he played a full season he had an OPS+ of 55 and he's now two years older and just missed a year with a shoulder injury that is still giving him problems. John Wilson, who had a cup of coffee with Florida in 2005, would probably be a better option than Guzman, and seems to be getting a chance to push the veteran hard for the rest of Spring Training, Wilson had a decent .851 OPS in AAA last year. The hot corner will be manned by Ryan Zimmerman who after just one full season and at age 22 seems to have become the face of the franchise. To be fair, it was a pretty good full season (.287/.351/.471) and given his age Zimmerman could well get better and become one of the games premier third basemen. It will be interesting to see how his defense progresses, when he was drafted he had a very good defensive reputation, but Chris Dial's rating at BTF had him just a tad above average. When Johnson returns the corner spots will be on of the teams few strengths, but the middle infield as currently configured will drag the offense down all year.
Outfield
With Alfonso Soriano moving on to incredibly lucrative new pastures Ryan Church seems favourite to get the majority of starts in left, if he can repeat what he did in limited time last year (.276/.366/.526) Soriano won't be missed too much at all. While those numbers might be a bit of a stretch for Church, although at age 28 I wouldn't put them past him, he should be one of the better parts of the Nat's offense this year. Austin Kearns will fill the role of Big Scary Bat and should be able to reproduce last years .264/.363/.467 line, it's hard to predict much of an increase in RFK though. Manny Acta has expressed a preference for a gloveman in Center and it seems Alex Escobar and Nook Logan will split the playing time in some proportion or another, which is nothing to get very excited about (Escobar's big finish to last year excepted). Things could get interesting though if Church sees some time in center as this would open up some playing for a couple of intriguing young players - Chris Snelling and Kory Casto. Snelling is the Aussie who was stolen from the Mariners last year in the Vidro trade that caused so much upset, despondency and heavy drinking at the USS Mariner. He has had his share of injuries which have hindered his development, but there's no doubting he can rake, and on a team that's going to need all the runs it can get he should be playing regularly. Casto was rated the Nat's best prospect last year (and no that's not meant to be damning with faint praise, although it does sound like it), he hasn't played above AA though and has significant problems hitting lefties so he's most likely to start the year at AAA.
Starting Pitching
This is where it all gets funny or sad (if you hold the Nat's at all dear) or just plain bizarre. Last year Washington got terrible pitching from it's rotation, the ERA+ numbers for the top five starters were 79, 88, 83, 92 and 74. This off-season they waved goodbye to a handful of aging and ineffective starters, but the situation is not going to improve. Indeed by the All-Star Break Nat's fans might be looking back at the 2006 starting pitching with a certain wistful fondness. There are thirty-seven pitchers in National's camp and at least a dozen of them seem to be in serious contention to get starts this year, the list includes (but is almost certainly not limited to):
John Patterson
Tim Redding
Shawn Hill
Jerome Williams
Mike O'Connor
Brandon Claussen
Luis Martinez
Beltran Perez
Jason Bergmann
Jermaine Van Buren
Jason Simontacchi
Billy Traber
I count precisely three seasons combined of over 150 IP and a 95+ or better ERA+ between the lot of them.
There is one guy in that list who can reasonably be expected to be a solid, productive starter - John Patterson. Patterson was terrific in 2005, he pitched just shy of 200 Innings and put up a 127 ERA+, forearm problems restricted him to just 40 Innings last year, but his peripheral numbers held up and suggest he could well repeat his 2005 performances this year. And then you have, well, what exactly? A large collection of guys who have either injury concerns, performance concerns or both. Some we might call has-beens, Redding, Claussen and Simontacchi have had at least a little success in the big leagues, some are young and have never had much of a chance but have some potential like Shawn Hill, Mike O'Connor and Beltran Perez, and some just aren't very good, but really would you count on any of these guys this year, let alone four of them ? It's anyone's guess which five will break camp as 'the rotation' or how long that group will stay together, days rather than weeks one suspects, before a disastrous start and a hot hand in the minors causes a shuffling of the pack. The Washington-Columbus express should be doing a lot of business this year. Unless one of these guys takes a huge step forward the Nationals look likely to get 35 good starts from Patterson and 127 at something between acceptable and replacement level from the rest, it's going to be a long summer in Washington and if Patterson gets injured for any length of time things could get very ugly.
Bullpen
For all the problems in the rotation the bullpen is suprisingly competent looking. It's a good job, because they're going to be plenty busy. The backend of the 'pen is well capable of dealing with any leads they get handed, Chad Cordero had some troubles with his control in the early stages last year, but finished the season strongly and should be one of the better closers in baseball again this year. Jon Rauch was seemingly omnipresent last year, he appeared in over half the Nationals games and racked up 91 IP with a 3.35 ERA and solid peripherals, the big man has expressed a strong desire to stay in the bullpen or the temptation must have been there for Bowden/Acta to slot him in as the #2 starter. Luis Ayalya is back from injury and was very good in 2005, Emiliano Fruto came over from Seattle with Snelling, and has great potential and stuff out the ying-yang. This is a pretty solid group and should pick up some of the slack from the rotation, recognising that the pen is going to see plenty of action Washington will carry twelve pitchers, even though this limits Acta's ability to pinch hit as much as he might like.
Manager
Manny Acta was brought over from the Mets ro replace the increasingly grouchy Frank Robinson. The new skipper has made an impression in his first camp (as new managers are wont to do) and his players are falling over themselves to talk about his energy and the positive direction in camp and so on. More interesting than Acta's upbeat contrast to Robinson is his strategic outlook.
Acta it appears 'gets it'
, he dislikes bunting in the early going, preaches running selectively and wants to use a high OBP guy in the second slot. In short all the good stuff we like to see from our managers.
Prediction
Whilst the Nationals starting pitching is poor going on terrible, and they leave a lot to be desired up the middle, they have good bats in the corners and a very solid bullpen. The rotation is likely to be so poor that losing 100 games wouldn't be an unexpected result. I think the Nat's could be a bit better than that though, lets be optimistic and say 70-92.