It's a battle of 8-7 teams in Baltimore. Burnett, Towers and Chacin will carry the Jays' torch this weekend. The Jays should be favored to win the last two games, bruises and all, but Friday is a different story. Burnett, who really could use a win, runs into a certain overpowering righty who's only handed out 5 walks in his first three starts. Elsewhere, the Jays also get to contend with a left-leaning lineup and a revamped bullpen full of imported veterans and inexpensive pleasant surprises. And Alberto Castillo!
On to the Advance Scout.
Daniel Cabrera:
Groan
. Brace yourselves for the first of six Cabrera masterpieces against the Jays. He's still basically the same pitcher: power fastball, mid-80s humpless curveball, fall behind 0-2 and you might as well start heading back to the dugout. However, he grew a couple of inches during the offseason, and he also seems to be pitching directly over the top more than in the past. This might sacrifice a bit of velocity, but his fastball has vicious, Daisuke-ish movement that wasn't really there last year. He's also pitching to contact more, and thus far that has resulted in a better-than-league-average walk rate (impressive for a guy who walked 15.7% of hitters last year) and even more ground balls than usual. Sam Perlozzo has no qualms about running Cabrera's pitch counts into the stratosphere despite the fact that
the man's only 25 and he might just have the best stuff of any non-Venezuelan pitcher in the majors
. Cabrera threw 232 pitches in his first two starts of the year.
Adam Loewen:
Similar to Erik Bedard: lefty groundball pitcher who runs deep counts and uses a slider as his out pitch. Throws his fastballs around 89-92 but regularly puts them in hitters' rearview mirrors regardless. Like Bedard, Loewen also throws a curve once in a while to keep hitters off the slider. He's not off to a great start this year - he battled blisters and only lasted 3.2 innings in Tampa Bay in his last start, and he's given up more walks than strikeouts.

Steve Trachsel:
The slowest of the slow comes at hitters with with a curve, lots of changeups and a jarringly slow splitter. He throws in the highish 80s with his fastball. Don't expect him to come out throwing fastballs - he'll usually lead with the slow stuff to set up fastballs later.

Alberto Castillo:
Musically gifted old friend now comprises the righty half of the Orioles' light-hitting catcher platoon while Ramon Hernandez rehabs. Castillo has become a very, very patient hitter. He runs deep counts and will draw a respectable number of walks. The flip side is that given 600 PA, at this rate, he'd lead the league in strikeouts.
Hernandez
took batting practice this week and will return to the O's lineup next week at the latest. There's an outside chance they activate him this weekend.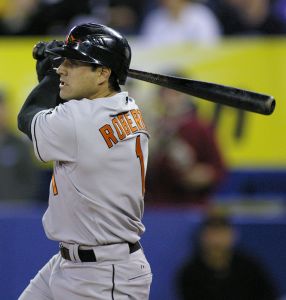 Brian Roberts:
Has hit the ground running. Tuesday night, he swiped second and third off Casey Fossum for his third and fourth steals of the year.
John Parrish:
A
TJ success story
who didn't pitch an inning in 2006. The Orioles decided not to non-tender him this winter, and the early returns on that decision have been spectacular. The word is that Parrish has quieted his hyperactive delivery, which has improved his command of everything. Parrish has an outstanding strikeout rate and will almost certainly start climbing the leverage ladder. He's unpredictable. He throws a 90-mph fastball and a hard slider around 85, as well as a changeup. Parrish opened his career by whiffing Chuck Knoblauch, Derek Jeter and Bernie Williams in succession.
Jamie Walker:
The first-string LOOGY. He throws fastballs, sliders and changes and doesn't give up many walks. Given that John Halama and Tim Byrdak were the Orioles' most accomplished lefty killers last year, Walker was the one free-agent bullpen signing I thought was defensible.
Chris Ray:
Fireballing closer who has one of the least fluid windups you'll ever see, which helps him hide the ball better than most. Nobody has scored off him by any means other than an A-Rod grand slam. He's added a splitter to his arsenal as a wrinkle, but he still leans primarily on his fastball and slider and appears to love to finish hitters with the high heater.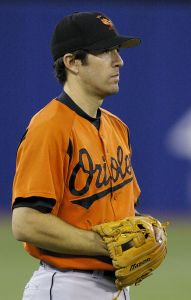 Chris Gomez:
Hit a game-winning slam against the Royals on Saturday. So, uh, which one of you scumbags gave an O's fan his cell phone number?
Chad Bradford:
The submarine artist gets to take another shot at pitching in the AL East without getting shelled. I'm skeptical. However, he has added a deadly weapon to his game this year that should help him elevate his game to a whole new level: a 'stache...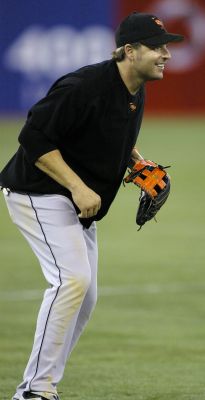 Kevin Millar:
The Crown Idiot is at the heart of
a revolution in clubhouse chemistry
in Baltimore. Two years removed from the Tejada-Sosa-Palmeiro soap opera, the O's claim to have put an emphasis on bringing in character guys. Accordingly, they are once again a tight group that hang out in the clubhouse after games and go gallivanting on Spring Break with 18-year-old college freshmen. Says Jay Gibbons of the clique-free clubhouse: "We don't discriminate. Our crew is everybody."
Jay Payton:
Could the Jays use Jay Payton right now or what? He's finally recovered from the hamstring injury that hamstrung him in spring training, and is expected to replace Jon Knott on the Orioles' 25-man roster today. Since Millar is on a hot streak offensively, Payton isn't likely to force his way into the lineup immediately, but he'll definitely start Sunday.
D Fence:
The Orioles' pitching staff features a large number of groundball pitchers, most prominently Cabrera, Bedard and Loewen. Unfortunately for them, they're saddled with a
sub-par infield defense
, according to the 2006 PMRs.
The Credit Section:
Batted-ball and Leverage Index data are available at
Fangraphs
. K% and BB% are strikeouts and walks respectively as a percentage of plate appearances. Everything else, most notably the AL average statistics, is available at
The Hardball Times
. The "Rest" column for relievers is basically self explanatory: the number on the left of the forward slash is the number of days off the pitcher has had, while the number on the right is the number of pitches the pitcher threw in his last outing.