Was that Brandon League I saw ?
Nice to see Cito realises he's on the roster and good to see him on the mound, he didn't have a bad outing at all so hopefully we'll see him again sooner rather than later. Not much else to say about this one. Dustin was 'away from the RC' Dustin, the hitters got some hits against Washburn but couldn't turn enough of them into runs, and so on and so forth. Again the Jays played down to the competition and failed to grasp an excellect oppurtunity to make back some ground in the standings. Nice dinger from Lind in front of his folks though.
Elsewhere in the East, the good Daniel Cabrera made an appearance going all nine against the Royals for just a couple of runs and helping the O's to a comfortable 5-2 win. The Yankees went medieval on the Texas bullpen getting 12 runs in the 7th and 8th against Warner Madrigal and Jamey Wright. Madrigal's line: 0.1 IP 5 H 1 BB 6 ER 1 HR - 162.00 ERA. If you're like me and have made the Rays your 'second team' for the year there was lots of fun in Florida last night. After a slow start (Dice-K and Kazmir were both in love with the walk) it came to the stretch with Boston having a seemingly comfortable 3 run lead. Francona sent in Delcarmen for Okajima who had pitched a decent sixth. Delcarmen was swiftly followed by Hansen, Aardsma and Lopez, but not before the Rays had eleven hitters at the plate and had scored six runs as the Sox relievers couldn't buy an out or in Hansen's case even a strike. Pedroia, who had a mavellous game, and Youkilis plated a couple of runs in the 8th and 9th - Youkilis on a deep fly to center that Upton made a terrific over the shoulder catch on, recovering from a bad initial jump to run it down by the fence. The end came with Varitek, who is stuck in a terrible and prolonged slump, failing again at the plate. First, he swung through a pitch with a hit and run on leading to Lowell being thrown out at second, then a couple of pitches later he weakly struck out looking. I don't understand Francona's decision to hit and run when Varitek is swinging and missing at a furious pace, maybe he thought with contact at a premium he'd choke up and shorten his swing which might help him out of his slump ? Beats me. Beats me almost as much as why he was hitting at all with Casey on the bench.
To take my mind off McGowan's struggles I finally got around to doing some All-Star voting. Here's my ballot: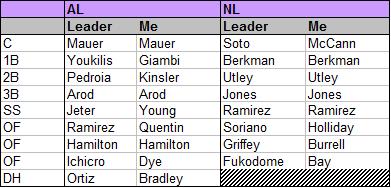 I tend to the best player this year, rather then best career player, school of All Star voting. I'd be quite excited to see my AL team at Yankee stadium, but bored stiff to see the one that will actually be run out there. Far too many Red Sox, I mean how do you vote for Pedroia over Kinsler or Roberts ? I'm more in tune with the NL voters apart from the populist outfield selections.
No Game today. The Jays get a day off in LA. Lucky for some.