Poaching a headline off Braden, or
Ned
as I like to call him, the Jays could not use the brooms in Cleveland, falling
8-4 to the Tribe
Sunday afternoon.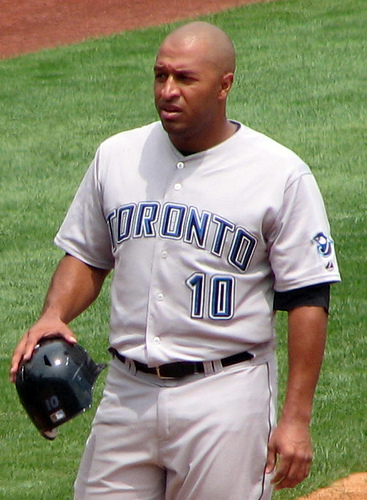 After a decent first start against the Tigers, David Purcey struggled from the get-go. A lead off walk to Grady Sizemore, a stolen base, a wild pitch and a Rod Barajas throwing error gave the Indians a 1-0 lead. Sizemore drew another walk in the third and Victor Martinez clubbed one over the wall to make it 3-0. It took Purcey forever and a lifetime to get out of the third inning as he proceeded to load up the bases before striking out Trevor "Russell" Crowe. Crowe went all "Gladiator" on his bat by breaking it in half over his leg, Bo Jackson style.
The Jays finally got on the board in the fourth with Aaron Hill doing most of the heavy lifting as he poked a double into the gap, advanced to third on a groundout and came home on a wild pitch by Anthony Reyes that didn't bounce that far away from Martinez. Purcey finally worked a 1-2-3 inning in the fourth but he wouldn't get through the fifth. He got the first two men but a single and walk put his pitch count up to a whopping 113. Shawn Camp came in and walked his first batter before Crowe made the Jays eat some with the sacks drunk this time around with a two run double to make it 5-1.
To their credit, the Jays fought back in the sixth when Marco Scutaro's leadoff walk was tripled home by Alex Rios, whose flyball was lost in the sun by right fielder Shin-Soo Choo. Vernon Wells followed up a two-run bomb to left-centre make it a one-run game. They had a chance to go ahead in the seventh when Lyle Overbay walked and Barajas singled and Travis Snider laid a bunt down to move them up into scoring position. However, Scutaro struck out and Hill flied out to end that threat. The Tribe put it away with three runs in the eighth against Brandon League on a two-run dinger by Travis Hafner and a run-scoring knock by Choo.
Purcey's pitching line was an usual one as he dominated at times with 10 strikeouts but that was the same number of baserunners he allowed as he gave up four hits and six walks. Four of his five runs were earned to push his ERA over 4.50, a far cry from his 1.53 ERA from the spring. Camp's ERA remains at 0.00 but he allowed two inherited runners to score while Jesse Carlson had the "best" outing in the pen with two hits and two walks in his 2/3 innings of work.
Wells had two of the Jays five hits on the afternoon, including his first homer of the season. Overbay and Rios were the only other Jays to reach base twice as Overbay drew a pair of walks while Rios walked and stole a base. Adam Lind, Scott Rolen, and Snider went a combined 0-for-10. If you include Scutaro, it's 0-for-13 with a walk. So, our Batter's Box Jay of the Game is Vernon Wells.
The Blue Jays are off to Minnesota for a four game series beginning tonight at 8:10 p.m. EDT. 0-1 Jesse Litsch goes against 1-0 Kevin Slowey.
=====================================
In other TDIB notes......
* Former Jay Reed Johnson saves the day for the Cubs as they beat the Brewers 8-5 in the Sunday night game.
* Your sked and starters for today