This game was over two batters in as the Jays crushed the Angels 13-1 Wednesday night in Anaheim to improve to 20-10 on the season. There was really no need for the rally monkey to show up for this one after being let go from a previous gig.

Marco Scutaro set the tone with an eight pitch at-bat against Anaheim starter Anthony Ortega in which he drew his league leading 27th walk. Three pitches later, Aaron Hill blasted a two-run shot to the rockpile in center field to put the good guys ahead to stay. The dynamic duo of "Scooter & Hilly" drove in the next two runs in the second with RBI singles and they came home when Vernon Wells greeted Rich Rodriguez by sending one over the wall in left to make it 7-0.
Toronto added another run against Rodriguez in the fifth on a Lyle Overbay RBI double and then beat up on former Jay Justin Speier by scoring five times in the eighth with two out. Scott Rolen drove in two with a single and Overbay went over the wall with a three-run shot to make it 13-COB! Rod Barajas paid for Overbay's poke by getting plunked three pitches later. That led to a warning for both teams by home plate ump Bill Hohn. Speier took immediate objection to the warning and Halos manager Mike Scioscia was eventually ejected.
The Angels were so inspired by Speier's passion for the game (take note, Adam Dunn! Passion!) that they spoiled Roy Halladay's shutout. The USA Today Sports Weekly cover jinx clearly did "Doc" in as he allowed a Jeff Mathis RBI base knock to pull the Angels to within a dozen.
Speier came back out for the ninth and overcame a leadoff walk to Hill to retire the next three hitters. Hill almost took a shot to the noggin when he was flattened by Howie Kendrick, who let up after tagging him for the forceout. However, the big story of the ninth was Speier's inability to let go what happened the previous inning as he resumed his argument with the home plate umpire and then got into a heated argument with hitting coach Mickey Hatcher in the dugout afterwards. And to think, I was upset for the Jays not re-signing him when he became a free agent!
Shawn Camp entered the game in a high-leverage situation as he was asked to protect a 12-run lead in the ninth. It looked a little dicey when he allowed a Kendry Morales leadoff single but in a performance as gutsy as Curt Schilling's bloody sock game, Camp got the next three hitters to end the ball game. In all seriousness though, I must agree with previous comments in yesterday''s TDIB thread that Mr. Gaston should've gone to the bullpen after seven innings. Even though Halladay will have five days rest before his next scheduled start against the Yankees, Camp and/or Bill Murphy should be trusted enough to hold a 12-run lead, dontcha think? Maybe Cito had a nasty flashback of this game in Anaheim from long ago.
Every Jays starter had a hit and scored a run with Hill leading the way with three hits and a walk. Hill, Wells and Overbay all knocked in three runs apiece. They scored six runs with two outs, went 7-for-14 with runners in scoring position and had five extra base hits that saw three go over the fence. Not bad, eh?
Pitching-wise, Halladay had a tidy WHIP of one by allowing just one run on six hits and two walks over eight innings while striking out six to improve to 6-1 on the year.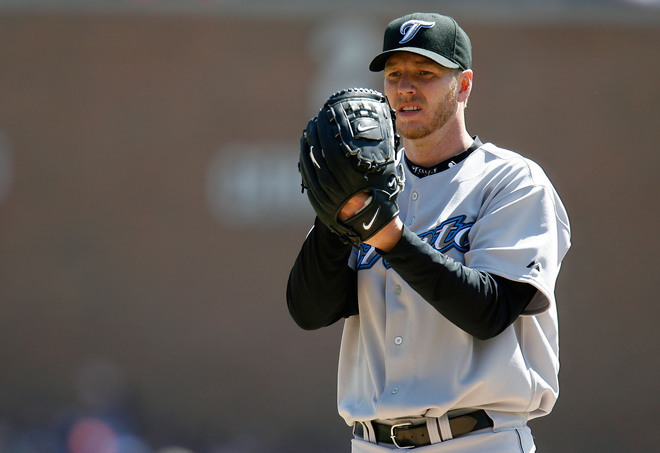 Tonight, the Jays and Angels wrap up this two game series in Anaheim as Robert Ray goes against Jered Weaver. First pitch is at 10:05 p.m. EDT.
==========
In other TDIB Notes.......
* The Dodgers are a major league record 13-0 to start a season at home but that may be overshadowed by this. Meantime, the Nats Ryan Zimmerman's hit streak is up to Jack Bauer's favourite number.
* The A.L. Central leading Royals smoke the Mariners for their fifth win in a row.
* Johan Santana and the Mets shut down the Phillies.
* Texas is your new A.L. West leader as they held off the A's in Oakland.
* Cleveland rolls to a big win over Boston. Meantime, Jason Bay lets bygones be bygones with Joba Chamberlain.
* Red Sox color analyst Jerry Remy is stepping away from the mic to recover from his battle with cancer. Thoughts and prayers to one of the finest broadcasters in the game today!!