That's the good news. Las Vegas, New Hampshire and Lansing could not muster a hit with a runner in scoring position but one of them still managed to get a win on a 1-3 night for the affiliates. Let's go down to Junior's Farm, shall we?
Memphis, TN - Each team got six hits in this one but the Redbirds made their count as they got to Brad Mills for single runs in the fourth and fifth innings. A Bryan Anderson triple scored a David Freese single in the fourth and Nick Stavinoha singled home the other run in the fifth. The Cardinal affiliate had an extra out to play with that inning as Howie Clark booted a groundball at second but Mills limited the damage to a single run by getting a 6-4-3 inning-ending double play.
The young lefty finished up strong with a pair of strikeouts in the sixth. He gave up just two runs on five hits and a walk while striking out nine and getting six groundouts. Still, he gets the loss to drop to 0-4 but his ERA is a respectable 3.72. T.J. Beam did a nice job in relief by giving up one hit over two shutout frames and inducing four groundouts in the process.
The 51's offence didn't really get going in this one as they only had a runner in scoring position twice, courtesy of a pair of J.P. Arencibia doubles in the seventh and ninth. Angel Sanchez had a pair of singles while Brett Harper and Aaron Matthews had the other safeties. There were no walks as Vegas was only 0-for-3 with runners in scoring position while leaving five men on.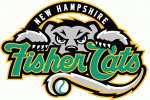 Manchester, NH - The "Fugitive" Casey Janssen made his first rehab start at AA and he put up five zeroes on the linescore. He only gave up a single in the second and a walk in the fourth which was erased when Brian Jeroloman threw out the runner trying to steal second. Janssen may have tired in the sixth when he gave up a run on two singles and a double but the Fisher Cats did cut down a runner at the plate as Nick Gorneault, Brad Emaus and Jeroloman all figured in on a 9-4-2 putout.
The Fisher Cats had a chance to really break this one open in the second inning when they loaded the bases with nobody out but all they could muster was an Al Quintana RBI groundout that scored a David Cooper single. That was all the F-Cats did in the first six innings as they were set down in order in every other inning. A whopping 15 hitters in a row were retired by the B-Mets until Cooper put an end to that noise by leading off the seventh with a solo homer to put New Hampshire back on top at 2-1.
Brandon Magee took over for Janssen in the seventh and he went 1 2/3 innings of shutout relief by striking out two. The only batter to reach against Magee came on a catcher's interference call. However, Jeroloman redeemed himself by catching a pop bunt from the next hitter in foul territory. Edgar Estanga preserved the win for Magee by getting a strikeout to end the eighth before working a perfect ninth for his first save as a Fisher Cat. The 5-9, 240 pound lefty has averaged a punchout an inning over 13 frames with a sparkling ERA of 0.66.
At the dish, Cooper had two of the five New Hampshire hits and wound up scoring both runs. Coop's average is up to .273 after hitting .325 over his past 10 games. Let's hope the home run is a sign that his power will emerge as his slugging percentage is three cents short of .400. Gorneault had the other extra-base hit with a double while Luis Sanchez and Jeroloman had the other hits. Only one walk for the Fisher Cats offence and can you guess who drew it? If you said Jeroloman, you win the highly coveted and sought after Batter's Box No Prize! The "BJBB Meter" is now up to 11!
Dunedin, FL - It was scoreless after three innings as Dunedin starter Kenny Rodriguez issued only a walk and a single. The big Dunedin highlight at that point offensively was a Darin Mastroianni single and his 25th stolen base of the year. The ice cream melted for K-Rod in the fourth when he loaded up the bases with nobody out on a double, a walk and a hit by pitch. The first two runs scored on a John Tolisano throwing error at second and two more came home on another errant misfire from Rodriguez.
The D-Jays got two of those runs back in their half of the fourth when Kevin Ahrens came up with a two-out single to score on Adam Loewen double and a Manny Rodriguez single. However, Ahrens was thrown out trying to stretch his hit into a double.
The Detroit affiliate got those two runs back the fifth as lefty Cody "Angelo" Crowell could not strand a pair of inherited walks from K-Rod. Dunedin would respond in their portion of inning five when Raul Barron walked, stole second and scored on a Tolisano base rap. Crowell worked a scoreless sixth, Trystan Magnuson worked a perfect seventh and the D-Jays got to within a run on a two-run single by Mastroianni. However, Mastroianni was also gunned down going for an extra base hit. The D-Jays did get the potential tying and go-ahead runs on afterwards on a Tolisano walk and a Moises Sierra hit by pitch but M-Rod struck out to end the inning.
The Flying Tigers would match those two Dunedin runs in the eighth off Magnuson with two singles and a walk with a C.J. Ebarb passed ball and a stolen base also figuring into the equation. Daniel Farquhar worked a one-walk ninth to give the home side another chance to rally. The D-Jays did manage to get a pair of runners on in both the eighth and ninth innings but they couldn't bring anyone in.
Dunedin outhit Lakeland 10-8 and drew four walks. Mastroianni, Tolisano, and M-Rod had two hits apiece while Ahrens had a hit and a walk to make him a .405 hitter. Unfortunately, that's his OPS! On the pitching front, K-Rod took the loss by giving up three earned runs out of six in 4 2/3 innings. He gave up three hits and three walks while striking out two. Danny Farquhar lowered his ERA to 0.64 with a shutout ninth and has a K-BB mark of 19-9 in 14 innings with Dunedin.
South Bend, IN - The luck of the Irish at the home of the Fighting Irish smiled upon the home side in this one. Too bad it hasn't smiled upon the football team! Anyways, in a battle of starters named Ryan, The Lugnuts Ryan Koch did not fare well against the Silver Hawks Ryan Cook. Koch gave up a single run in the first two innings but was burned for three runs in the fourth. His WHIP was three after giving up 10 hits and two walks and he did not strike out anybody. He fell to 0-3 with an ugly ERA of over eight.
In total, the Diamondbacks affiliate racked up 16 hits by getting three apiece against Jonas Cuotto and lefty Jared Potts, who each pitched two innings of relief. Potts gave up the other run while Cuotto matched his hits allowed total with three punchouts. Potts also had a couple of K's.
The Lugnuts scored their only runs off Cook as Johermyn Chavez and Brian Van Kirk (he has the perfect name to be with the 51's, doesn't he?) each beamed one out of here with back-to-back jacks. Lansing had nine hits and three walks with Van Kirk notching the only two-hit game on the evening as he added a double to go with his homer. Mark Sobolewski had the only other extra base hit with a two-bagger to lift his average to .313. Chavez connected for his seventh dinger of the year and is now batting .318.
*** 3 Stars!!! ***
3. Casey Janssen, New Hampshire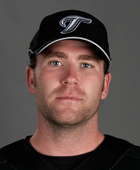 2. Brad Mills, Las Vegas

1. David Cooper, New Hampshire

Extra Innings.........
* The Las Vegas Sun has an article on Dirk Hayhurst.
* The Las Vegas Review-Journal has features on Fabio Castro and Howie Clark.
* Baseball America says Justin Jackson should be back in the Dunedin lineup pretty soon. BA also updates the Jays minor league transactions column and it indicates Mississauga native Jonathan Baksh has voluntarily retired. The outfielder was taken in the seventh round of the 2006 draft.
* The New Hampshire Union Leader has the game story on Tuesday's night 2-1 Fisher Cats win along with video of Casey Janssen. Kevin Gray shares his thoughts on all things Fisher Cat in his blog and also provides a feature on Ricky Romero.