The second waiver claim of the
Alex Anthopoulos
era is second baseman
Jarrett Hoffpauir
from the St. Louis Cardinals
. To make room on the 40-man roster, the Jays have designated left-handed reliever
Bill Murphy
for assignment.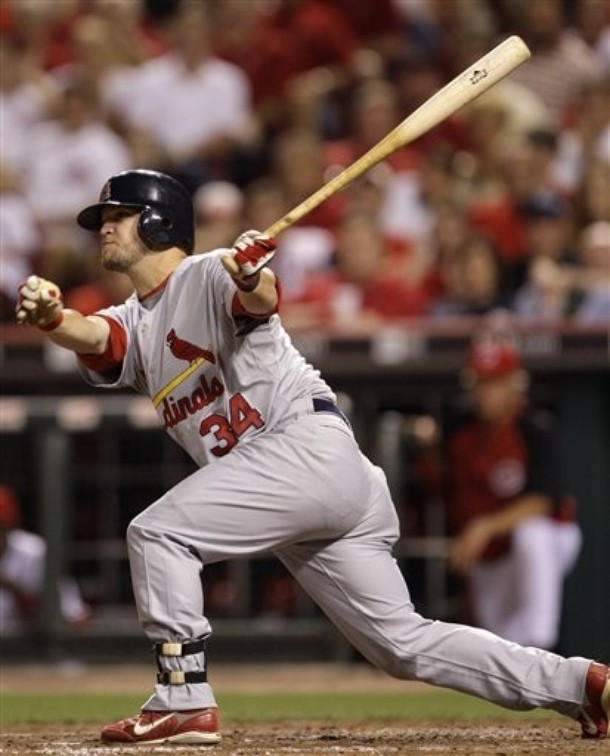 A sixth round pick by St. Louis in the 2004 amateur draft, the 26 year-old Hoffpauir made his big league debut with the Cardinals this season. After being named the Cardinals minor league player of the month in June, the 5-9, 165 pound right-handed hitter was called up on Canada Day to fill in for an injured Mark DeRosa. He played his first game on July 3rd in Cincinnati where he went 1-for-1 with a walk and two RBI. In total, Hoffpauir went 3-for-12 with four walks to give him a batting line of .250/.438/.417 before being sent back down to Triple-A.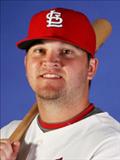 The distant cousin of Cubs first baseman Micah Hoffpauir spent the better part of three seasons with the AAA Memphis Redbirds. He was rated St. Louis' number 21 prospect by Baseball America in 2008 after hitting .345 with AA Springfield and .300 with Memphis along with a combined on-base percentage of over .400 in 2007. However, Hoffpauir's average fell to .271 in 2008 and his OBP fell by more than 50 points which caused his stock to drop in the St. Louis organization. He was left off BA's Top 30 prospects heading into 2009 but he did earn recognition as having the best strike zone discipline in the Cardinals system. However, Hoffpauir bounced back this season by hitting .291/.357/.486 in Memphis and recorded career highs in homers (14), RBI (53), doubles (22) and triples (3) along with four stolen bases in five tries. He was among the toughest hitters to strike out in the Pacific Coast League this season as he whiffed just once every 14.3 at-bats to put him in the top 10 in that category.
Hoffpauir's calling card is his batting eye as his .365 OBP in his minor league career would attest to. However, there's not a lot of thunder in his bat as he has slugged just .417 lifetime in the minors. Hoffpauir's biggest career homer to date came in Game 5 of the 2005 Florida State League championship as his blast was the decisive blow to give Palm Beach the title.
Defensively, Hoffpauir has played short and third with the Redbirds but his best position is second base. However, his defence is said to be lacking and his best bet for future employment in the bigs may be as a utility player.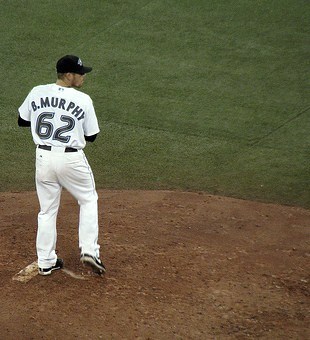 Meantime, Bill Murphy got in eight appearances in a Blue Jays uniform after he was called up from AAA Las Vegas to fill in for an injured Jesse Litsch in mid-April. The 28 year-old lefty recorded an ERA of 3.18 with Toronto along with a WHIP of 1.06 and an opponents batting average of .111. However, his K-BB mark was an unsightly 6-8 in 11 1/3 innings. Murphy joined the Jays organization in 2008 after being claimed off waivers from Arizona. The 5-11, 214 pound hurler spent the year with Syracuse where he went 8-10 with a 5.32 ERA. Murphy didn't find Las Vegas to his liking this season as he went 0-6 out of the 51's bullpen to go along with a horrid 7.59 ERA. He did strike out nearly a batter an inning by recording 51 K's in 53 1/3 innings and the fact that's he left-handed should help him find employment elsewhere in 2010.
***
In my humble opinion, the following nugget of information is pure gold.
As mentioned before, this is the second waiver claim made by new general manager Alex Anthopoulos. It should be noted that the players claimed (Sean Henn & Jarrett Hoffpauir) have last names beginning with the letter "H" while the players designated for assignment have the initials "B.M." (Bill Murphy) or "M.B." (Michael Barrett). This could be a key piece of information as we move forward in deciphering or analyzing the future transactions of this team going forward.
Some sites charge good money for this type of information but I gave this away free of charge. That's my early Christmas gift to you, Bauxites. Enjoy!
***
Other stories of note.....
* Tampa Bay trades 2B Akinori Iwamura to Pittsburgh for right-hand reliever Jesse Chavez.
* Don Mattingly says no to the Nationals managing gig while Clint Hurdle is expected to become the Rangers new hitting coach.
* Joba Chamberlain's mom is in trouble with the law.
* Shane Victorino says his sore finger won't keep him from playing Game 6 of the World Series tonight and Cole Hamels says he doesn't want the season to end yet after all.
* ESPN tests Phillies fans with World Series trivia.
It'll be Pedro Martinez and Andy Pettitte taking to the hill at Yankee Stadium. First pitch is set for 7:57 p.m. ET.