The Toronto Blue Jays have claimed shortstop Brian Bocock on waivers from San Francisco and they signed outfielder and 2003 first round pick Chris Lubanksi from Kansas City to a minor league deal. If Lubanski makes it to Toronto, start printing up the "Little Lubanski Urban Achievers" t-shirts.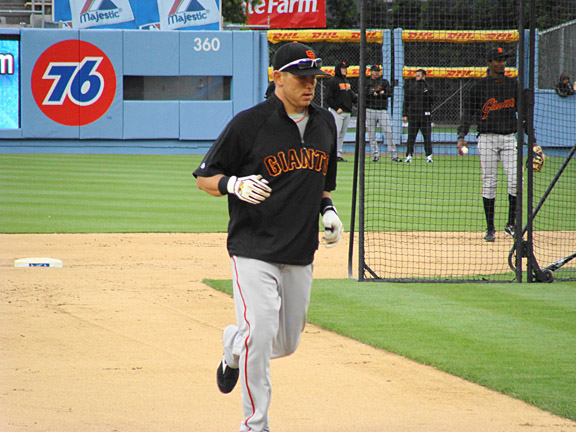 The 24 year-old Bocock was a 9th round selection of the Giants in the 2006 amateur draft from Stetson University in Florida. Baseball America rated the right-handed hitting shortstop the 11th best prospect in the Giants system in its 2008 Prospect Handbook. They described him as a shortstop with plus range and arm strength and was rated a 65 runner on the traditional 20-80 scouting scale. The 5-foot-11, 185 pound Bocock was also rated as the organization's best defensive infielder with the strongest infield arm. However, BA says he has a long way to go with the bat as he struggles to hit breaking balls.
Despite hitting just .220 with the Giants A affiliate in San Jose in 2007, Bocock played in the Futures Games at AT & T Park. He came back to AT & T Park as a member of the Giants to start the 2008 season thanks to a knee injury to Omar Vizquel. The Harrisonburg, Virginia native got in 32 games and struggled with the stick by hitting just .143/.258/.156 with one double, two RBI and four stolen bases. He was sent down to AAA Fresno in early May and stayed there for the rest of 2008 where he hit just .163 in 35 games. Bocock spent most of last season back in San Jose with some time in AA Conneticut but only hit a combined .230 with three homers and 51 RBI but was just 8-for-18 in stolen bases.
Bocock was designated for assignment by San Francisco this week after they signed Juan Uribe to a one-year deal.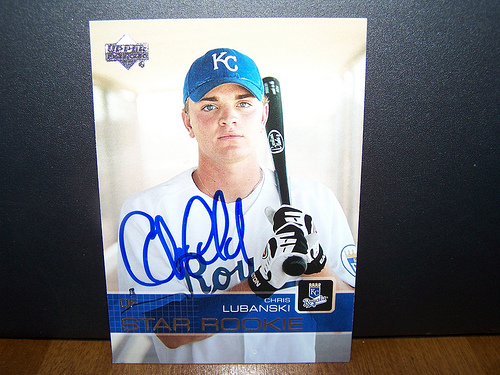 Lubanski, also 24 years of age, was the fifth overall pick in the 2003 amateur draft by the Royals out of high school in Pennsylvania. He was selected eight picks ahead of the Jays Aaron Hill. The left handed hitting outfielder made steady progress through the Royals system that was highlighted by a strong 2005 campaign in which he batted .301/.349/.554 with 38 doubles, six triples, 28 homers and 116 runs batted in the hitting haven known as High Desert. The Lansdale, Pennsylvania native didn't have quite the same success at AA Wichita but still hit .282./369/.475 with 15 homers and 70 RBI in 2006. The 2007 season saw him split time with Wichita and AAA Omaha where he slugged .495 in Wichita but just .363 with the O-Royals. That dropped Lubanski from #4 to #16 in the Baseball America rankings for Royals prospects in 2008. Also factoring into the ranking was Lubanski's performance in the Arizona Fall League in 2007 in which he hit just .200. Despite having a smooth swing while adding power, BA says the 6-foot-3, 210 pound Lubanski has added more weight which has meant a move from center field to left where he's described to be average at best. He's also credited for a strong work ethic but tends to get down on himself.
Unfortunately for Lubanski, he has remained stuck in Omaha over the past two years. He hit just .242 with 15 homers in 2008 and endured a trying 2009 that saw him miss three months with a hamstring injury. That led to a .227 batting average and two homers. Lubanski is expected to start the 2010 season with AAA Las Vegas. Let's hope the dude abides and earns a call up to Baseball North in 2010!