The biblical scripture known as Baseball America arrived in my mailbox yesterday and it's the issue I look forward to the most every year - the Top 10 Prospects for the American League East!
Featuring the Orioles Brian Matusz on the cover, it contains a revision of the Jays Top 10 list that BA posted on its website last month. The changes reflect the three prospects added in the Roy Halladay deal and each of them ranked highly on the revamped list.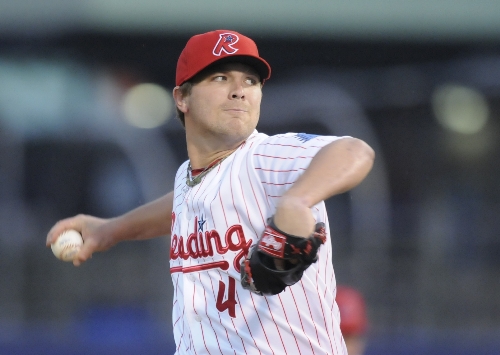 Righthander Kyle Drabek is the Jays new #1 prospect according to Baseball America, bumping fellow righty Zach Stewart from the perch.
---
Baseball America's new Top 10 Jays Prospects list...........
Kyle Drabek, RHP
Brett Wallace, 3B
Zach Stewart, RHP
J.P. Arencibia, C
Travis D'Arnaud, C
Chad Jenkins, RHP
David Cooper, 1B
Henderson Alvarez, RHP
Jake Marisnick, OF
Josh Roenicke, RHP
Along with Drabek vaulting to the top spot, Brett Wallace grabs the number two spot on the list while Travis D'Arnaud makes it to number five. Other changes see Stewart dropping from one to three while Arencibia falls from two to four. The others drop three spots each with Jenkins going from three to six, Cooper from four to seven, Alvarez from five to eight, Marisnick from six to nine and Roenicke from seven to ten.
Dropping out of the top 10 are LHP Brad Mills, SS Justin Jackson and C Carlos Perez - they were ranked eight through ten respectively on the initial list.
If you want another take on Drabek's abilities, check this out.
Discuss, debate, pontificate - Bauxites! The floor is yours!