The Toronto Blue Jays have signed four players to minor league deals. Jordan Bastian from bluejays.com says the team has inked left-handed pitcher Willie Collazo, infielder Jesus Merchan and outfielders Jorge Padilla and Chris "The Big" Lubanski. Two of the four have played in the major leagues.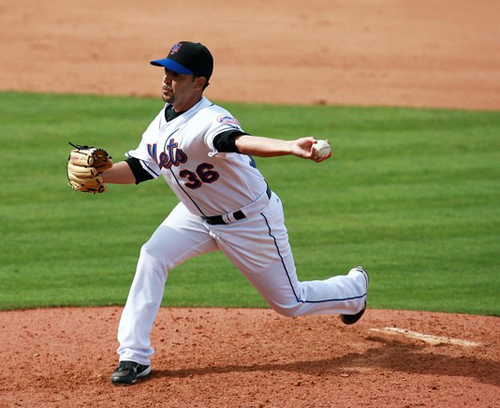 Willie Collazo
---
The Jays represent the fifth stop in Willie Collazo's career. Pronounced "koy-YAZ-oh", the 30 year-old Puerto Rican was a tenth round pick of the Atlanta Braves in the 2001 amateur draft. The 5-9, 175 pound lefty won 13 of 14 decisions with Florida International in his senior season with a 2.93 ERA and 148 strikeouts in 141 innings. He was named to Baseball America's All-America third team. The Braves sent Collazo to the bullpen and he made it to AA Greenville in 2002 in just his second season. Collazo went 4-2 with a 3.57 ERA with a K-BB total of 74-27 in 72 2/3 innings. He split 2003 in A-ball with Myrtle Beach and in Greenville and won six of nine decisions at both stops with an ERA of 3.52.
Collazo was then claimed by the Los Angeles Angels in the minor league portion of the Rule 5 draft and spent another year in AA with Arkansas. The Angels made him a starter and he had mixed results as he went 6-10 with a 4.53 ERA and struck out 100 batters in 138 innings but he did lead the Texas League in shutouts with two. However, the 2005 season was one to forget. Despite finally getting to AAA Salt Lake, Collazo was busted for testing positive for a banned substance and received a 15 game suspension. Between Salt Lake and Arkansas, he won just once and lost six with an ERA that was a tick above seven. He was also lit up for 23 long balls in 97 innings.
After being released by the Halos, Collazo found his form again in winter ball by winning Pitcher of the Year honours in Puerto Rico and making the Caribbean Series All-Star squad as the top left-hander in the tournament. He was also on the Puerto Rican squad during the first ever World Baseball Classic in 2006. He signed a minor league contract with the New York Mets in March and remained a starter with AA Binghamton and AAA Norfolk. He went a combined 10-9 with a 3.54 ERA and struck out 105 hitters in 160 innings.
It was back to the pen for Collazo in 2007 as 49 of his 53 appearances came in relief with AAA New Orleans. In the Big Easy, Collazo was 6-5 with a 2.47 ERA and a 69-19 K-BB mark in 98 2/3 innings. That earned him a call up to "The Show" as the Mets brought up him for the month of September. He made half a dozen appearances and did not record a decision. His ERA was 6.35 after pitching 5 2/3 innings in which he walked five and struck out no one. His WHIP was over two after giving up seven base hits.
Collazo has been in New Orleans the last two seasons. In 2008, he went 4-9 with a 4.05 ERA as he switched back and forth from the bullpen to the rotation. Even though he signed a minor league deal with the Florida Marlins, he got to stick around in the Big Easy again as the Marlins took over as the Zephyrs major league affiliate. Collazo split his time between starting and relieving in 2009 but went 9-5 with a 3.70 ERA with a K-BB total of 74-35 in 126 1/3 innings.
Fangraphs.com indicates Collazo threw a fastball that averaged 83 miles per hour along during the 2007 season with a slider, change and an occasional curve that were clocked in the low 70's.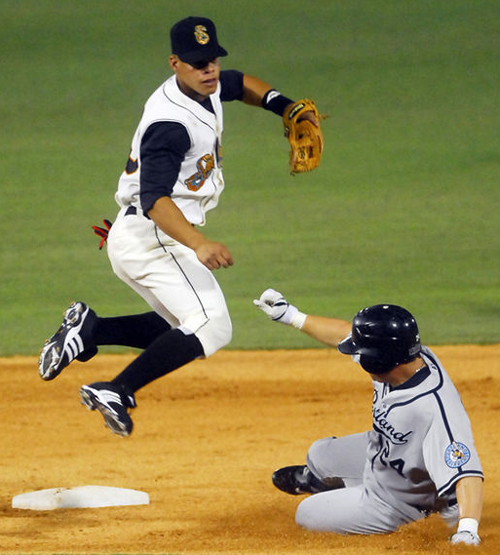 Jesus Merchan
---
Merchan has been in pro ball since he was 19 years-old. The Venezuelan infielder signed as a free agent with the Minnesota Twins in April of 1999 and began his pro career in 2000 with their Gulf Coast League affiliate. The 6-foot, 185 pound right-handed hitter never made it past the Florida State League in his five seasons in the Twins system. His batting average ranged from .271 to .314 but his slugging percentage only got as high as .390.
Merchan was released by the Twins midway through the 2005 season after hitting .179 at Fort Myers but he hooked up with the Philadelphia Phillies in late June and made his first appearance at the AA level. He spent most of his time with Reading until he broke through in 2007 when he hit .330 and slugged .478 with a career high seven homers and 44 RBI. That earned Merchan an Eastern League All-Star selection and a trip to the nation's capital. He was called up to the AAA Ottawa Lynx where he hit .385 in only 15 plate appearances that included a home run. However, he was dealt to the Seattle Mariners at the July 31 trade deadline for pitcher Julio Mateo. His .247 batting average with AA West Tennessee did not impress the Mariners brass so Merchan was off to Arizona for the 2008 season. He got another chance at the AAA level and batted .330 with four homers and 72 runs batted in with Tucson. Unfortunately for Merchan, he was on the move yet again in 2009 as he went to Cleveland. He hit .366 with AA Akron and .280 with AAA Columbus but he only played 43 games last season.
The 28 year-old Merchan has hit .296 during his 10 year career in the minors and has played second, short, third and left field.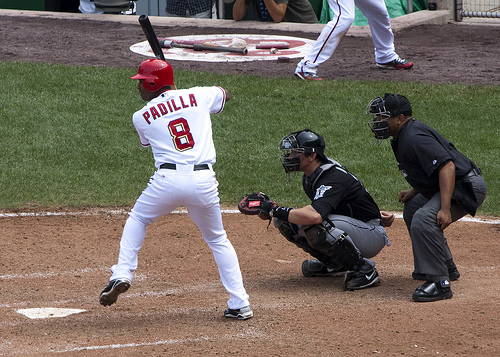 Jorge Padilla
---
Padilla was drafted by the Philadelphia Phillies in round three of the 1998 amateur draft out of a Melbourne, Florida high school. The 6-foot-2, 200 pound right-handed hitting outfielder got off to a good start by hitting .356 with Martinsville of the Appalachian League in 1998. His climb up the minor league ladder was a slow and steady one where he hit 11 homers with A-level Kannapolis in 2000 and 16 more with Clearwater in the Florida State League. He finally made it to AAA with Scranton-Wilkes Barre in 2004 where he hit just .253 and slugged .343. He batted .270 the following season with Scranton but his OPS was a less than impressive .648.
In 2006, Padilla joined the New York Mets organization and only played at the AA level in Binghamton where he hit .295 with ten homers. Even though he made the Eastern League All-Star Game, the Mets let him go and he signed with Kansas City for 2007. Despite hitting a combined .316 with 16 homers at AA Wichita and AAA Omaha, he had to shuffle off to the Washington Nationals in 2008. He hit a combined .317 with AA Harrisburg and AAA Columbus but only connected for five homers. The Nationals kept him around for another season and he lit up the International League in 2009 with a .360 average in Syracuse and a .909 OPS in 350 plate appearances. Padilla told nationals.com that the reason for his success was being able to hit the ball to the opposite field.
Numbers like that tend to get a guy noticed and Padilla finally got his first sip of coffee at the major league level. He was called up in early August after Austin Kearns suffered a thumb injury. Padilla collected his first major league hit August 9th with a pinch-hit single against Arizona's Clay Zavada. The majority of his appearances came as a pinch-hitter but he only hit and slugged .120 in 26 plate appearances and drew just one walk and struck out eight times. After a dozen years in the minors, the 30 year-old Puerto Rican hopes to get another cup of coffee with the Blue Jays in 2010.
Competing for a spot in the outfield with Padilla is Chris Lubanski, the former Kansas City Royals farmhand and first round pick in 2003. To find out more about him, check out this previous thread.