The Toronto Blue Jays continue to build depth in the minor leagues by signing outfielder
Jeremy Reed
and right-handed pitcher
Steven Register
to
minor league deals
according to
bluejays.com
.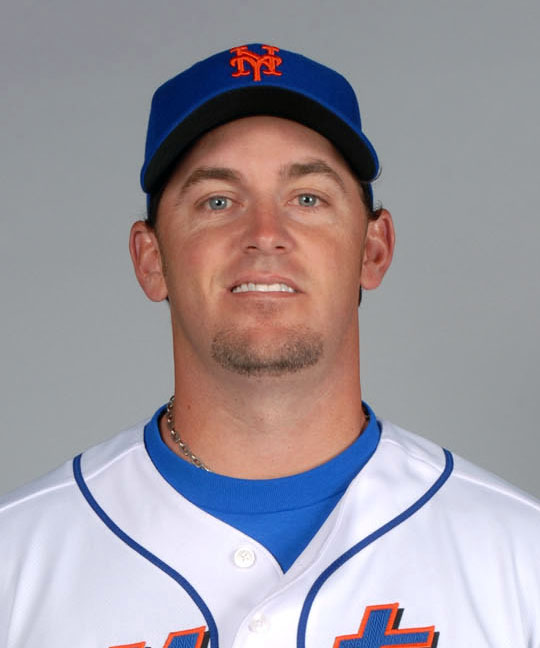 Jeremy Reed is hoping to extend his major league career with the Toronto Blue Jays in 2010. A native of San Dimas, California, the left-handed hitting outfielder was a second round selection of the Chicago White Sox in the 2002 amateur draft. The 6-foot, 200 pound Reed made quite the splash in his first full season in 2003. After hitting .319 at Class-A Kannapolis in '02, he hit a combined .373/.453/.537 between Class-A Winston-Salem and Class AA Birmingham with 11 homers, 95 RBI, 35 doubles, four triples, 45 stolen bases and 70 walks while striking out just 36 times. He actually hit much better in Birmingham with a batting line of .409/.474/.591. As a result, Reed won the Topps Minor League Player of the Year Award.
The Long Beach State alumni cooled off at AAA Charlotte in 2004 but still hit a respectable .275/.357/.420 with eight homers and 37 runs batted in and his BB-K total was 36-34. Near the end of June, Reed was traded to Seattle with infielder Mike Morse and catcher Miguel Olivo for pitcher Freddy Garcia and catcher Ben Davis. He hit .305 with Triple-A Tacoma and he continued to maintain his batting eye at the plate with a walk-strikeout mark of 23-22. Reed was called up in early September by the Mariners and even though he started his career 0-for-5, he still managed to hit .397/.470/.466 in 18 games.
Reed spent his first full season in the bigs in 2005 with the M's but hit just .254 with 33 doubles, three triples, three home runs and 45 RBI. He had trouble on the basepaths by going just 12-for-23 in the stolen base department but drew 48 walks against 74 strikeouts. In 2006, Reed slugged a career high six homers but hit just .217 before a thumb injury in early July ended his season. That came after he had hurt his wrist in spring training and effectively ended his tenure as the Mariners center fielder when Ichiro Suzuki moved over from right. Reed spent the majority of 2007 back in Tacoma and hit .300 with 37 doubles, three triples, 13 homers and 64 runs batted in before getting called up in September. However, he didn't see a lot of playing time as he hit just .176 in 17 plate appearances.
The 2008 season saw Reed back at Tacoma but a .349 average in 38 games led to a recall to Seattle during the latter part of May. He hit .269 with the Mariners and continued to man all the outfield spots while filling in at first base. However, Reed was dealt to the New York Mets along with relievers J.J. Putz and Sean Green as part of a major three-team, twelve-player deal in the off-season that involved Seattle getting outfielders Franklin Gutierrez and Endy Chavez and pitcher Aaron Heilman while Cleveland picked up infielder Luis Valbuena.
Reed got in 126 games with the Mets by playing the outfield and first base but only made 177 plate appearances in which he batted just .242 with no homers and nine RBI. The 28 year-old Reed is expected to battle fellow minor league signee Joey Gathright for a spot in Toronto this coming season.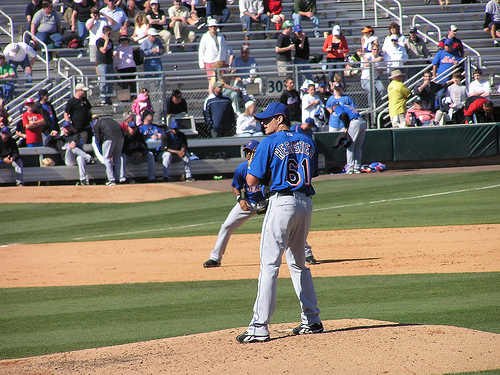 Steven Register broke into pro ball with the Colorado Rockies after being a third round pick in the 2004 amateur draft out of Auburn. The Columbus, Georgia native led NCAA Division 1 with 16 saves in 2003 and pitched for the U.S. National Team where he was a set-up man to current Rockies stopper Huston Street. Register spent his first three minor league seasons as a starter but his ERA climbed from a 3.63 mark in 2004 with Single-A Tri-City to 5.57 with Double-A Tulsa in 2006 while going a combined 19-28. A shift to the Tulsa bullpen helped Register in 2007 as he racked up 37 saves while compiling a K-BB mark of 48-16 in 58 innings. That convinced the New York Mets to take a flyer on him in the Rule 5 draft but he was returned to the Rockies near the end of spring training.
The 6-1, 185 pound Register collected 13 more saves at Triple-A Colorado Springs in 2008 while going 5-3 with a 3.36 ERA and a K-BB total of 52-19 in 59 innings. Register earned a brief call up to the bigs August 4th when he pitched a third of an inning and struck out Washington's Lastings Milledge to retire the only batter he faced. He returned to the Rockies in September but he was scored upon in seven of his nine outings as he finished with a 9.00 ERA and a K-BB total of 8-6 in 10 innings.
It was back to Colorado Springs for Register in 2009 and he collected six saves in 16 appearances but an 0-2 record and a WHIP of 1.938 in 16 innings led to his release. However, he was claimed on waivers by Philadelphia in late May and went to Triple-A Lehigh Valley where he earned seven more saves while posting a 2-3 record with a 3.70 ERA and struck out 28 batters in 41 1/3 innings. He made one appearance with the Phillies July 25th where he allowed a run on three hits and a walk in two innings.
Register is a fastball, slider, changeup pitcher with his fastball around 90-91 miles per hour while his slide piece and change register (get it?) in the low 80's. He hopes to land a spot in a crowded Jays bullpen but is more likely to see more time in Triple-A, this time with Las Vegas.
---
In other Jays news............
Reliever Bill Risley remains the answer to the trivia question, "Who was the last Blue Jay to have to go to arbitration?". The Jays came to terms with their last five remaining eligible players.