The American Cooperstown said no to Jays great Roberto Alomar but the Canadian Baseball Hall of Fame, like the Juice Man from Del Monte, said "Affirmative!" Former Jays All-Star and Port Hope-raised Paul Quantrill will join Alomar in St. Marys, Ontario for the 2010 induction ceremony June 19th. Elected posthumously were former Washington Senators/Minnesota Twins owner Calvin Griffith and Brooklyn Dodgers statistician Allan Roth, a key figure in Alan Schwartz's book, "The Numbers Game".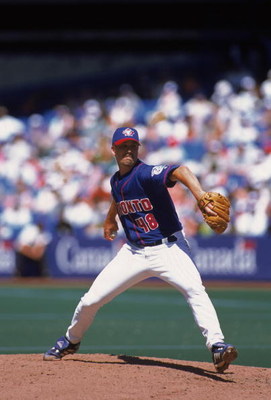 You certainly can't quibble with the selections of Alomar and Quantrill. Alomar put together a batting line of .307/.382/.451 with 55 homers and 342 RBI during his five year tenure in Toronto from 1991 to 1995. He was part of the best deal in Jays franchise history when he came over with Joe Carter from San Diego in exchange for Fred McGriff and Tony Fernandez. He also clubbed arguably the biggest homer in franchise lore when he took Oakland's Dennis Eckersley deep to tie Game 4 of the 1992 American League Championship Series, a game the good guys went on to win. That helped earn Alomar the ALCS most valuable player honours and he would play a huge role in helping the Jays win the first of two back-to-back World Series titles. He was okay with the glove too by winning half of his ten gold gloves in Toronto. For my money, Alomar remains the best position player to ever wear the Blue Jay blue.
Quantrill was stolen in a deal with Philadelphia that saw the immortal Howard Battle and lefty Ricardo Jordan (best forgotten, believe me!) head to Pennsylvania. The London, Ontario born right-hander was with the Jays from 1996 to 2001. He began his Jays stint as a starter but that really didn't work out as evidenced by a 5-14 record and a 5.43 ERA. However, he found his stride in the bullpen with ERA's of 1.94 and 2.59 in the 1997 and '98 seasons respectively and he teamed with Dan Plesac to form an effective righty-lefty set-up tandem. Quantrill's finest accomplishment was earning an All-Star berth in 2001 as he was not scored upon in his first 17 appearances. He went on to finish with an 11-2 record with 21 holds and two saves while compiling an ERA of 3.04. His overall Jays totals were 30 wins, 34 losses, a 3.67 ERA with 15 saves. Unfortunately, Quantrill was a victim of a housecleaning taken when then-GM J.P. Ricciardi came aboard. "Q" was dealt to Los Angeles with shortstop Cesar Izturis for starter Luke Prokopec and Waterloo, Ontario hurler Chad Ricketts. He went on to pitch until the 2005 season but he was so close to getting to the World Series the year before with the Yankee$. As I recall, that ALCS did not end well for them.
Congratulations to Mr. Alomar, Mr. Quantrill, Mr. Griffin and Mr. Roth for their induction into the Canadian Baseball Hall of Fame.
---
Other news and views in Blue Jays land.....
The team held its annual "state of the union" address with its season ticket holders at Rogers Centre last night. To summarize some of the main points in the bluejays.com article from Jordan Bastian......
Jays GM Alex Anthopoulos has contacted agent $cott Bora$ about free agent outfielder Johnny Damon and says he bothered one GM in trying to swing a multi-team deal to land a shortstop.
Manager Cito Gaston wants to bring back Carlos Delgado
John Buck will be the starting catcher heading into camp, Jose Bautista will be leading off and the closer's role is wide open.
Shaun Marcum's recovery from Tommy John surgery remains on track, Dustin McGowan is scheduled to throw off a mound today and Jesse Litsch is expected to return in June or July
President/CEO Paul Beeston trotted out the "we're not rebuilding, we're building" line
Beeston maintains the Jays have a huge budget for free agents and won't have trouble attracting them once the club starts winning.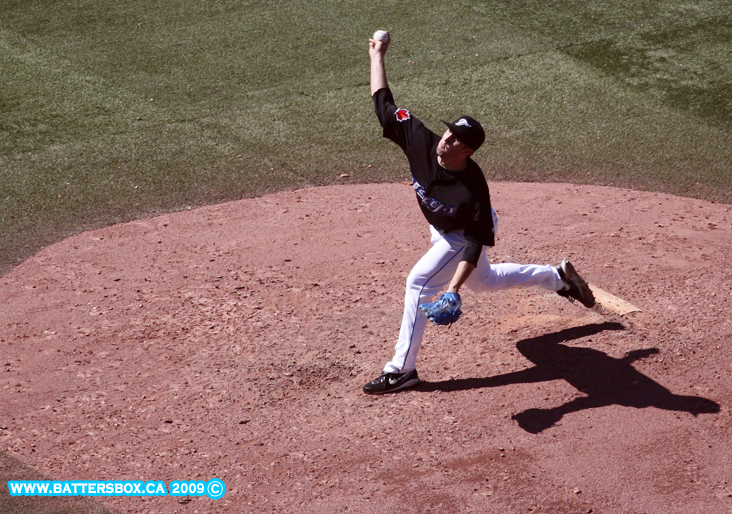 Also, the Toronto Star's Richard Griffin details the trials and tribulations of Jeremy Accardo's 2009 season.
Class dismissed. Have a great weekend!